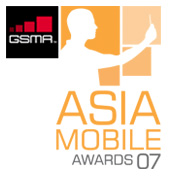 The GSMA today launched the Asia Mobile Awards 2007, a new awards programme for companies across the mobile value chain that serve users in the Asia region with compelling mobile content, products and services. Categories include Mobile Entertainment, Mobile Advertising, Social Networking, and also Mobile Broadband Device.
The awards are now open for entry and will close on Friday 28th September 2007. Presentation of the awards will form the climax of a special gala dinner at the Macau Tower Entertainment & Convention Centre, on Tuesday 13th November 2007, as part of the GSMA's Mobile Asia Congress (12-15 November). Full details, including rules, eligibility, criteria and entry forms are available, along with table booking details at www.asiamobileawards.com
Judged by an independent panel comprising journalists, analysts and academics from across Asia, the awards are open to players from across the industry that provide mobile products and services that are commercially available in at least one Asian market.
Categories in the Asia Mobile Awards '07 are:
Category 1 – Mobile Entertainment Awards
– a) Best Mobile Game
– b) Best Mobile Music Service
Category 2: Best Mobile Advertising
Category 3: Best Mobile Social Networking Service
Category 4: Best Mobile Broadband Handset/Device
"These awards have been created to recognise leadership, and the sheer pace of progress and growth across Asia's diverse mobile communications markets," said Rob Conway, CEO of the GSMA. "Our aim is also to showcase the hottest entertainment related content developed for the fourth screen, as well as devices that enable rich multimedia to capture the imagination of users throughout Asia."
In addition, the GSMA's Innovation Awards are now part of an ongoing Mobile Innovation Programme that aims to help thousands of small and medium-sized companies developing innovative mobile products and services to reach mobile operators, and bring their innovations to market. Four mobile innovation awards will also be presented at the Mobile Asia Congress in Macau as part of a Mobile Innovation Summit. One overall winner will be selected for presentation at the gala dinner in Macau. Deadline for entries into the Mobile Innovation Awards is 14th September. Visit www.mobileinnovation.org to find out more.
The new Asia Mobile Awards complement the GSMA's annual Global Mobile Awards at the Mobile World Congress in Barcelona (formerly the 3GSM World Congress), which will open for entry from 1 September 2007.
About the GSM Association:
The GSM Association (GSMA) is the global trade association representing more than 700 GSM mobile phone operators across 218 countries and territories of the world. In addition, more than 200 manufacturers and suppliers support the Association's initiatives as key partners.
The primary goals of the GSMA are to ensure mobile phones and wireless services work globally and are easily accessible, enhancing their value to individual customers and national economies, while creating new business opportunities for operators and their suppliers. The Association's members serve more than two billion customers – 82% of the world's mobile phone users.
For more information please contact:
Mark Smith or David Pringle
Email: press@gsm.org