GSMA Device Registry



What is GSMA Device Registry
The GSMA operates a global registry on behalf the mobile industry and associated vertical sectors which allows device owners to register status designations against their devices in the event of issues such as loss, theft, fraud or to indicate that the device is subject to a payment plan. The status registered indicates recommended action to those that handle the device.
Mobile network operators and other device owners can contribute / flag their devices and status for others to receive and respond to. For example, if the device is reported stolen we share the information and recommend the device is blocked from network access and not bought or sold. There is a range of reason codes why devices are flagged using their IMEIs, today the reason codes include reported as lost, stolen, faulty, broken, or fraudulently obtained.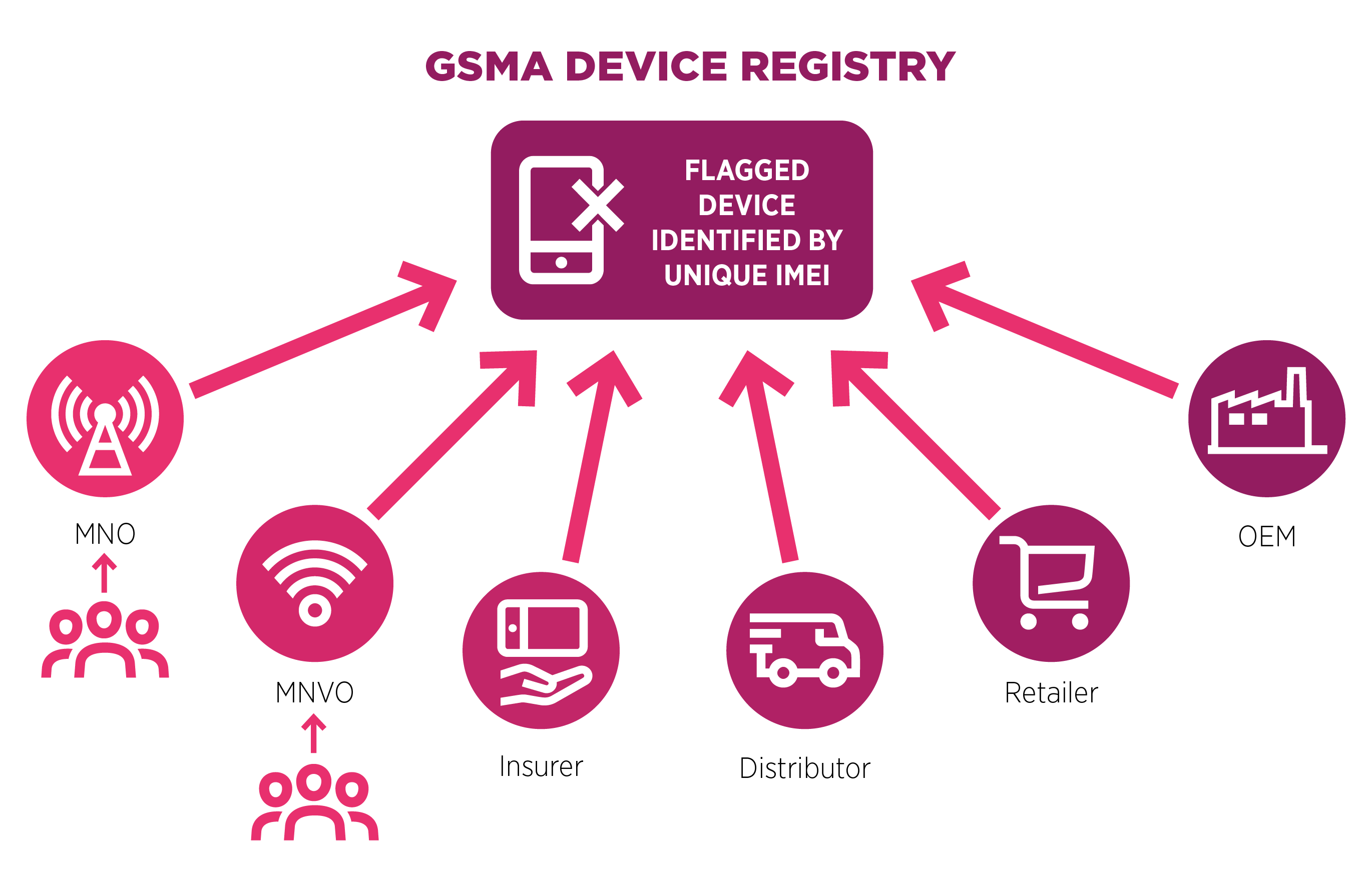 This information is valuable in the collective fight not just against device crime, but digital fraud and security issues too. Consumers, businesses, local law enforcement and customs and excise teams all benefit from accessing this information.
The GSMA is in the process of updating all terminology relating to device blacklisting and whitelisting. We believe the use of language is an important reflection of our values and realise that these terms, whilst historic, are not consistent with our commitment to eradicate racial stereotyping and stigma. Our language will no longer include references to coloured lists. These changes will be made across all GSMA departments, including repositioning our "blacklisting service" to GSMA Device Registry. Going forward, this registry will hold an inventory of flagged mobile devices. We have begun this task by editing online content and policy documentation will follow. If you see references requiring change, please be kind enough to let us know by emailing us at services@gsma.com.
Join a device

crime 

prevention ecosystem to deter criminals from targeting your devices

 

Flagged

 devices can be blocked on operator networks making devices less valuable 

and

 discourag

ing

 criminals from targeting devices

 

Flagged devices are 

queried by

 traders and recyclers 

via 

GSMA Device Check™

,

 making it difficult for criminals to sell stolen devices 

 

Gives you complete control of your records

, 

only 

the organisation 

flagging

 

the device can remove the device 

flag

 

Your organisation's name is included 

when reporting to our 

Device Registry

 to help commercial and law enforcement users return your devices if found

 
You might also like
About the GSMA Device Check™
Every mobile device (cell phone, tablet, etc.) has a unique serial number known as the IMEI (International Mobile Equipment Identifier). The GSMA Device Check database contains the IMEI for devices reported as stolen or lost by participating operators, as well as the device model and capabilities.
About the GSMA Device Map™
GSMA Device Map yields rich insights into mobile devices to enable advanced analytics and operational metrics. This comes from a unique combination of GSMA's TAC data together with a wide range of device capability characteristics sourced globally. Available under license, the data is refreshed daily and accessed via an API.