Vision 2030: Low-Band Spectrum for 5G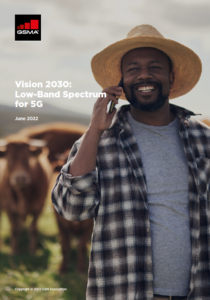 Meeting low-band needs requires long-term planning from policymakers. Low-band spectrum is the cornerstone of digital equality and a driver of broad and affordable connectivity. It is a crucial national asset that can build bridges towards digital inclusion and ensure the impact of mobile's economic and social benefits are felt in all communities.
5G depends on mobile operators having timely access to appropriate spectrum. Lower frequencies have superior propagation characteristics than higher bands, determining how far a signal can travel and how well it can penetrate buildings. Thanks to its propagation characteristics, sub-1 GHz spectrum is essential to build coverage in thinly populated areas and provide indoor coverage in built-up areas.
Low-bands can give rural communities equitable access to the services available in urban areas: there is a direct link between spectrum availability and download speed. Increasing low-band capacity will deliver faster 5G in areas – often rural communities – that are out of the reach of higher bands.
This analysis examines why governments and regulators must take a fresh look at the need for additional sub-1 GHz spectrum to deliver 5G. It includes an overview of research commissioned by the GSMA from Coleago Consulting and lays out a vision of how policymakers can make sure 5G reaches its full potential.
Ensuring that the jobs and livelihoods that businesses provide are available in all parts of every market is crucial for balanced economic growth. Addressing the digital divide demands the provision of affordable connectivity to all users. Low-band capacity will be at the core of ensuring that 5G is available to everyone.
The report finds that:
Sub-1 GHz spectrum is essential to build coverage in thinly populated areas and provide indoor coverage in built-up and hard-to-reach urban areas.
Adding 600 MHz to existing low bands will raise download speeds by 30-50% in rural areas.
Additional low-band spectrum will help connect rural areas to better quality services by reducing the number of cell sites needed to reach the same level of performance.
Ensuring that additional low-band spectrum accompanies expansion of mid-band and high band (i.e., mmWave) is crucial for maintaining digital equality.
If you want to learn more about our 5G Spectrum Needs study, visit our 5G spectrum guide site here.
To learn more about the future of low band, access the recording and slides of our "5G Spectrum Needs: Vision 2030" launch webinar here.