MENA 5G Spectrum – Setting Out the Roadmap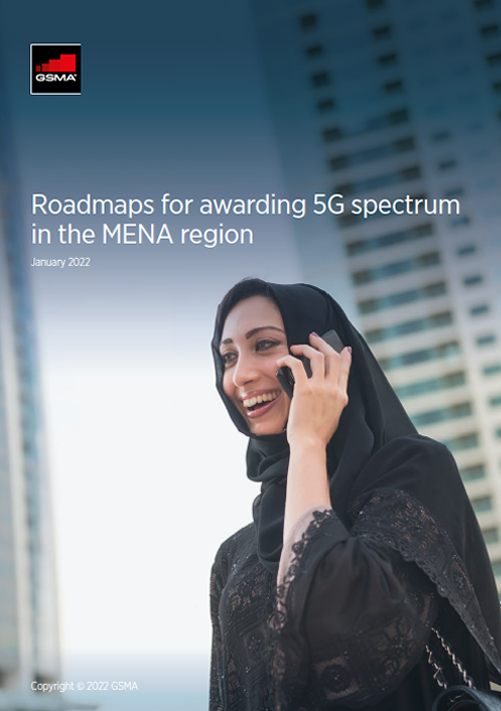 The GSMA's "Roadmaps for awarding 5G spectrum in the MENA region" report looks at the current mobile services and spectrum status in non-GCC countries across MENA. It also sets out a roadmap to help governments and regulators enable 5G in the region.
GCC countries such as Bahrain, Kuwait, Oman, Qatar, Saudi Arabia and the UAE are 5G pioneers. Their governments and regulators have awarded spectrum and mobile operators are deploying some of the world's first 5G networks. The report looks at MENA 5G spectrum needs, and the current status across the region. It then sets out a roadmap, to help governments and regulators enable 5G in the most efficient way possible. It also provides recommendations based on international best practices.
Policy makers should aim to make available 80-100 MHz of contiguous spectrum per operator in prime 5G mid-bands (e.g. 3.5 GHz) and around 1 GHz per operator in high-bands (e.g. mmWave spectrum, such as 26 and 28 GHz). Spectrum in coverage bands, such as 700 MHz, is also needed to make the 5G vision available to everyone.
Successful licensing of mobile spectrum starts with a spectrum roadmap that provides a schedule for forthcoming releases to meet the government's broadband plan as well as other demands on spectrum. In particular, the roadmap helps ensure sufficient spectrum is available to meet the requirements driven by changing technology and demand.
The importance of a spectrum roadmap
However, it is important to recognise that although the steps may be the same for each country, the detailed activities under each may vary. Consultation with interested parties during the process is important to achieve success. The basic steps are:
Identification of spectrum. The key frequency bands to prioritise for 5G are the 700 MHz, the 3.5 GHz range, and mmWaves. However, it may be necessary to consider alternative bands based on what has already been awarded for mobile.
Spectrum clearance. The approach may vary depending on factors such as the density of use; ease of moving incumbents to alternative frequency bands or alternative technologies; and impact on services and users.
Technology definition and restrictions. This will inform the technical licence obligations and the amount of spectrum and geographic availability of the spectrum.
Spectrum valuation. This will inform auction reserves or spectrum charges. When considering the level of investment necessary for new 5G networks it will be important that these are not set at levels that will impact on network roll-out and quality and drive up the cost of services.
Award design. There are three main approaches to spectrum award: auctions, beauty contests and direct award4. The approach adopted and associated licence obligations will need to take account of policy objectives, available spectrum and market specifics (for example, the number of operators, or current spectrum holdings).
Award implementation. The final step is the actual award. This should include documentation with all the necessary details of the award process, spectrum on offer, licence obligations and other essential information for potential licensees.
Not every country in the region will launch 5G services at the same time. However, while timings may differ, what remains important is to make decisions that promote effective 5G rollouts, in order to prioritise capacity, coverage and affordability.
The report is available for download above, and if you want to learn more about 5G spectrum, the GSMA's content on this hot topic is collected here 
Our press release for this report can be found here in Arabic and in English.