The Mobile Economy Latin America and the Caribbean 2017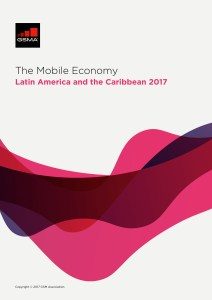 Smartphone and 4G adoption accelerating
Across Latin America and the Caribbean, smartphone adoption has accelerated to reach 59% of total connections by the first half of 2017. In the largest markets, adoption has grown particularly quickly: since the beginning of 2016, almost 85 million new smartphones are in use in the region, with Brazil adding more than 20 million and Mexico 18 million.
By 2020 the region will have an adoption rate of 71%, ahead of the global average of 66%. This translates into an additional 171 million new smartphone users across the region by the end of the decade.
Operators across the region have launched 108 LTE networks in 45 markets, as of June 2017. As a result, coverage has risen sharply in recent years, now reaching a critical mass of 70% of the population. 4G adoption rates are now accelerating, with the rate across the region more than doubling in 2016. By 2020, the region will largely close the gap on the rest of the world, reaching 42% of connections compared to the global average of 44%. Brazil in particular is seeing a strong 4G growth spurt.
PDF Downloads