At our Field Focus Week 2019, the GSMA team together with 25 practitioners, including 11 MNOs, embarked on a trip to rural Ghana to learn about new tools that are digitising the processes involved in collecting farmer and farm data, procuring crops and enabling payments to farmers via mobile money. We visited the operations of two Licenced Buying Companies (LBCs) in the cocoa sector, Royal Commodities and Olam International.
We not only had the opportunity to discuss with farmers with how they experience innovative payment methods but also how agribusiness' staff, such as purchasing clerks, and their partners use digital tools in their daily work and interactions with farmers.
Following our first summary of learnings from the Field Focus Week 2019, which shed light on cocoa farmers' benefits and existing challenges related to digitisation in the agricultural last mile, this blog summarises insights from the agribusiness perspective, presenting existing benefits brought by digitisation but also opportunities that remain untapped.
How do digitisation tools bring value to agribusinesses?
We visited two deployments in Eastern Ghana. The first was the mAgric pilot led by MTN Mobile Money in the area of Suhum, for which GSMA is providing technical assistance. The project focusses on digitising farmer records and agribusiness-to-farmer payments via MTN Mobile Money for Royal Commodities, one of twenty-eight LBCs in the cocoa sector. The second visit took us to Nkawkaw, where global agribusiness Olam, another major LBC, uses the digital procurement tool OFIS (Olam Farmers Information System) to register and store procurement records of farmers. Olam pay farmers, mostly via the national biometric e-zwich card payment system but also via mobile money for premiums on certified cocoa.
We discussed with agribusiness' decision makers and operational staff the benefits and challenges stemming from the new digitisation tools for farmers' registration, procurement and payments. Here are the highlights from our visit:
Increased security through reduced cash handling is equally beneficial for both agribusiness staff and farmers
With the use of mobile money payments or the e-zwich cards, agribusiness staff handle less cash, or none at all, in the process of paying farmers. The use of digital tools in the procurement process reduces cost linked to transporting cash for long distances and agribusiness liability around staff security. Agribusiness staff, such as purchasing clerks (PCs), who used to travel long distance with large amounts of cash, now feel safer while working.
During our visit to Nkawkaw, a local Olam staff recalled the fear and agitation he experienced when he used to be a PC tasked to pay local farmers for their cocoa. He told us about the precautions he took to be almost invisible to his local community during the time of payments, for example leaving his home before dawn to go about his business and avoid unexpected encounters.
Digital payments are driving operational efficiency for agribusinesses across several functions
Another key benefit of digital payments is that they provide the agribusiness management team better visibility into funds utilisation and real time monitoring of PCs' performance. The traceability of mobile money transactions means that the PC no longer has the opportunity to use funds provided by an agribusiness for side buying, for example using the cash provided by agribusiness A to buy cocoa for agribusiness B because it offers better commissions. With real time visibility into the availability of e-money in the PC's wallet and on their performance, the head office can make decisions on how much e-money they want to transfer to a purchasing clerk depending on his performance. Fund transfers between the head office and the district manager, who in turn transfer the digital cash to the purchasing clerks, are now instantaneous; previously, delays of up to a week were incurred due to wire transfer processing times.
A Royal Commodity's district manager told us how he used to wait for a wire transfer from the LBC head office before he could bring physical cash to purchasing clerks. Transporting physical cash to each PC and lacking visibility into how this cash was used was a huge challenge. In addition, as a district manager, he was in the difficult position of being refused additional physical cash from headquarters until all his reporting PCs had expended their cash reserves in cocoa bean purchases.
By using MTN Mobile Money's mAgric tool, the PCs procuring cocoa for Royal Commodities are today able to procure large volumes of produce from farmers without as much risk of running out of funds. The system sends a notification to district managers when their affiliated PCs reach a certain target. Then, the PC's account is refilled remotely. As a result, PCs have timely access to working capital while the risk of farmers' side selling to competing LBCs is reduced.  Given that PCs are paid on a percentage basis, quick refinancing is a key benefit that the mAgric tool offers them.
In addition, the mAgric tool enables agribusiness staff at head office to monitor buying volumes and to better plan logistics and warehousing. By enabling better predictions and planning of upcoming purchases in a given village or with a given farmer, the tool allows agribusinesses to identify top performing farmers and build stronger relationships with them. At the same time, it helps flagging which farmers are underperforming and targeting them with extension services to improve agricultural practices and farmer knowledge.
Last mile digital tools can further support traceability and certification requirements
An increasing number of buyers request traceability down to the farmer level and this presents further opportunities to adopt digital tools for efficient data collection and storage.
OLAM is already processing the majority of premium payments to farmers for certified cocoa via mobile money. As agribusinesses work in highly competitive environments, the pressure on gaining competitive advantage through certified and traceable products is also increasing. Digital tools can streamline and reduce the associated costs of traceability and certification.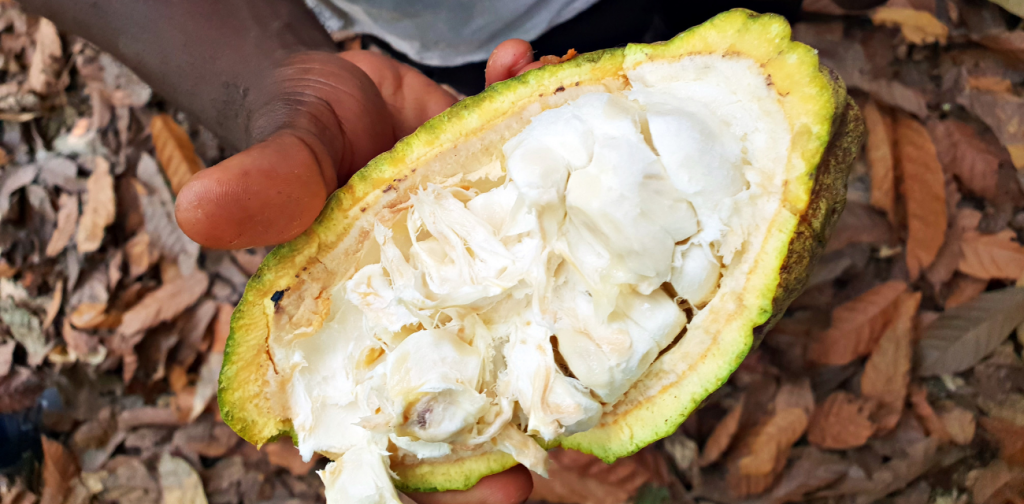 Looking forward and scaling up
Agribusinesses embarking on digitisation initiatives are starting a transformational journey. In the early phases of adoption, the users (e.g. back-end staff and purchasing clerks) are likely to question the value provided by a last mile digital tool.  User experience research based on Human Centred Design (HCD) helps to design digital tools that are fit for business processes, by focusing on the needs of each stakeholder.
As we continue our work on designing last mile digital tools with MNOs and agribusinesses at GSMA, we are constantly reminded of the importance of a gradual approach to digitisation initiatives. It is essential to concentrate first on the processes that are at the backbone of agribusinesses' operations in the last mile.  Conducting an early opportunity-cost analysis of each last mile operational process, as it is performed in a "traditional" offline mode, can help identify where digitisation offers best value. Key processes to look at include extension services, farmer and farm registration, farm inspection, procurement, data analytics and of course payments to farmers.
Other layers of the value chain, for example, the intersections between the agribusiness and the regulatory/ certification body (in this instance the Ghana Cocoa Board) may benefit from digitisation of key business processes such as performing quality checks. Digital tools, for example, IoT solutions, can help lay the foundations of a more holistic traceability framework from bean to bar in the cocoa industry.