Mobile money providers have seen high adoption and usage of mobile money services in predominantly urban areas. Digitising agricultural payments is an opportunity to unlock growth in rural areas and drive financial inclusion amongst smallholder farmers.
The GSMA AgriTech Programme has published a new report that highlights the opportunity for mobile money providers to digitise agricultural payments up to 2025 – building on analysis outlined in a similar report in 2016. Using proprietary methodology developed together with GSMAi, this report demonstrates the growing opportunity of digitising payments in agricultural value chains. The report explores the opportunity for digitising both business-to-person (B2P) payments for the procurement of crops and government-to-person (G2P) payments for agricultural subsidies in 72 developing countries across Sub-Saharan Africa, South and East Asia, and Latin America and the Caribbean.
Across the countries we analysed, the revenue opportunity for mobile money providers in digitising B2P payments is expected to grow from a currently estimated $2.4 billion in 2021 to $3.2 billion in 2025.
Our analysis found that formal value chains are more suitable for digitising B2P payments because they are structured in the last mile around agribusinesses and cooperatives that are responsible for crop procurement and aggregation. By digitising payments, agribusinesses in formal value chains can benefit from reduced transactional costs, as well as increased efficiency, safety and transparency in the last mile of procurement in agricultural value chains. Farmers also stand to benefit, by gaining greater access to formal financial services through mobile money and building up a financial footprint in the process, which can unlock access to additional financial services such as loans, savings and insurance.
The digitisation of payments for agricultural subsidies (e.g. inputs, fertilisers) paid out by governments to smallholder farmers (or G2P payments) is also significant. The revenue opportunity in digitising G2P payments is expected to rise from $152 million in 2021 to $210 million in 2025. In addition to this, mobile money providers can generate additional revenue by providing platforms for G2P payments, including digital farmer registries.
By digitising B2P and G2P payments, mobile money providers stand to increase their revenue from payment transaction fees, whilst acquiring new mobile money customers or boosting the use of mobile money amongst existing customers. For mobile money providers to realise these revenue opportunities, a number of foundational elements are required. These include an enabling regulatory environment, the availability of active and liquid agents in rural areas, and the presence of agribusinesses and government bodies that are willing and able to deploy digital tools.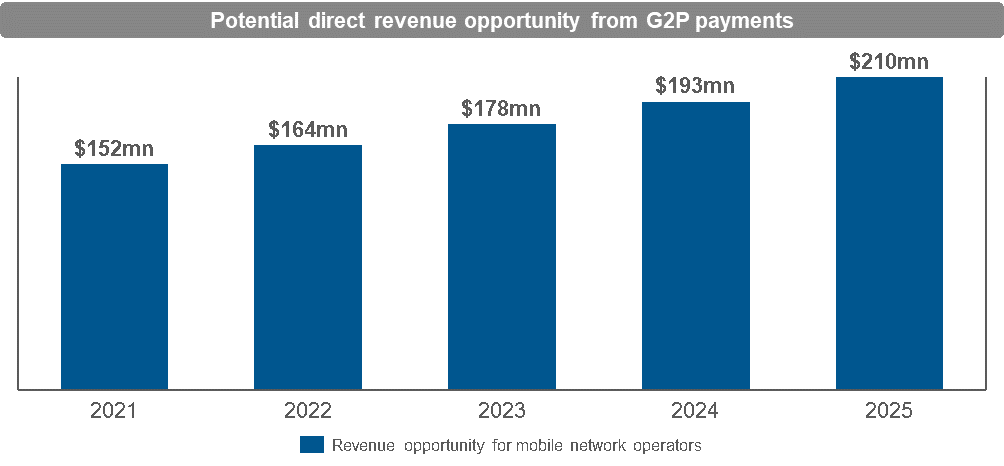 A number of B2P payment services have emerged in countries such as Ghana, Kenya, Rwanda and Pakistan. Most of the schemes in these countries work with agribusinesses in formal value chains or in agricultural e-commerce solutions. For example, MTN MoMo in Ghana launched a pilot of its mAgric service together with Royal Commodities, a licenced cocoa buyer. mAgric enables farmer registration by mobile, mobile money payments from agribusinesses to farmers, and data analytics and monitoring for agribusinesses. While a number of initiatives to digitise B2P payments have emerged, there are noticeably fewer examples of digital G2P schemes. Digitising G2P payments involves a different set of challenges compared to B2P payments, such as dealing with complex governmental procurement processes and the risk of shifting government priorities.
This report highlights both the revenue opportunity for mobile money providers in digitising payments in agricultural value chains, as well as the key considerations for them when seeking to digitise payments to smallholder farmers.
We welcome your feedback and comments on this report.