Introduction
With increasing pressure on Pakistan's limited energy and gas resources, Pakistani companies are seeking ways to decrease costs and adopt renewable sources that better match energy supplies and demand. One innovation many companies are considering is smart metering technology. Smart meters transmit real-time usage data back to the consumer, increase energy efficiency and provide user incentives to decrease excessive usage of electricity. One of Pakistan's most active development financiers, the Asian Development Bank, has categorised smart metering to be the main game-changer in revolutionising energy and water utilities. To support its stance on smart metering, the Asian Development Bank recently signed contracts worth approximately $30 million dollars to deploy smart meters to over 3.5 million households in Pakistan. This initiative will benefit over 10 million people and contribute to reducing energy waste and the associated carbon footprint.
Realising the importance for smart metering in Pakistan, the GSMA Digital Utilities programme facilitated a partnership between one of the largest microfinance banks and digital players, FINCA Microfinance Bank Limited and SB Electronics Engineering and Control (Pvt) Ltd. (SBEEC), a company leading the market in digitising utilities. Through the partnership, SBEEC will install smart meters at over 100 FINCA branches across Pakistan. This initiative is part of FINCAs GoGreen branch initiative in which the organisation plans to implement clean technology all across Pakistan to help the country achieve Sustainable Development Goal (SDG) 7; affordable and clean energy.
The smart metering market
The global smart metering market was valued at $21.79 billion in 2020 and is projected to cross $54.34 billion in value by 2030, growing at an average rate of 10 per cent per year. This growth has been galvanised mainly by the surging interests in digitalisation of electrical systems and national efforts to increase awareness of the benefits of smart meters. Another core factor driving the adoption of smart meters in low- and middle-income countries is the vast investment by funds like the Universal Service Fund, which aim to provide connectivity in unserved/underserved areas that had no prior service or connectivity. After providing access to connectivity in previously hard-to-reach areas, local governments have started pilot projects in partnership with private sector innovators and enabling organisations to understand the benefits of smart metering. One project worth mentioning is the Secure Metering System, developed by USAID to improve Pakistan's National Transmission and Dispatch Companies' (NTDC) ability to forecast power requirements across the country. Using this forecasting tool, NTDC plans to facilitate the digitalisation of Pakistan's power sector and further decrease electricity theft across the country. Similar to NTDCs plan to decrease electricity theft across the country, the GSMA in the past had funded an "eliminating electricity theft" project led by CISNR and Jazz, which after three months of implementation, led to savings worth $78,980 in one quarter.
Advantages of smart metering for centralised energy supplies
Traditional meters for water and energy only have one-way manual communication between the users and the utility providers, requiring personnel to record the consumption manually and issue a bill. This not only leads to inefficient billing, loss of data and human errors, but also mean utilities often have incorrect data that cannot be reliably used in dispute resolution.
Currently, smart meters have advantages that include but are not limited to:
Elimination of physical personnel required on the ground for energy monitoring and bill reconciliation;
Increased ability and visibility for load management during peak load times;
Scheduling of electricity usage in the most optimal manner; and
Preventing blackouts by better monitoring and load forecasting for power grid management.
Realising the gap in the market, SBEEC have introduced services that help utility stakeholders solve challenges related to load management, electricity theft detection and system security. Through these services, consumers have also been educated about their electricity usage as well as how to identify areas of inefficiencies in electricity management. Furthermore, SBEEC has specifically worked on a technology dashboard which allows for the following features: Identifying the discrepancy between actual consumption and billed consumption, 24/7 availability of data, remote access to historical data from any location through the internet, and energy management reporting for the entire organisation.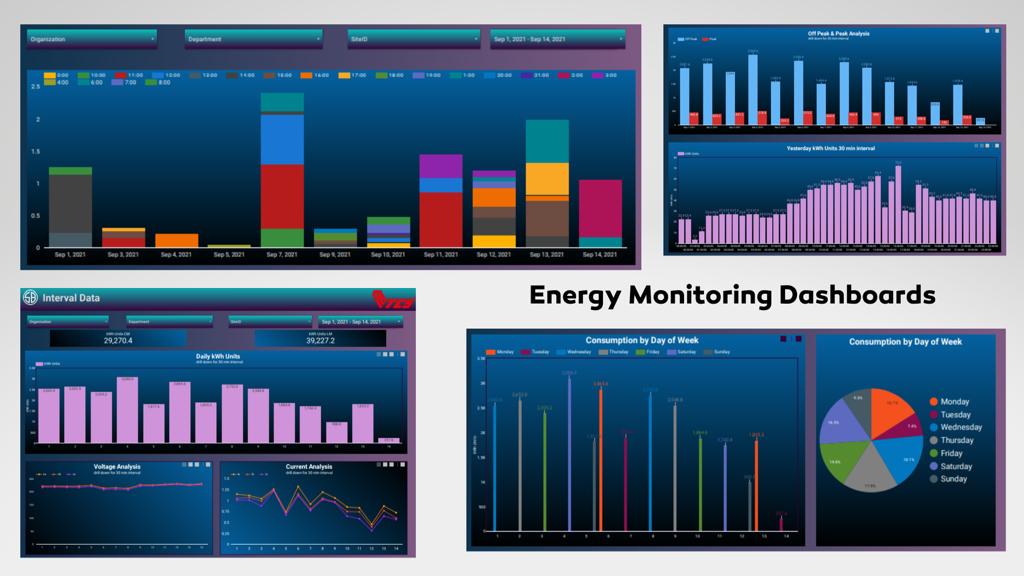 Energy monitoring dashboards visualising electricity usage and bill reconciliation
Piloting smart metering in Pakistan with FINCA
After realising the momentum that SBEEC has gained in the last few years and FINCA's need for automated energy monitoring through its Entrack (Energy Management) dashboard, the GSMA introduced SBEEC to FINCA and acted as an intermediary in the partnership process. So far, SBEEC has signed up to provide bill-reconciliation and consumption reduction as a service on a monthly basis, covering end to end installation of smart meters at sites, on-site services for public bill utility energy meter reading and analysis, replacement of faulty public utility meters and a cloud-based energy management dashboard and customised energy consumption reports for all sites. The package is a combination of a one-time smart meter (hardware) investment along with services and software in a SaaS (Software as a Service) model. Once the trial is completed successfully, smart metering deployment will be launched in over 100 FINCA's sites upon approval.
Installation of Smart Meters taking place at FINCA Bank branches
Conclusion
As cities in low- and middle-income countries face the concurrent challenges of rapid urbanisation, climate change, and inequality, ensuring that utilities innovate, provide reliable services and remain commercially sustainable is more important than ever. Smart metering technologies can pave the way in eliminating some of the key issues that utilities face today. All in all, the main objective of smart meters is to ensure systematic energy management, keeping in mind both the energy provider and the consumer. The FINCA and SBEEC partnership is a move in the right direction, one which will encourage many corporations to adopt smart metering and revolutionise the energy industry, not only in Pakistan but across other developing countries. The GSMA Digital Utilities team is committed to continue to drive partnerships between private sector innovators, mobile operators, corporates and government providers of utility services.
The Digital Utilities programme is funded by the UK Foreign, Commonwealth & Development Office (FCDO), and supported by the GSMA and its members.