This is the second blog in a 6-part series to mark the re-launch of the GSMA Mobile Internet Skills Training Toolkit (MISTT). You can read Part 1 here. This series will deep dive into each of the new MISTT modules (Online Safety, Mobile Money, Android, Accessibility Features and KaiOS), and will discuss the importance of digital skills in relation to each area.
For many people, a mobile phone is an essential part of life, and a vehicle for accessing information and services, communicating and socialising. However, there are still people being digitally excluded, including a significant number of disabled people.
More than 12 per cent of the global population have a moderate to severe visual impairment or are blind[1]; and over 5 per cent of the world's population have a hearing impairment or are deaf[2].  For some people with a vision and/or hearing impairment, blindness or deafness, a phone is part of everyday life, as phones can be easily navigated using built-in or added 'accessibility features'. This allows a person to tailor make their experience to suit their needs.
For instance, a person with a visual impairment could use 'magnification' to make things larger on the screen, or use screen readers like 'TalkBack' which makes the phone speak aloud. A person with a hearing impairment could turn on 'captions' to see the words on the screen when watching a video, or use 'live transcription' which turns a person's speech to text when they talk.
Evidence shows that when people with a vision and/or hearing impairment, have a phone with accessibility features (i.e. smartphones) and know how to use them, they can have high mobile internet use, more so than non-disabled customers; for instance, in Kenya, we found that 69 per cent of visually impaired smartphone owners used mobile internet daily compared to 56 per cent of non-disabled smartphone owners.[3]
Despite this, most people with a hearing or visual impairment are not aware of how easily they could use a mobile phone with accessibility features. In Kenya and Bangladesh, only 13 per cent and 10 per cent of mobile owners with disabilities reported using them.[4] This lack of knowledge and skills and perceived relevance of mobile phones contributed to a gap in ownership of 12 per cent and 13 per cent in Kenya and Bangladesh, respectively, between those with and without a disability.
Digital skills are fundamental for the digital inclusion of all. Hence, for people with a vision and/or hearing impairment to get the most from their phone, they need to be provided with information or be shown how to use both the accessibility features relevant to their needs, in order to be able to navigate it easily, and how to use the mobile internet and apps they wish to use.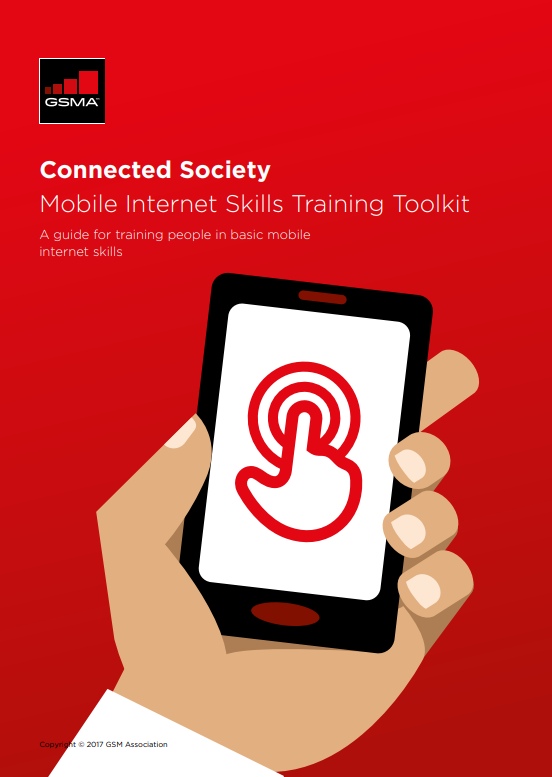 The Mobile Internet Skills Training Toolkit (MISTT) is an easy-to-follow curriculum designed for mobile operators to support their agents, in teaching both elements to customers. The modules include WhatsApp, YouTube, Google, Wikipedia, Facebook, Online Safety, Mobile Money, Android and KaiOS as well as a module called 'Accessibility Features'.
Through adopting and deploying the MISTT to the agent networks, more people with a visual or hearing impairment will become confident users of their phones, being able to easily navigate the device and accessing mobile internet and apps. This will allow people to unlock the full potential of mobile, to connect with their friends and relatives, and to access mobile money, entertainment, news and online information. Access to mobile can be a critical gateway to transportation, education, healthcare services and community groups for people with disabilities.
Next steps to make the MISTT part of your digital inclusion strategy
To download the MISTT training materials please click here.
For a range of support on disability inclusion and to roll out the MISTT and the Accessibility Features module, get in touch with the GSMA Assistive Tech team, and start to close the mobile disability gap today.
If you'd like to be the first to hear about new MISTT modules, features and publications, subscribe to the MISTT mailing list and we'll email you with important updates.
   
[1] WHO, 2019
[2] WHO, 2020
[3] GSMA, Understanding the mobile disability gap, 2019
[4] GSMA, 2020