On 27 October 2022, the Digital Utilities programme hosted a session titled, 'Partnering for Improved Service Delivery: Learning from leaders' during the first annual MWC Africa in Kigali. The session focussed on the role of partnerships in extending essential services across Africa, while discussing the drivers of successful public-private partnerships (PPPs) and reflecting on some of the challenges associated with multi-stakeholder collaboration.
To kick off the session, Max Cuvellier, Head of Mobile for Development (M4D) at the GSMA, highlighted the need for different stakeholders to work together in the face of issues such as rapid urbanisation, climate change and widening inequalities. Through the GSMA Innovation Fund, we have supported more then 100 start-ups working across Africa and Asia and have seen how central partnerships are to scaling journeys and wider social impact. We have also seen how partnership formation between stakeholders with different organisational cultures, time horizons and strategic priorities can pose challenges.
Partnering for health facility electrification in Africa – introducing the Health Electrification and Telecommunication Alliance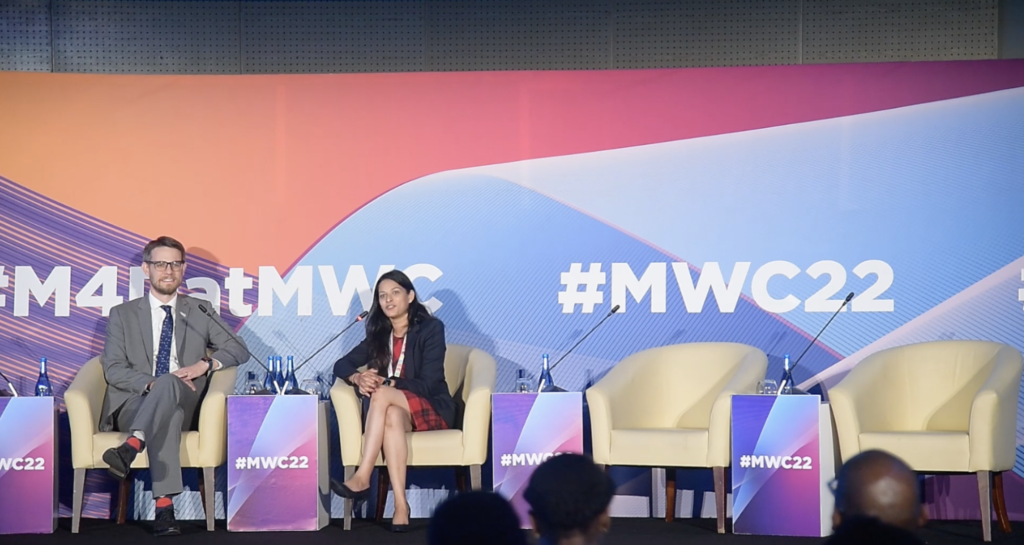 Following the keynote, Akanksha Sharma, Acting Head and Senior Director of the ClimateTech and Digital Utilities programmes, was joined on stage by Julius Svoboda, Private Enterprise Officer at Power Africa. Earlier this year, USAID launched the Health Electrification and Telecommunication Alliance, bringing public and private sector actors together with the aim to electrify 10,000 healthcare facilities over the next few years. The alliance is an exemplar of the power of partnerships, with over 30 members from different sectors working at the intersection of clean energy and digital infrastructure. Julius, alongside the GSMA, highlighted the crucial role of mobile network operators (MNOs) in the alliance as they facilitate the mapping out of spectrum to identify areas that require intervention (see our related work on leveraging mobile coverage map data for off-grid energy deployments in DRC). MNOs in low- and middle-income countries (LMICs) have also been at the forefront of deploying renewable energy for mobile towers in remote areas. Electrification in these areas will not only improve digital inclusivity but also enable MNOs to meet their Environmental, Social, and Governance (ESG) goals.
The fireside chat set the scene for a panel session featuring Amaury Fastenakels, Chief Commercial Officer at Bboxx, Fred Waithaka, Head of Regulatory and Public Policy at Safaricom, Lisa Hawkes, Sustainable Behaviour Change Manager at Unilever, and Tesi Rusagara, the Managing Director for the Kigali Innovation City. This interactive panel was moderated by our Director, George Kibala Bauer. The session focussed on the panellists' experiences in building and scaling strategic partnerships, noting that while each kind of partnership is unique and are often challenging, the impact of successful collaborations is always greater than charting the path alone.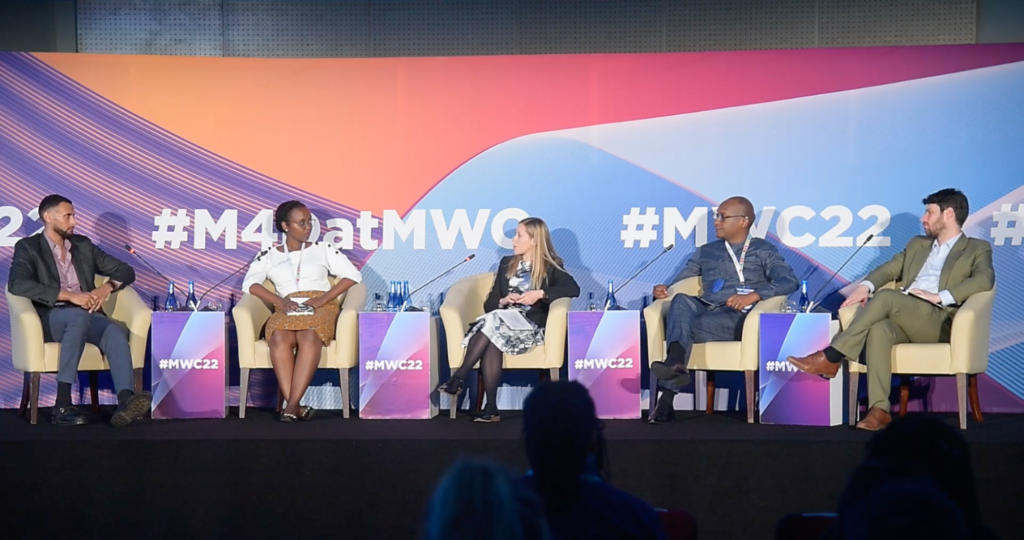 Navigating public-private partnerships
During the discussion, the panellists reflected on similarities and differences associated with partnerships between start-ups and partnerships between start-ups and large corporates such as mobile operators. From a public sector perspective, Tesi from Kigali Innovation City observed that start-ups that have a clear goal and can show quick success through a pilot, demonstrate higher ability to deliver and hence likely to form a partnership with the public sector. Governments, faced with a constraint on resources and a myriad of projects to undertake, tend to be risk averse. It is therefore critical for potential private sector partners to identify relevant partnership opportunities, in line with the public sector's goals, and understand more precisely what value the partnership would provide to the government.
This observation was also shared by Amaury from Bboxx who spoke about their experience working with the Government of Togo to close the energy access gap through the uptake of off-grid energy services such as solar home systems. Bboxx recognised the need for government intervention through subsidies, and developed a integrative approach with recommendations on how the government would engage with the private sector to ultimately achieve universal access. They have so far impacted over 100,000 Togolese by providing clean, reliable, and affordable power.
Implementing and sustaining partnerships with start-ups
As PPPs become increasingly common, partnerships between the public sector and start-ups as well as small and mid-sized enterprises (SMEs), have their unique characteristics and processes that set them apart. Fred called on stakeholders to not take a one-size-fits-all approach for partnerships. Safaricom enjoys a strong relationship with the Kenyan government across multiple fronts as a shareholder, regulator, supplier, and customer. This experience has helped them develop good practices for engaging other governments and large corporate partners in strategic partnerships.
"Treat government like you would any other relationship."

Fred Waithaka, Safaricom
Safaricom also sees tremendous value in partnering with start-ups. These partnerships allow Safaricom to learn from start-ups' innovative approaches and reach new customer segments. They also require their own unique engagement protocol to create a more defined partnerships path for start-ups. Such unusual innovative partnerships are at the crux of service delivery on the continent. Lisa highlighted the Sanitation Challenge, by TRANSFORM, a joint initiative between Unilever, the UK's Foreign, Commonwealth & Development Office (FCDO) and EY, which brought together public utilities and private enterprises in Kenya and Zambia to tackle the complex issue of safely managing human waste. Utilities leveraged entrepreneurs' track record in creative innovative models, and Unilever's expert insights into consumer behaviour, to ensure that their sanitation businesses were scalable and sustainable. Bboxx emphasised that such unique partnerships have enabled them to move from just being an energy company to becoming a super platform that allows access to different essential products and services. Recently, Bboxx announced their partnership with Ampersand, an e-mobility company based in Rwanda, to finance electric motorbikes in the country. Being the first time venturing into mobility solutions, Bboxx's asset financing model will provide a pay-as-you-drive system, allowing riders to make mobile payments towards the purchasing cost. The company has also joined forces with Unilever in Kenya to accelerate access to clean energy solutions by leveraging Unilever's vast distribution network and capacity.
The panel also shared advice on:
how the private sector can effectively and better approach the public sector
leveraging partnerships to raise investment and funding, and
best practices that lead to successful public- private partnerships
We would like to offer our sincere thanks to all the panellists and speakers for joining this session and we look forward to our continued collaboration and further conversations in the future.
The Digital Utilities programme has been excited to see how relevant this public sector partnership theme has become for innovators in the utilities sectors. For many innovators, public sector partnerships are a critical component in their journeys to scale. We recently released a report entitled, 'Partnering with the public sector: A toolkit for start-ups in the utilities sectors' and published our partnership hub, our single source of information on innovative solutions and their role in making utility services in LMICs more affordable, accessible, safe and sustainable.
The Digital Utilities programme is funded by the UK Foreign, Commonwealth & Development Office (FCDO), and supported by the GSMA and its members.