The humanitarian sector has shifted from a protracted period of research on the potential to use cash to strong recommendations on significantly increasing its use. Moreover, given the benefits of digitising cash and voucher assistance (CVA) –increased transparency, reduced risk of theft and fraudulent activity and most importantly, greater freedom for beneficiaries to choose when and where they receive their payments—humanitarians consider it standard practice to seriously evaluate distributing cash as part of a response to a humanitarian crisis. With this shift, mobile money is considered a viable solution in countries where it is available, given the spread of mobile phone access and its continued importance to forcibly displaced persons (FDPs) across the globe.
The Common Donor Approach to humanitarian cash programming recently stated that donors would promote cash programmes that build on technological advances and innovations as one approach to maximising effectiveness and efficiency. This is very encouraging and in fact, the GSMA's newly published report, Mobilising cash and voucher assistance programmes: The case for mobile money, highlights how mobile money (MM) enabled CVA can actually facilitate a suite of innovative products specifically to FDPs and the broader population.
However, while it's important to promote innovation, it's also critical to understand whether these innovations are commercially sustainable for mobile money providers—an essential partner for humanitarian organisations. Indeed, the GSMA M4H report finds that leveraging mobile connectivity in combination with using mobile money to disburse cash to beneficiaries creates additional benefits and opportunities that help build the business case for mobile money enabled CVA programmes.
So what's in it for MNOs?
The report estimated that in 2018 there was a market of $118 million in transfer fees for payments providers from mobile money enabled CVA programming. Though this is significant from the mobile network operator's (MNOs) perspective, the direct revenue generated from a CVA programme will be relatively small when compared with revenue from other mobile services. It is difficult to robustly estimate the specific potential revenue for MNOs in distributing CVA, nevertheless mobile money enabled CVA has a number of potential benefits. If MNOs extend adjacent mobile phone services (voice and data) to beneficiaries and humanitarian organisations alike, they could generate additional revenue streams. This strategy can help humanitarian organisations cut costs by avoiding the use of expensive temporary satellite communication installations and instead enable staff to communicate with each other as well as with beneficiaries.
Moreover, beneficiaries have the opportunity to use the full functionality of the mobile phone—from calls, SMS, to mobile money-enabled services such as merchant payments.  Previous GSMA research in Nyarugusu refugee camp in Tanzania highlighted the business case for extending mobile coverage to refugee camps, finding that the monthly spend on airtime top-ups and data per refugee mobile phone users exceeded the estimated average revenue per subscriber in Tanzania, despite the limited income opportunities for refugees in the country.
Building the digital ecosystem
The full potential of generating revenue beyond the direct revenue from CVA programmes requires keeping money within the mobile money ecosystem as opposed to immediately cashing it out, a common behaviour many displaced populations exhibit. For instance, beneficiaries could potentially have the ability to buy goods at local shops or top up their pay-as-you-go (PAYG) electricity devices, if this option is available. These are potential revenue sources for MNOs who can supply SIM cards that enable access to these services and mobile money where applicable, as well as lower their customer acquisition costs (i.e. as they are acquiring new customers from humanitarian organisations and saving on marketing costs).
Figure 1: Making the double bottom-line work: revenue stacks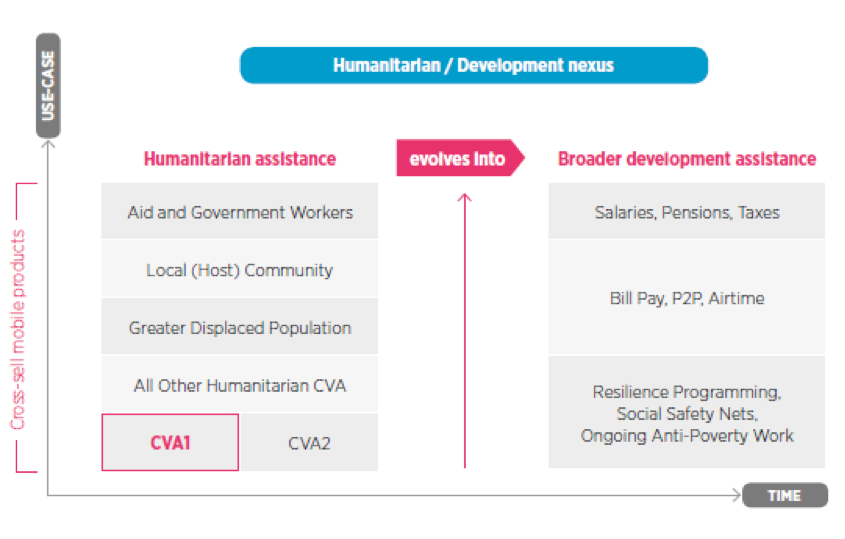 Additionally, as demonstrated in Figure 1, humanitarian organisations could collaborate with development partners to leverage mobile money for cash transfer programming for beneficiaries' future needs and consequently extend the period that MMPs generate revenue directly from CVAs and indirectly if use of other adjacent services is taking place and is maintained. At the same time, it would be critical for humanitarian organisations to ensure that their beneficiaries have the appropriate digital literacy skills to use the full functionality of the mobile phone.
Mobile money enabled CVA programmes have the potential to transform delivery of CVA programmes by enabling the effective delivery of cash and voucher assistance in crises. While there may be relatively thin margins that MNOs can directly make from mobile money enabled CVA, there are potential revenue streams in extending mobile-enabled services to all stakeholders. This will take a concerted, coordinated effort between humanitarian organisations, their mobile money provider partner, and any other stakeholders involved to ensure operations run efficiently and potential revenue margins are met.
A true desire to find a solution will go beyond simply a means for disbursing assistance but a solution that also provides a bridge for beneficiaries to access an array of products and services that provide greater dignity and choice.
The GSMA M4H programme will soon be publishing two operational handbooks specifically on mobile money enabled cash and voucher assistance programming for the humanitarian and private sectors, respectively. These handbooks outline the key considerations and conditions needed for mobile money to be a viable solution for distributing CVA in humanitarian crises, highlighting ways to overcome challenges that may be faced and outlining the potential benefits of doing so.
This initiative is currently funded by the UK Department for International Development (DFID), and supported by the GSMA and its members.