This blog has been authored by Briter Bridges. For more information on the Indo-Pacific investment landscape, please see our report.
The technology landscape across the Indo-Pacific region over the past decade has been heavily influenced by the presence of India and China, due to the sheer size of the investment activity and relentless expansion strategy across the ASEAN community (e.g. Digital Silk Road). In the case of China, however, the strict regulatory environment has also worked in favour of less regulated, neighbouring countries, especially the Chinese-speaking Singapore and Malaysia. According to our latest research, the region presents a highly diverse landscape, with countries such as Singapore, Indonesia and Malaysia leading under metrics such as investment volumes and ecosystem sizes, a number of emerging economies including Vietnam, Philippines, and Thailand playing catch up with their forerunners, and finally the nascent scenes in Cambodia, Myanmar, and the smaller Pacific Islands, which are characterised by limited access to private capital and less scalable markets.
During the COVID-19 pandemic, the adoption of digital technologies saw a surge, accelerating the internet economy across the region. Digital learning, online grocery shopping, online retail, deliveries, and entertainment are all industries that have experienced substantial growth over the last year and a half, with a new wave of digital consumers. In 2020, the booming internet economy hit $105 billion in Southeast Asia. According to a report by Google, the Singaporean government's investment holding arm Temasek, and Bain & Co., more than 70% of the population in the region is online, with 40 million new internet users in 2020. By 2025, the internet economy is estimated to reach USD $300 billion gross merchandise value (GMV) and, according to the GSMA, mobile internet users will grow from 1.2 billion to 1.5 billion by the same year.
Tech hubs landscape
Innovators across the Indo-Pacific region benefit from the presence of over 400 tech hubs and organisations supporting their journey through services ranging from mentorship to financial support. This figure shows a 61 per cent growth since our last mapping in 2018, which counted 239 (excluding 326 hubs across India, Sri Lanka, Pakistan, and Bangladesh) and represents an extremely positive signal in terms of long-term sustainability and trajectory of the region's individual ecosystems, which persist in spite of COVID-19's adversity. One of the key traits of the region's start-up ecosystems is the presence of public-private partnerships across all levels, as well as the involvement of corporates and government agencies in the form of support or financing programmes, ICT infrastructure development, and technology parks. Partners range from global tech giants such as Google, Amazon, Huawei, IBM, Alibaba, and Tencent, to local corporations and mobile network operators such as Telkomsel, True, MDEC, Axiata, as well as development and international humanitarian agencies from USAID to Australian Aid and the British Council.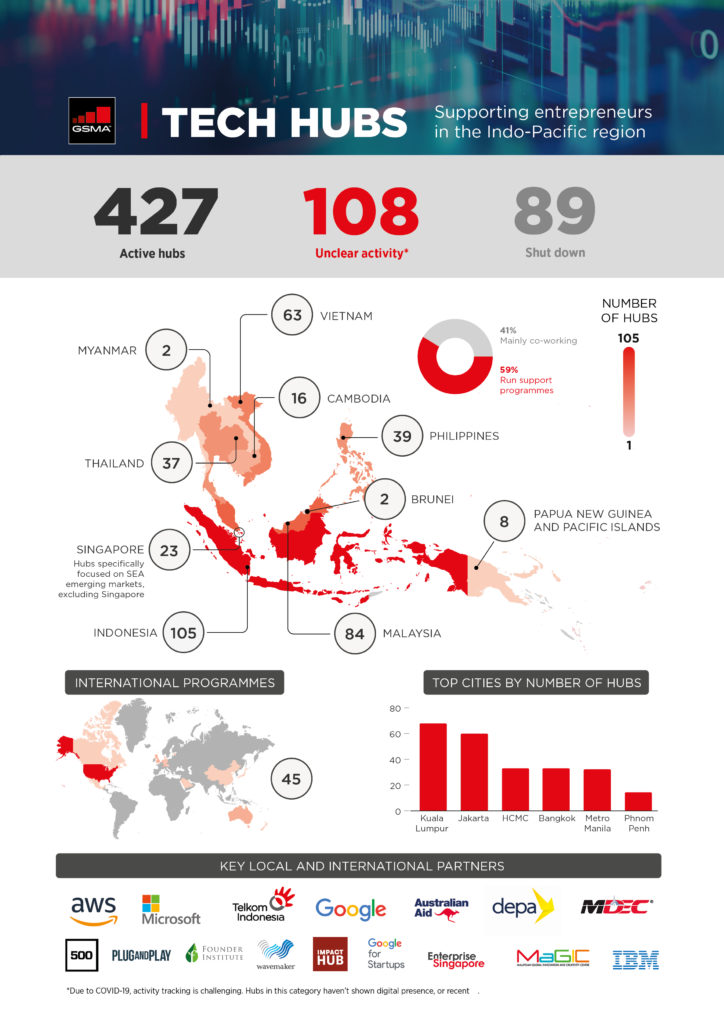 More information about the start-up support hubs identified in this infographic can be found in this downloadable database.
Geographical breakdown
The innovative landscape across the Indo-Pacific region can be clustered in three main ecosystem tiers:
Forerunners, including Singapore, Indonesia, and Malaysia;
Fast-emerging, led by Vietnam, Philippines, Thailand and, to some extent, Cambodia; and
Nascent, which comprises Myanmar, Laos, Papua New Guinea, and the small Pacific Islands.
Indonesia has become the market leader in ASEAN (Association of Southeast Asian Nations) alongside Singapore, with over 100 hubs identified and boasting the presence of giants such as GoJek, Bukalapak, OVI, Tokopedia, and Traveloka. The Indonesian ecosystem is also widely distributed, with a number of secondary and tertiary cities developing innovative scenes locally. Besides the capital city, Jakarta, which hosts over 50 hubs including Tinc (Telkomsel Corporate Accelerator), Bandung, Surabaya, Yogyakarta, and Bali (though mainly driven by its growing 'digital nomad' community) are positioning themselves as new hotspots for digital innovation, with organisations such as Bandung Digital (Bandung), Amikom Business Park (Yogyakarta), and Entrepreneurs' Organisation's Accelerator (Surabaya) present. Hubs that are either supported or directly set up by telecom operators tend to benefit from the underlying resources, such as IT infrastructure, brand, and reach, which works as a plus for their service offering.
Following suit, Malaysia and Vietnam represent the second and third largest ecosystems, based on the number of hubs (respectively 84 and 63) and investment volumes (ca. 1.3 billion each in disclosed transactions). Like Indonesia, both Malaysia and Vietnam's start-up ecosystems benefit from the substantial involvement of their governments and the presence of extremely active accelerator programmes. In Malaysia, names such as MaGIC and SIDEC have become leading institutions in the promotion of entrepreneurship, through programmes, funding, and access to the international investor community. The programmes are supported and driven through partnerships with other entities in the ecosystem, including MaGIC's collaboration with hubs from across ASIA, such as Impact Hub Singapore and Seoul Startup Hub, and SIDEC's varied network of educational, industry and media partners, from Invest Sengalor BHD to Microsoft and MalaysiaKini. Vietnam doesn't benefit from the same number of government-backed accelerator and early-stage funding programmes but it boasts the presence of specialised agencies such as the National Agency for Technology Entrepreneurship and Commercialization Development, and privately-led organisations such as VIISA and Vietnam Silicon Valley. Another aspect that characterises more advanced ecosystems across the Indo-Pacific region is the investment in technology parks and clusters, such as Kuala Lumpur's Cyberjaya to Bangkok's Cybertech District and Ho Chi Minh City's Saigon Silicon City. These smart districts tend to gather strategically different types of stakeholders such as corporate, investors, coworking spaces, and labs and are often sponsored by the government or mobile network operators.
The Philippines benefits from widespread smartphone penetration and a growing population ready to adopt new technologies. The country is one of the largest English-speaking nations in the world, making it an international hub for entrepreneurs and investors alike. Counting 39 hubs and an increasing number of success stories in financial technology such as PayMaya and Mynt, the Filipino fintech giants have contributed to making the country a target for leading investors such as Tencent and KKR. Similarly to other countries in the region, the government has been actively involved in the development of the country's start-up ecosystem, such as QBO, which was founded as a result of a public-private partnership between the Department of Trade and Industry and corporations such as JP Morgan and Google. While most hubs are concentrated in the Metro Manila area, a few minor organisations have emerged in secondary cities such as Davao in the south of the country.
Cambodia has a relatively nascent start-up ecosystem compared to its neighbouring countries, with 16 hubs identified and a limited investment landscape. The country is becoming increasingly appealing for technology and digital start-ups as mobile penetration and internet access are high, and the cost of living is low. Local regulations make it easy for investors and entrepreneurs to gain foreign ownership of companies, however, investment is difficult to obtain.
Differently from the rest of the region, the development of a tech scene in the Pacific Islands has been characterised by philanthropic and development funding, often in the form of grants, challenges and competition prizes, and non-equity, as opposed to venture capital and private markets-led resources. Isolated cases of sector development have appeared, especially in the ClimateTech and solar energy space across Papua New Guinea and Samoa, as these islands are particularly vulnerable to climate change and natural disasters. Coupled with narrow economies, exposure to external shocks, debt vulnerability, low availability of data, and geographical remoteness, the islands have typically been considered a higher risk area for entrepreneurial activity and investment.
Despite the many challenges faced by the Pacific Islands, there are positive developments. A digital revolution and investments in underseas communication cables have made the islands more connected than ever before. This growth has been heavily supported by international institutions such as the World Bank, International Finance Corporation (IFC) and Asian Development Bank (ADB). The cables have been a particular area of priority in Samoa's strategy towards becoming a digital hub. Alongside greater investments in satellite technology, the uptake of digital solutions has increased, the local support ecosystem is growing, and the cost of doing business across the islands is reducing. Advances in neighbouring countries in the Indo-Pacific region, from growth performances, technological progress, to changes to the geopolitical climate, are emerging factors that could also have beneficial spill-over effects for the Pacific Islands in the medium to long term. Due to their small population and scattered territory, however, small Pacific Islands might struggle if they bet on economies of scale and could benefit from adopting service-led economies and strategies, as seen in city-states, other islands or archipelagos, such as Seychelles.
To conclude, hubs constitute only part of the support structures that foster a healthy tech ecosystem, and countries across the Indo-Pacific region have shown a readiness to apply system thinking to the development of their innovation scenes, by bringing together public and private partnerships and making resources available to businesses at all levels.
The Ecosystem Accelerator programme is supported by the Australian Government, the GSMA and its members.