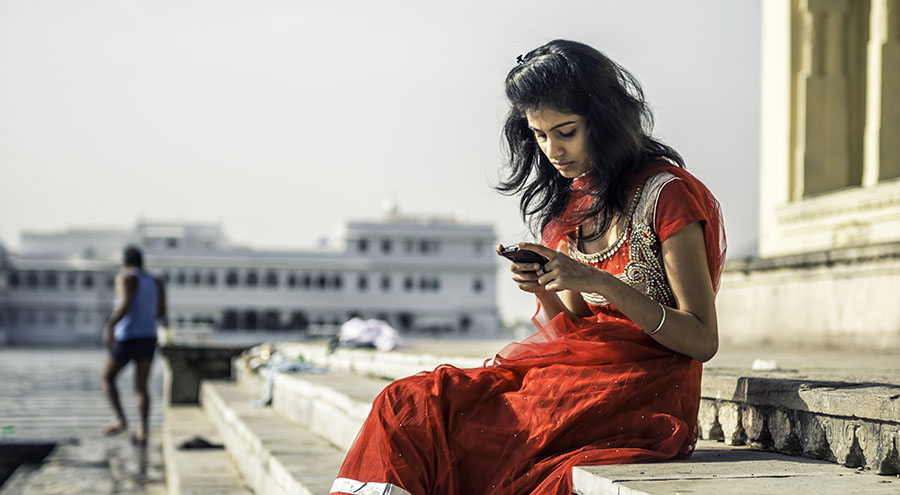 Progress in closing the gender gap in mobile internet use has stalled
More than 3.2 billion people in low- and middle-income countries (LMICs) now access the internet on a mobile phone. Mobile is the primary way men and women access the internet in LMICs, accounting for 85% of broadband connections in 2021.[1]
Despite the critical role of mobile in providing connectivity, progress in closing the gender gap in mobile internet use has stalled.
The GSMA have been tracking the mobile internet gender gap across LMICs since 2017, when women were estimated to be 25% less likely than men to use mobile internet (Figure 1). This gender gap dropped every year from 2017 through to 2020, where it dropped as low as 15%. However, our latest estimate for 2021 suggested this progress has stalled, with the gender gap in mobile internet use now at 16%. This is the first time GSMA data has recorded this type of negative trend.
Figure 1: Gender gap in mobile internet use across LMICs, 2017-2021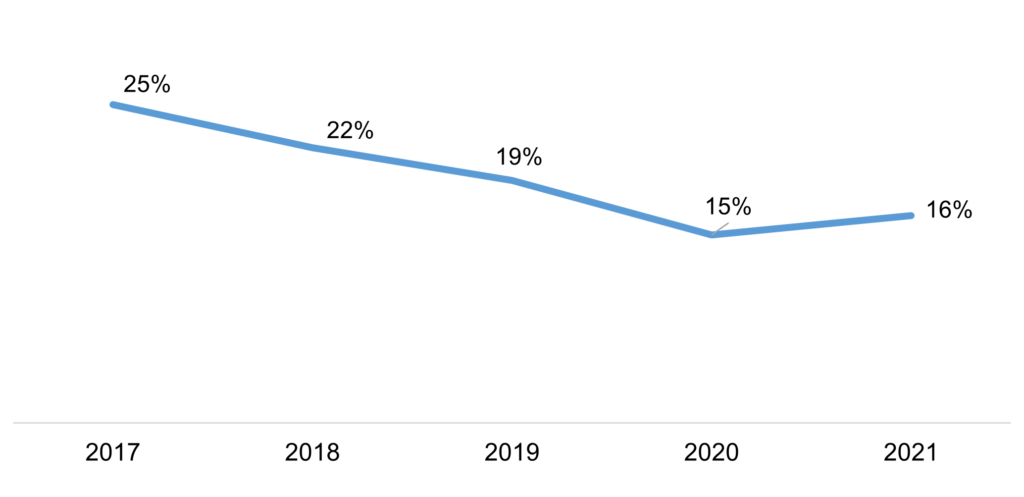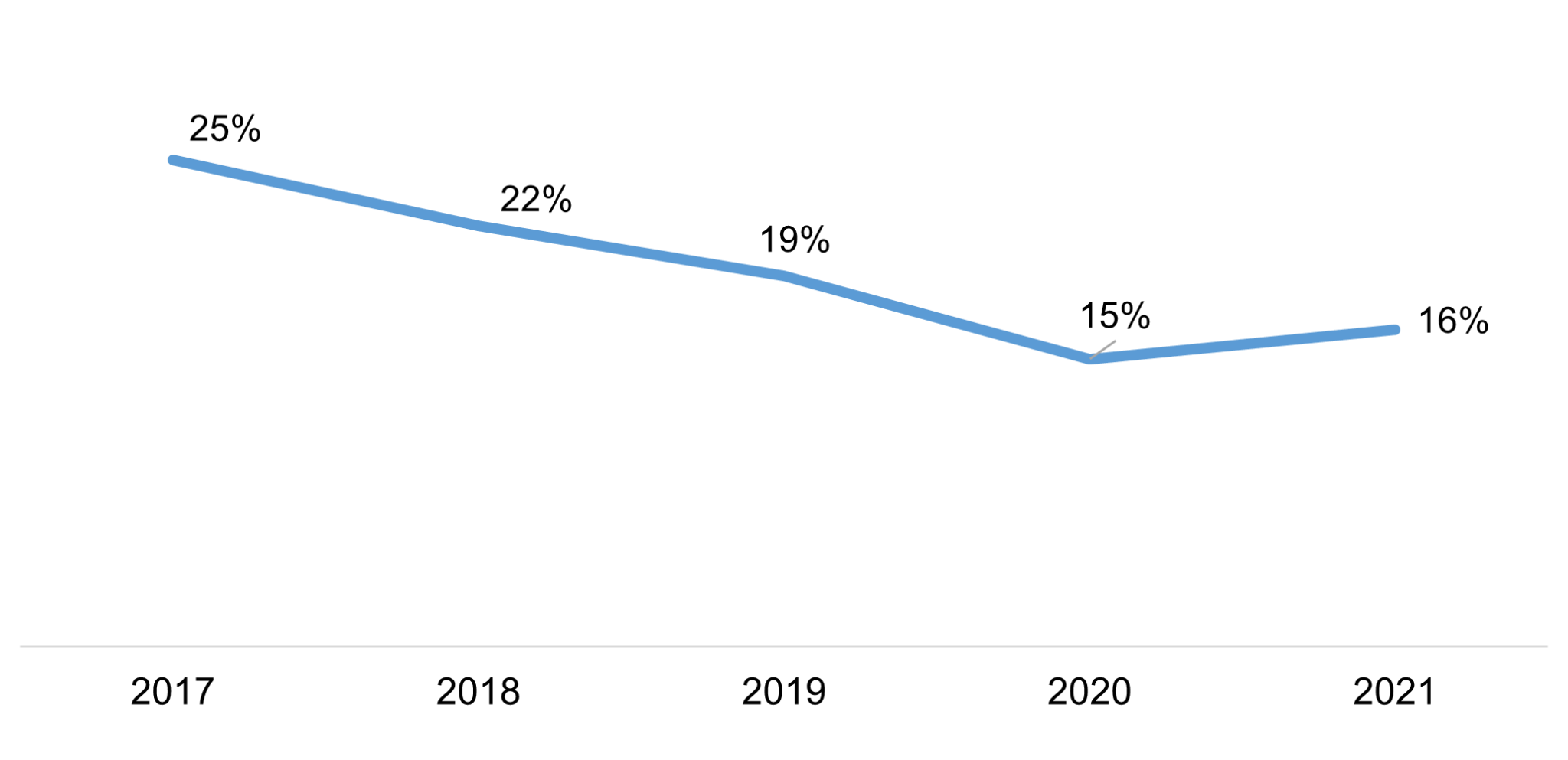 Even though women's uptake of mobile internet across LMICs has continued to increase, the rate of adoption has slowed, with only 59 million women coming online in 2021 compared to 110 million the year before. This has not been the case for men.
South Asia has the widest gender gap in mobile internet use
This gender gap in mobile internet use varies across regions (Figure 2), with the widest gaps in South Asia and Sub-Saharan Africa. There has been no notable change in regional gender gaps over the years, except in South Asia where consistent progress had been driving an overall reduction in the gender gap across LMICs. However, from 2020 to 2021, mobile internet adoption among men in South Asia continued to increase while adoption among women plateaued. This has resulted in the mobile internet gender gap in South Asia widening from 36% to 41%.
Figure 2: Gender gap in mobile internet use in LMICs, by region
Total adult population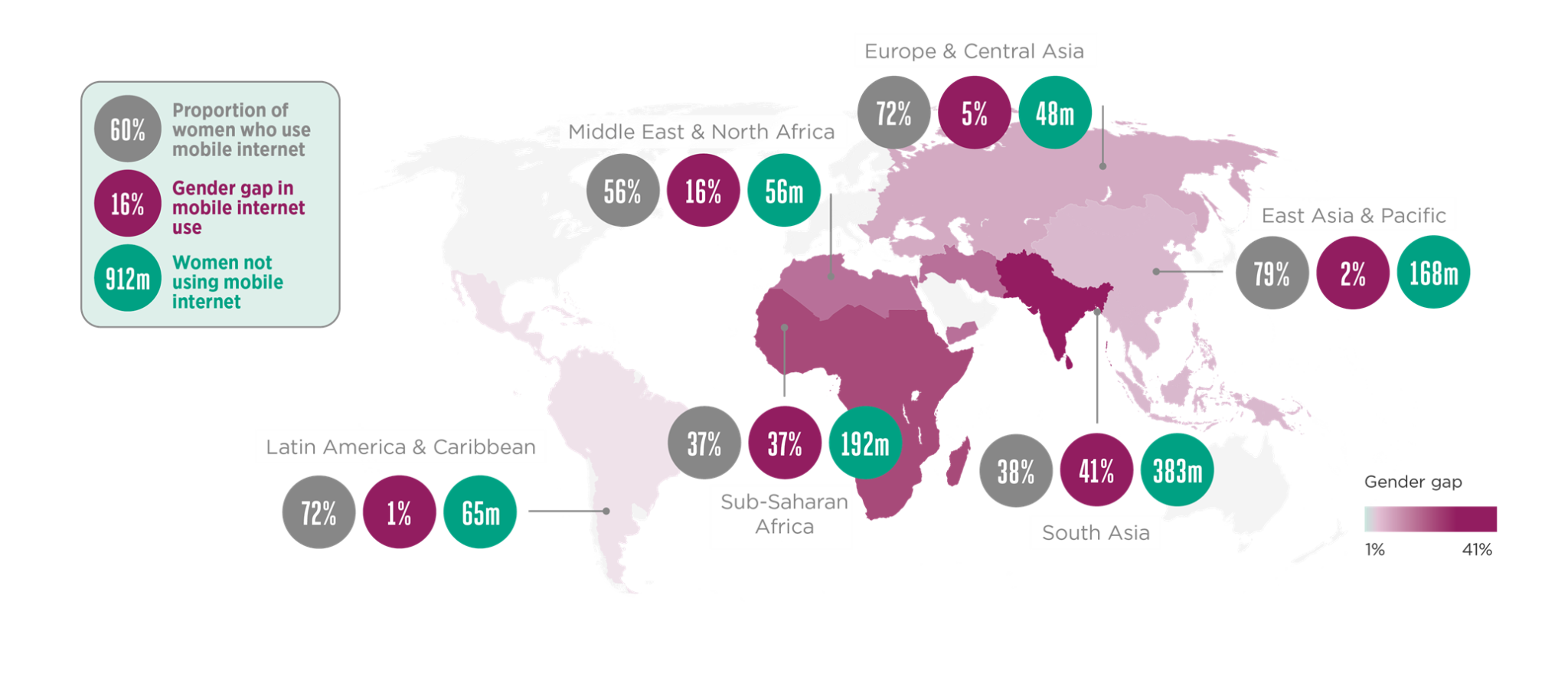 ---
India has been a big driver of the closing gender gap over the years but saw no material increase in the proportion of women adopting mobile internet in the last year, while an increasing proportion of men were adopting mobile internet. In last year's report, we highlighted the remarkable growth in Indian women's mobile internet use. Changing market dynamics over the past few years have made the internet more affordable and, combined with COVID-19 restrictions and lockdowns that drove more women online, had helped to narrow the mobile internet gender gap. In contrast, the proportion of Indian women using mobile internet has remained at 30% this year, whereas the proportion of Indian men using mobile internet has grown to 50%.
Smartphones drive mobile internet adoption, but the gender gap in ownership has widened slightly
Smartphones are critical to accessing the internet and reducing the gender gap. Once women own a smartphone, their awareness and use of mobile internet is almost on par with men. Unfortunately, this year, the smartphone ownership story is also not so positive. While the gender gap in smartphone ownership dropped from 21% in 2019 to 16% in 2020, it has widened back out to 18% in 2021, mirroring the stalling progress in closing the mobile internet gender gap (Figure 3).
Figure 3: Gender gap in smartphone ownership across LMICs, 2019-2021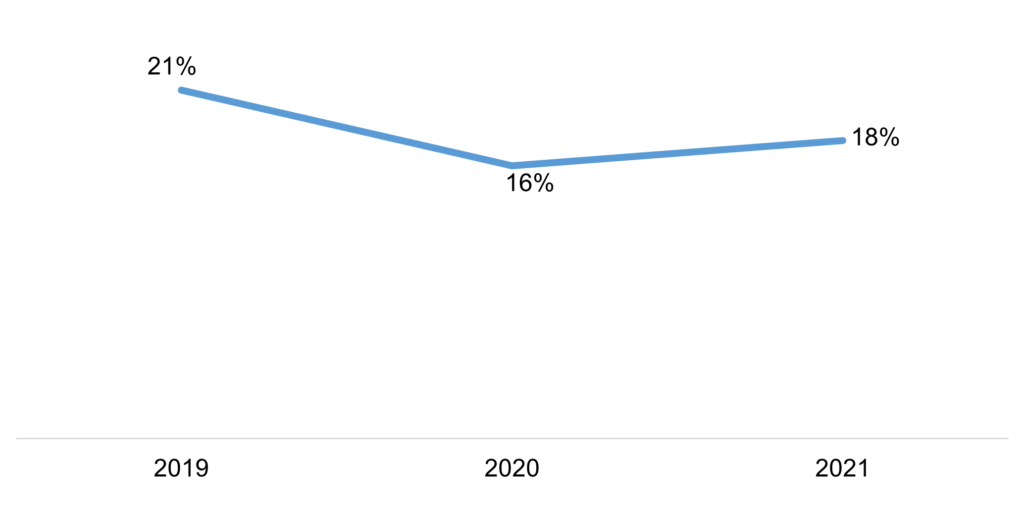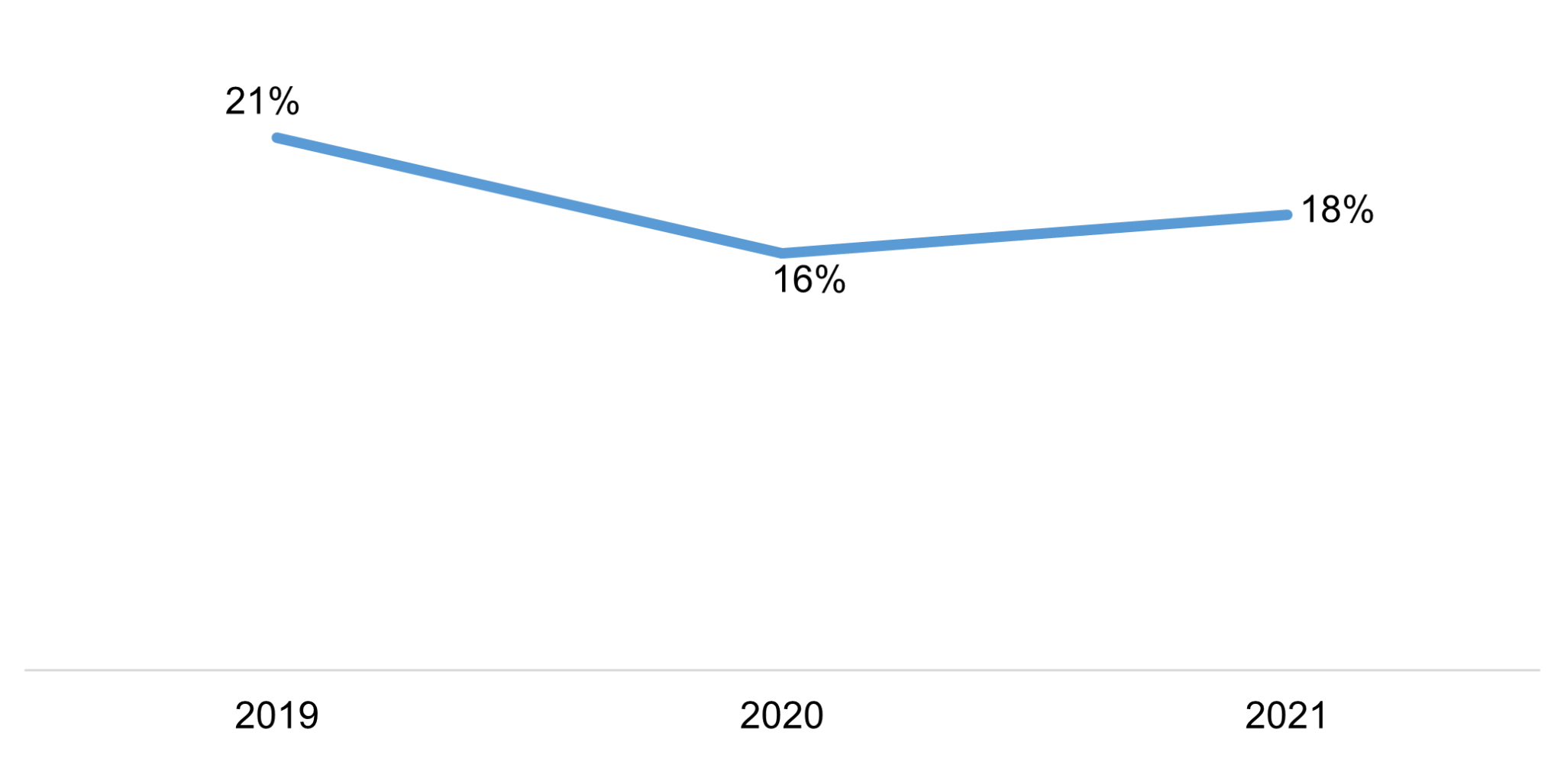 The underlying gender gap in mobile ownership across LMICs is 7%, where it has continued to remain largely flat, highlighting that those who still do not have a mobile phone are proving difficult to reach.
Addressing the mobile gender gap requires a focus on improving handset affordability, literacy and digital skills
Across survey countries, the top barriers that men and women said were preventing them from owning a phone are still very similar, with little change since 2019. These barriers are affordability (specifically of handsets), literacy and digital skills and safety and security. However, there are variations in the top-reported barriers at the country level.
Our research found that once women are using a mobile phone and are aware of mobile internet, the top barriers preventing them from adopting mobile internet are a lack of literacy and digital skills, affordability, primarily of internet enabled handsets, and safety and security.
These are the same barriers for men but we also see that these barriers disproportionately impact women. Women tend to belong to the groups that are most likely to be unconnected, such as those who are unemployed or have low literacy levels, and are also often affected by social norms which make mobile ownership and use more difficult. For instance, across the survey countries, women were less likely than men to have chosen their model of mobile phone, even when they paid for it themselves.
Among low-income groups, there is evidence that the economic impact of the COVID-19 pandemic has made handsets and mobile internet even less affordable and affected access to smartphones and mobile internet use.
Respondents in our qualitative research in Kenya highlighted that the ability to afford a smartphone and data has diminished due to lower incomes, with women disproportionately impacted. Most mobile internet users in Kenya described how, to make ends meet, they had cut their internet use substantially over the course of the pandemic. Although a minority had upgraded to a smartphone, others had downgraded, selling smartphones for cash or being unable to replace lost or broken ones. Women were expected to prioritise other needs first.
"I didn't like the idea of selling the phone but I had no option, so I decided. I sold it because I wanted to support my family. My mother didn't have stock in her shop so I wanted to help… so at least we could survive for about three weeks after selling that phone."

Female, aged 18-24, urban, rift valley
Our data is a clear call to action. Progress in closing the mobile internet gender gap has stalled overall across LMICs and even reversed in some countries. Conducting face-to-face research helps us monitor the ever-evolving gender equality and digital inclusion landscape, which, as we have seen this year, is more critical than ever. Read our latest GSMA Mobile Gender Gap Report 2022 for more detailed findings and recommendations.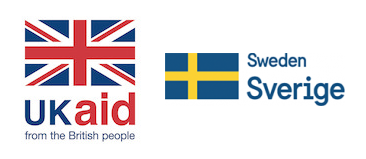 The Connected Women programme is funded by the UK Foreign, Commonwealth & Development Office (FCDO) and the Swedish International Development Cooperation Agency (SIDA), and is supported by the GSMA and its members.
[1] International Telecommunication Union (ITU) estimates for 2020.