Globally, four non-communicable diseases (NCDs) including cardiovascular disease, cancer, chronic respiratory disease and diabetes are the cause of almost three quarters of mortality.(1) In countries in Asia and the Pacific, more than half of all deaths are caused by NCDs (Figure 1), with nearly three of four deaths in Malaysia attributable to NCDs.
Figure 1: Percentage of deaths from NCDs in selected countries in Asia and the Pacific (2019)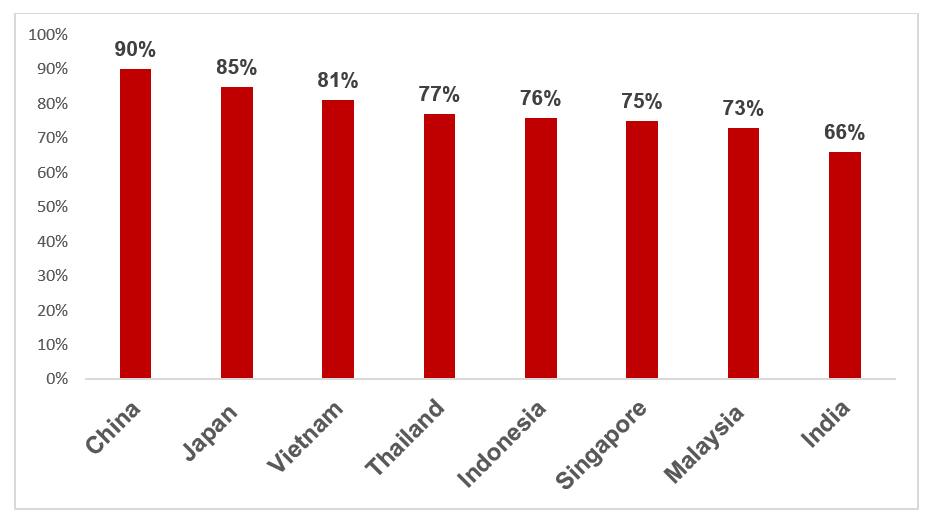 Source: World Health Organisation(2)
Digital health tools are playing an increasingly important role in controlling and managing NCDs. This blogs highlights some of the findings from a Mobile for Development report, which looks at how digital health can enable Malaysia to improve its healthcare system and combat NCDs.
The impact of urbanisation on health and health systems
Increasing urbanisation around the world has made it challenging for even high-quality public healthcare systems to keep up with demand. According to the World Health Organisation (WHO), more than half of the world's population now lives in cities and this trend is expected to continue.(3) Urbanisation has exacerbated health problems, contributing especially to the rise of NCDs. According to the WHO, rising NCD rates are linked to sub-optimal conditions in cities where inefficient transport systems create higher pollution on congested roads, and discourage active mobility modes such as walking and cycling.
NCDs can place a huge burden on public urban healthcare systems, as seen in Malaysia. The Malaysian National Health Survey (2019) found that one in five Malaysian adults suffer from diabetes, three in ten suffer from hypertension and four in ten have raised cholesterol levels.(4) While Malaysia's healthcare system is high quality, its private healthcare system is not accessible to lower-income groups. At the same time, its universal public healthcare system is increasingly overburdened. Based on data from 2017, the Malaysian Ministry of Health (MoH) and the WHO estimated that NCDs, especially cardiovascular disease, diabetes and cancer, cost the Malaysian economy close to RM 8.91 billion (USD 2 billion) a year.
Digital health solutions to combat NCDs
Digital health tools are playing an increasingly prominent role in the prevention, screening and diagnosis of NCDs.
Prevention
Inactivity, poor food choices, smoking and irresponsible use of alcohol are some of the main contributors to NCDs and information on healthier lifestyles can play an important role in encouraging healthier living.(5) The use of digital channels for public health messaging is one of the most effective ways of improving health literacy. Even in countries such as Malaysia, where overall literacy is 95 %, the Malaysia National Health and Morbidity survey 2019 (NHMS) found that over 35 % of the population has low health literacy,(6) with a higher proportion of the lower-income group being less health literate. In 2021, the GSMA estimated that 80 % of Malaysians had a mobile subscription and almost 70 % were connected to the mobile internet, making health messaging through mobile channels the most viable option for reaching the population.
In addition to improving health literacy through digital and mobile channels, gamified fitness apps are being more widely adopted to encourage behaviour change towards healthier and more active lifestyles. In Malaysia, healthtechs such as JomRun for example, have developed an app that incentivises physical activity by offering reward-based runs. Governments can partner with healthtechs to incentivise healthier lifestyles. In one such example, the Malaysia Ministry of Health (MoH) has partnered with the healthtech BookDoc to reward people for being active. BookDoc's app tracks users' physical activity, which is rewarded by discount offers at partner retail outlets.
Finally, wearables such as smart watches and fitness trackers are being increasingly used to monitor activity and incentivise healthier lifestyles, and more than half of Malaysians claim to use these on a daily basis.
Screening and Diagnosis
Digital health is also increasingly improving NCD screening, moving countries towards preventative rather than curative care, and significantly decreasing costs. This can be done by using digital tools for large-scale public health screening and identifying people at risk so that early intervention can prevent NCDs.
In Malaysia, there has been low uptake of health screenings and there isn't a fully integrated national health screening system. While there are a range of initiatives such as PeKa B40 for free screening for NCDs for the low-income population, and the National Health Screening Initiative launched by the government in 2022 using the My Sejahtera app, which was initially launched as a track-and-trace app for COVID-19, these initiatives are not integrated and screening records are not shared across the healthcare system.
Several international examples of nationwide, integrated digital NCD screening have emerged, presenting lessons for countries such Malaysia that are looking to leverage digital health for screening and diagnosis.
A prominent example of digitally-enabled large-scale NCD screening is Casalud by the Carlos Slim Foundation in Mexico. Developed in response to rapidly rising NCD rates, Casalud offers a digital screening tool, Medición Integrada para la Detección Oportuna (MIDO), which is available as either a mobile cart or a portable backpack.
The solution integrates patient health assessment equipment and a digitised patient health screening questionnaire with a built-in decision support algorithm for healthcare providers. Since 2013, Casalud has been delivered in partnership with Mexico's Ministry of Health as part of its strategy to combat diabetes and obesity and is now utilised in over 12,000 healthcare centres.
Another compelling case of utilising digital health for widespread preventative NCD screening is the Digital LifeCare program in India, which has now enrolled over 100 million people. The solution offers a simple to use interface via multiple apps designed with feedback from end users, community health workers and volunteers and does not require extensive training or upskilling to be used by community health workers. Such a comprehensive and integrated digital screening initiative could significantly reduce the burden of NCDs in Malaysia and could be integrated with existing community health programs such as Komuniti Sihat Pembina Negara (KOSPEN), an NCD prevention and control programme delivered to the community by trained volunteers.
Globally, the District Health Information Software 2 (DHIS2) is an open-source digital health tool for health data collection and sharing that is used by 73 countries. While it has been primarily used to track and manage infectious diseases, there are emerging cases of DHIS2 being used to screen for and track NCDs. For example, Indonesia is trialling DHIS2 to help clinicians improve disease registries, including for NCDs such as cancer.(7)
Another growing trend in digital health screening for NCDs is self-diagnosis. As an example, PocDoc is a UK-based self-diagnostic assessment app that can be used to check cholesterol levels at home. Registered users are able to share a finger-prick lateral flow test via the PocDoc app and receive results immediately. Such digital health diagnostics solutions can help reduce the burden on primary healthcare centres that generally carry out NCD screening and enable quicker, more efficient and more regular testing to flag the risk of cardiovascular disease, which is the leading cause of mortality in Malaysia.
Public-Private partnerships are key to accelerating digital health to combat NCDs
With increasing digitalisation of healthcare, governments across the world are building public-private partnerships to increase the efficiency of national health systems via more integrated data-sharing and patient care.
Partnerships with the private sector will be key for the MoH in Malaysia to fast-track the adoption of digital health for the prevention of NCDs. Building partnerships proactively with healthcare providers, healthtechs, corporates, and insurers will ensure higher prevention, faster diagnosis and more efficient treatment across NCD management. The MoH is already building such partnerships for the delivery of health literacy and information on the prevention and management of NCDs, as well as for larger-scale NCD screening. In 2022, the MoH announced a National Technology and Innovation Sandbox to enable healthtechs to test digital health innovations at five designated hospitals, in an effort to accelerate the adoption of innovations that are working.
To further accelerate digital health to combat NCDs in Malaysia, the MoH has a key role to play in developing a standardised, easy to use, national mobile/digital health screening tool. An integrated screening system, with the capability to digitally record and safely share patient data across the healthcare system and conduct large-scale screening for NCDs in community settings, could be transformational in the management of NCDs at the national level.
To find out more about developments in digital health to combat NCDs and make public healthcare systems more efficient, read our report.
THIS INITIATIVE IS CURRENTLY FUNDED BY THE UK FOREIGN, COMMONWEALTH & DEVELOPMENT OFFICE (FCDO), AND SUPPORTED BY THE GSMA AND ITS MEMBERS.