Following our workshop in November 2021 on government-innovator partnerships in the waste management and urban mobility sectors in Lagos, we invited one of the speakers to discuss the topic further.
This guest blog – written by Yinka Jones, a Project Manager at the Lagos Urban Development Initiative (LUDI) – discusses how digitalisation might bring about some much needed change to Lagos' transport system.
LUDI is a Lagos-based NGO that brings like-minded organisations and people together to advocate for a more inclusive, liveable, and sustainable Lagos through collaboration, research and dialogue. Yinka has a background in environmental engineering and a certificate in Project Cycle Management. He is also an award-winning social entrepreneur, a Commonwealth fellow.
Is Lagos a megacity?
With over 20 million people, yes.
Is Lagos a smart city?
Perhaps not yet!
Transportation in Lagos is largely inefficient, expensive, untimely, non-inclusive, and unsustainable. However, safe, secure, efficient transportation is a key element of a smart city. Hence, the issue of mobility needs to be resolved if Lagos must transition to smart city status. As exciting and interesting as Lagos can be, the mobility challenges in the state remain a blight, undermining its potential.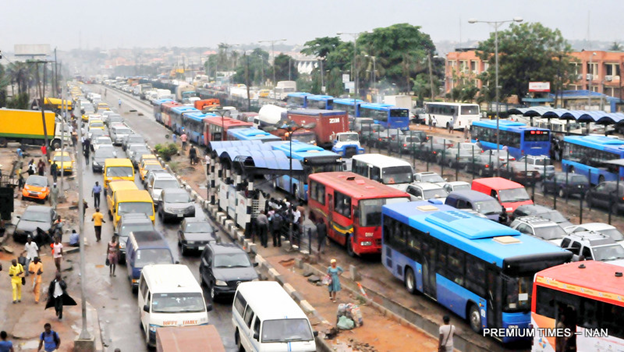 Image provided courtesy of Premium Times Nigeria
Despite its myriad of challenges, Lagos remains an attractive economic destination for Nigerians, as well as Africans, attracting both corporates and individuals from all backgrounds, cultures and walks of life. This uncontrolled influx of people into the city continues to mount pressure on the already overstretched social infrastructure, particularly in transportation. Urban sprawl in the city has also reduced access to opportunities and public social services. Exacerbated by several factors, mobility and accessibility to opportunities and public social services are challenges for a large part of Lagos' population.
The largely informal public transport system in the state – which is highly inefficient, inconvenient, and expensive – builds a case for a growing car culture in the city. Thus leading to proliferation of private motor vehicles with the attendant environmental consequences. It is estimated that for every 1000 people in Nigeria, there are 25 cars (this is expected to be higher in Lagos). It is also estimated that Lagos commuters lose up to 75 per cent of weekly working hours to traffic. Despite the establishment of the Bus Rapid Transport system, the informal transport operators in the state still provide over 80 per cent of public transportation services, according to the Lagos State Transportation Policy (2018, draft).
Inefficiency in the city's transport system is also due to the fact that, over the years, road infrastructure has been car-centred, rather than people-centred, even though pedestrians alone account for over a third of mobility in Lagos. Although the state has huge potential for water and rail transport, these other modes are at present grossly underdeveloped, untapped and poorly integrated into the city transport framework. Over 90 per cent of transportation is still being done by road, according to the 2018 Lagos State Transportation Draft Policy Document.
In a city where over 65 per cent of the population is classified as urban poor, affordability of transport remains a big issue. Estimates suggest that the average Lagosian spends around 40 per cent of their earnings on transport, thus limiting their access to mobility. Moreover, public transport pricing is largely at the whims of informal sector service providers who inflate fares during peak travel hours.
The state government is making efforts to make urban mobility accessible to Lagosians. These include policy, institutional and infrastructural reforms. As part of its infrastructural reforms, Lagos is investing massively in broadband infrastructure to boost commerce, access to public services and security. This would enable the use of smart applications and emerging technologies to enhance interconnectedness and efficiency of service delivery by providing options and encouraging competition. Fortunately, Lagos has been identified to have the potential for digital transformation with a vibrant ecosystem of digital entrepreneurship that is supported by dynamic incubators, venture capitalist companies, digital start-ups and the diaspora.
Image provided courtesy of The Guardian Nigeria
But how much impact would digital innovation have on the state transport system?
The expansion of mobile and broadband connectivity has enabled the emergence of digital solutions that are making essential urban utility services more accessible, affordable, reliable, safe and sustainable. These solutions are set to play a vital role in making cities more resilient to the challenges of population growth, climate change, and persistent inequality. The following are some of the possible impacts of digital connectivity in the city's transport value chain:
In the first place, not every trip is necessary and not every car needs to be on the road. Through digital innovations using open data and GIS systems, the development of multi-modal transit systems that combine paratransit, bike-sharing, ridesharing, car hailing/pooling, and even ICT-enabled delivery services, are made possible. This can significantly reduce the number of cars and trips on roads and address some associated congestion issues. In addition, commuters can make smart and informed mobility decisions, enhancing traffic management.
Machine learning makes real-time collection and analysis of traffic information and data on transport demand patterns in the city possible, resulting in more efficient bus scheduling. This also enables public transport service providers to better manage their vehicles based on demand patterns, thus helping them optimise their resources.
Internet of Things (IoT) and sensor technology make smart parking systems possible. Drivers in Lagos can get real time information on parking spaces, saving time and improving traffic coordination.
Smart traffic signage can help improve safety and better manage traffic within the city by using sensors to regulate traffic flow, hence avoiding unnecessary congestion.
Automated fare collection (AFC) systems offer a variety of benefits to the various parties and stakeholders in public transportation. Apart from the ease, efficiency and flexibility of payment, it can make public transportation more accessible and affordable by allowing targeted intervention for low-income residents. It also aids in the integration of various transport modes in the city. Another very important aspect of AFC is the generation of data useful to planners, designers, and innovators for better transport service delivery. AFC also offers a strong value proposition for mobile network operators (MNOs) as it can drive mobile money adoption. The recent strong growth of MTN Nigeria's Mobile Money (MoMo) service builds a strong case for the use of digital payments in transport fare collections.
As shown, digital innovation can play an important role in delivering efficient and effective transport services in the city. Hence, it is important that the government puts in place policies and structures that would drive digital innovation in the state. The government has taken important steps in this direction by commencing the installation of 6000 km of broadband internet and also in developing the Cowry card payment system. Nevertheless, the government alone cannot effectively achieve a smart city alone. Collaboration is important.
The Cowry system, a spin off from a hitherto successful public-private partnership in public transportation, is an important case study underscoring the importance of cross-sectoral partnerships in developing sustainable urban transport solutions. Other working partnerships include the Lagos-Primero agreement delivering the Lagos BRT system as well as the Lagos State-Awabike partnership, piloting a smart bike sharing service within the Alausa area of the state.
Image provided courtesy of Techpoint Africa
However, despite the successes, as claimed by the state government, of its public-private partnerships, the people, through civil society groups, trade associations and other community associations, need greater inclusion and participation in these models. For sustainability and to derive maximum benefits from this model, there must be adequate engagement and partnership among all the various stakeholders i.e., the public sector, private sector, digital entrepreneurs, academia and relevant civil society groups. Moreover, the sharing of relevant data among these stakeholders is necessary for the government to be able to fully deliver on its smart city agenda.
The Digital Utilities programme is funded by the UK Foreign, Commonwealth & Development Office (FCDO), and supported by the GSMA and its members.