This blog shares some key findings from the "Addressing the mobile money gender gap" Chapter on page 60 of the GSMA's State of the Industry Report on Mobile Money 2022. It draws on recent GSMA nationally representative field research in a number of low- and middle-income countries.
---
Mobile money has been a crucial service during the COVID-19 pandemic. Two years into the crisis, the reach of mobile money across low- and middle-income countries (LMICs) is quite staggering – the mobile industry has processed over a trillion dollars in transactions for the first time, and there are now 364 million people who actively use mobile money every month. As the pandemic has swept across the world resulting in lockdowns, economic shocks and a disproportionate burden on women, mobile money has offered women a convenient and secure way to make emergency payments to family in need, pay essential bills, continue their microbusinesses, and receive government assistance.
Women are less likely to have an account, but those that do are almost as likely as men to have used it in the last 30 days

Despite these benefits, our latest research shows that there is still a mobile money gender gap in LMICs, with women having lower awareness of mobile money than men, lower mobile money account ownership (Figure 1), less diverse use, and – at least in some countries – less regular use of the service. This is true even in more mature mobile money markets, such as Bangladesh, where women's lower phone ownership (65% of women vs 84% of men) is an important driver of the mobile money gender gap, and Kenya, where although women's level of phone ownership and mobile money account ownership is more similar to men, they use a less diverse range of mobile money use cases.
Figure 1
Source: 2021 GSMA Consumer Survey, n=496-966 for women and 469-1,131 for men
---
We look forward to the release of the Global Findex database's new data later this year, which will provide an update on the mobile money gender gap in account ownership for a number of LMICs.

The good news arising from our data is that once women have a mobile money account, their likelihood of using it in the last 30 days is almost on par with men. While these 30-day active rates are lower among female mobile money account owners than their male counterparts in Bangladesh and Egypt, they are similar in Kenya, India, Indonesia and Senegal, and are higher in Nigeria.
Women use a narrower range of mobile money use cases than men, even in more mature markets

Although frequency of use is showing some promising signs, women still have a lower diversity of mobile money use than men, meaning they are missing out from reaping the full benefits of the service. Across our sample markets, female mobile money users are nearly always less likely than their male counterparts to use less common use cases, such as using mobile money to pay bills, transfer money to savings, and receive money from customers. This is true even in mature mobile money markets such as Kenya, where 30-day active rates are similar among men and women, and echoed in recent research in Ghana. In Kenya, for instance, 34% of female mobile money users have paid for services such as labour, transport and deliveries over the last year compared to 48% of male users.
Interestingly, some mobile money use cases seem to disproportionately appeal to women across our survey countries, such as using mobile money to pay for food, clothes and household items, indicating a potential area of opportunity for mobile money providers.
Lack of handsets, social norms, lower awareness and other barriers contribute to the mobile money gender gap

So why does the mobile money gender gap still exist in 2022? Inequalities between men and women in society and persistent gender norms mean that women tend to experience a number of barriers more acutely than men – including lower access to mobile handsets, lower awareness of mobile money and how it could be relevant to their lives, and lower literacy and digital skills. As a result, women are less likely than men to progress along the mobile money customer journey (Figure 2). In particular, access to a mobile handset is an important prerequisite for using mobile money, but there is still a gender gap in mobile ownership across LMICs (Figure 3). For instance, in Pakistan, only 51% of women vs 76% of men own a mobile phone, whereas women's awareness levels are higher and more similar to men – 70% of women in Pakistan vs 77% of men have heard of at least one mobile money brand in their country.

Figure 2
Source: GSMA
---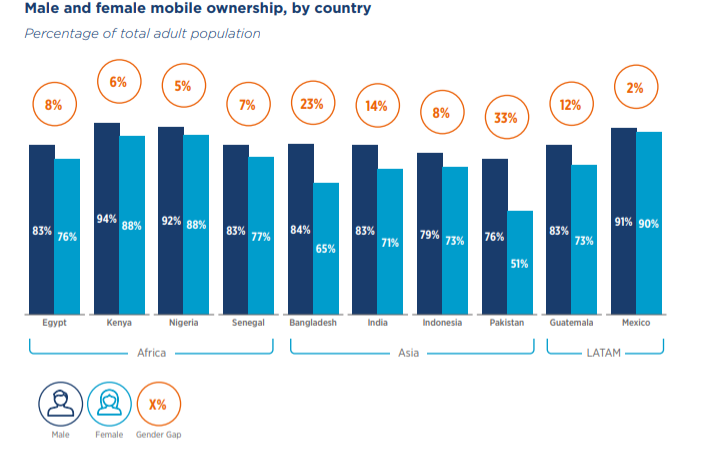 Figure 3
Source: 2021 GSMA Consumer Survey, n=496-966 for women and 469-1,131 for men
---
While there has been some progress, more work needs to be done. The COVID-19 pandemic has given more impetus to addressing the mobile money gender gap, but more action is needed from industry, policymakers, donors and society at large if women are no longer to be left behind.
"From phone ownership to account awareness, to having an account, and active usage of that account … in every step of that journey, there is a gender gap in almost every market in the world. We have to look for solutions across that adoption and usage journey, on-boarding and helping women get comfortable using their phones and their mobile money accounts."

Greta Bull, Director, Women's Economic Empowerment, Bill & Melinda Gates Foundation
---
Click here to read about the actions that mobile operators are taking to address the mobile money gender gap as part of the Connected Women Commitment initiative.