A data-led approach to policymaking is key to successfully expanding digital inclusion. The GSMA's Mobile Connectivity Index (MCI) provides governments with the data required to make informed, evidence-driven policy decisions that can impact digital inclusion. The MCI is a publicly available online tool that measures and tracks the performance of key enablers to mobile connectivity in 170 countries. By presenting a comprehensive overview of the connectivity landscape in a country, the MCI highlights areas where there are the greatest opportunities for targeted policy interventions. The Index was recently updated with the latest data from 2022, revealing that both network coverage and mobile data affordability improved on average worldwide since 2021.
How the MCI tracks mobile internet adoption and measures connectivity
The MCI is an effective tool for governments to identify priorities to drive mobile internet adoption in their country. Countries that achieve significant improvements on the MCI over time are more likely to have seen increases in mobile internet adoption, as MCI scores and mobile internet adoption are highly correlated (see Figure 1).
Figure 1: Mobile internet penetration and index scores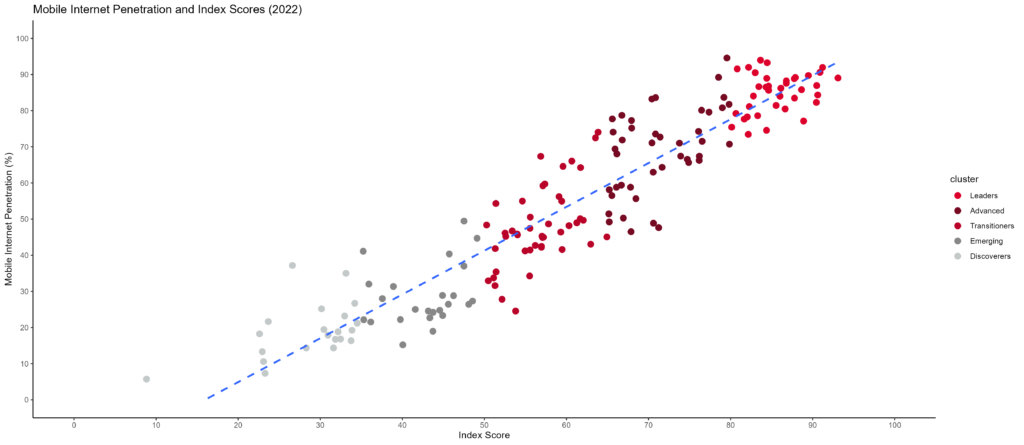 The MCI is made up of 32 underlying data points, or indicators, which are grouped into four key enablers and 11 dimensions (see Figure 2). Each indicator is normalised to a score from 0-100 that contribute to a country's overall index score, with 100 being the most connected.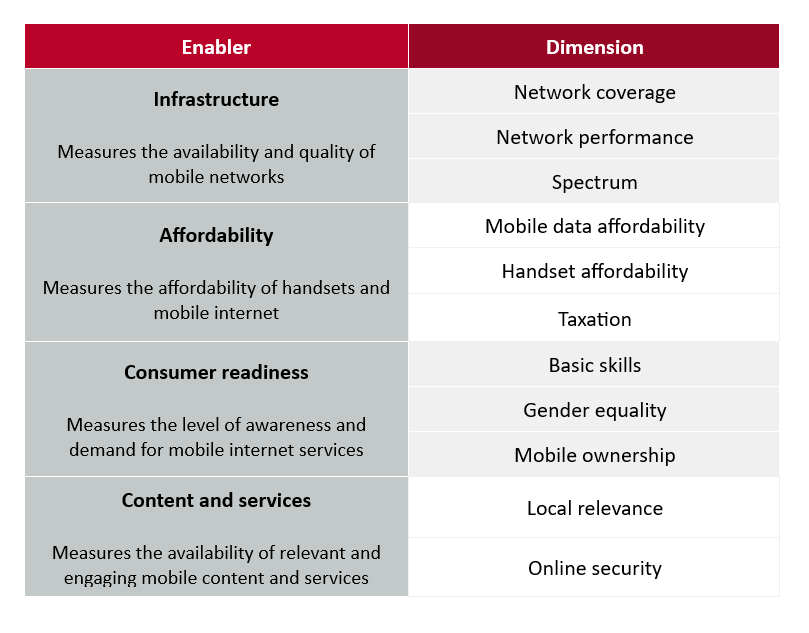 Along with the new data, the methodology has undergone several changes this year, including removing several indicators, due to stakeholder feedback and changes in the availability of data. For example, we removed the indicator 'income inequality' which we now capture more directly by measuring the affordability of data and devices for the poorest 40% of the population. The changes have been applied to each year (2014 to 2022) to ensure consistency and comparability, and to allow for changes in scores over time to be compared on a like-for-like basis between the years.
Country performance in the MCI
To categorise country performance, the MCI places countries into clusters based on the overall index scores, from lowest score to highest: Discoverer, Emerging, Transitioner, Advanced and Leader. The countries displayed below are the top performers in each cluster in the 2022 data.
Figure 2: Highest MCI scores by cluster
In the 2022 data, several countries moved up a cluster after improving their overall index scores since 2021. For example, Nepal's overall index score improved by 5 points since 2021, largely driven by improvements in mobile data affordability, network coverage and gender equality. The MCI shows that in 2022, there was no gender gap in mobile ownership in Nepal, meaning that women in Nepal were just as likely to own mobile devices as men in the country.
Figure 3: Countries that moved up a cluster in 2022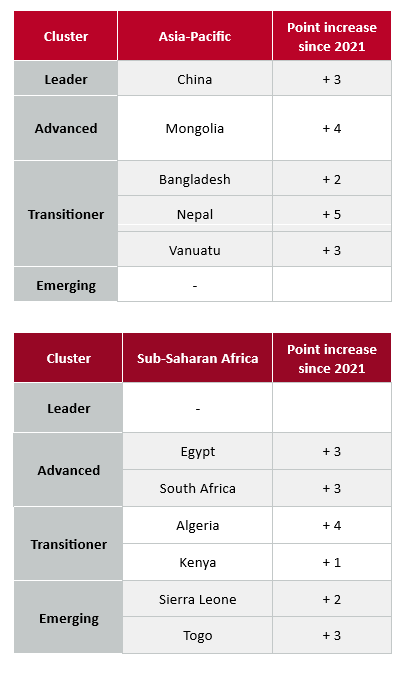 The global index score improved by 6 points over the past five years, largely driven by a 10 point improvement in the Infrastructure enabler and an 8 point increase in the Content & Services enabler. The Affordability enabler lags behind with a 2 point improvement over the past five years, demonstrating that affordability remains a key challenge to be tackled.
Using the MCI to drive impact
The GSMA Connected Society programme offers MCI workshops which help governments use the MCI to drive impact. The workshop follows a five step process, which includes reviewing a country's performance on the MCI, benchmarking the performance against global and regional peers, and identifying priority policy areas based on the MCI data. By digging deeper into a country's score, governments can see where they have improved year-on-year, what areas are lagging behind, and compare their country's score to neighbouring countries. The GSMA has organised several MCI workshops in partnership with Ministries, Regulators as well as regional organisations. In Pakistan, for example, participants identified digital skills and gender as policy priority areas. In Zambia, participants identified affordability as a priority area with a focus on improving the tax environment.
Successfully advancing mobile internet adoption requires a data-driven approach to policymaking. The MCI is a free tool that enables governments to gain a better understanding of their country's connectivity journey and identify areas for improvement. The GSMA Connected Society team stands ready to support policymakers in leveraging the MCI to make informed decisions and improve digital inclusion for all.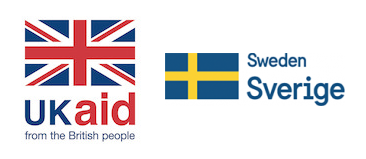 The Connected Society programme is funded by the UK Foreign, Commonwealth & Development Office (FCDO) and the Swedish International Development Cooperation Agency (SIDA), and is supported by the GSMA and its members.