The focus of this blog is to provide an overview of the discussions from the latest Field Focus Week (FFW) event. The blog summarises key bottlenecks faced by the AgriTech grantees in their attempt to sustainably scale key digitisation use-cases and poses questions whose answers could aid in overcoming these challenges.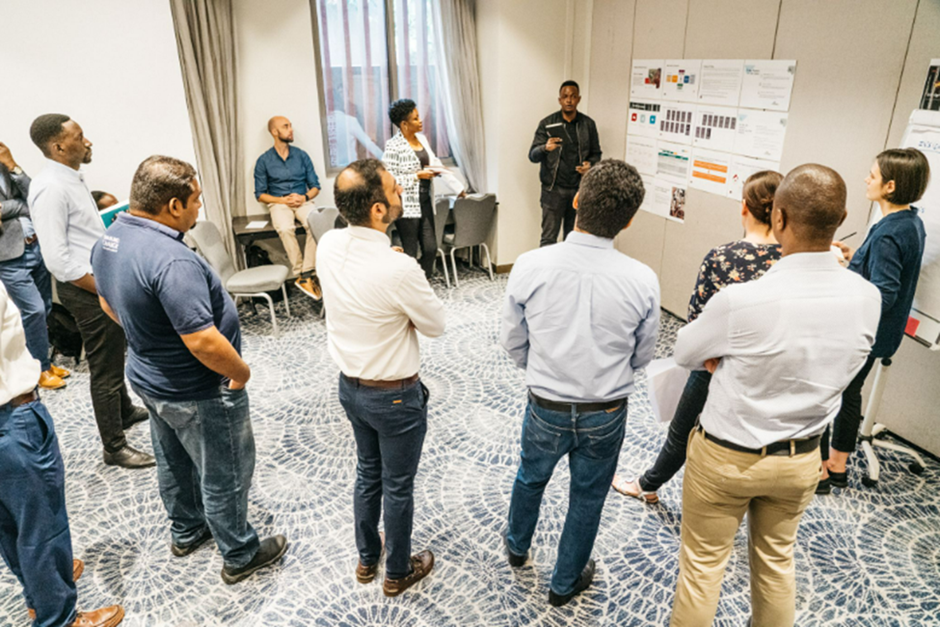 The AgriTech programme organised its latest FFW last month in Nairobi, Kenya. The FFW is primarily a convening of the GSMA AgriTech programme team and the programme's Innovation Fund grantees – agritechs and mobile network operators (MNOs). It consists of collaborative sessions to promote problem-solving, knowledge sharing, and capacity building. In addition, the FFW leverages the strength of the agritech ecosystem in the host country to include relevant presentation sessions and field visits to local agritech's beneficiaries. The FFW '22 came on the back of a 2-year program-wide travel ban following the travel restrictions that followed the COVID-19 pandemic. During the two years, Grantees' and the project management team's interactions were limited to remote or hybrid models of research and collaborative sessions as described in our previous publication, AgriTech UX in an Era of Remote Work. The opportunity to convene in Nairobi was thus met with both excitement and relief as the different AgriTech Innovation grantees; MTN Rwanda, MTN Ghana, Vodacom Tanzania, Jazz Pakistan, Dialog Sri Lanka, PT Koltiva (Indonesia) and AgroMall (Nigeria) would finally physically meet to share and learn from one another's projects and explore opportunities to collaborate.
The GSMA AgriTech Programme supported by the FCDO awarded 3-year grants of up to a maximum of 220K GBP to its grantees in 2019. Through this funding, grantees are scaling digital solutions targeting the rural smallholder farmers and farming communities with the ultimate goal of improving smallholders' financial inclusion, livelihood, and climate resilience. The innovative solutions are being built in line with the GSMA-defined groups of digital agriculture solutions which are placed into three categories based on the problem they solve for farmers.

The AgriTech programme has provided additional support to the grantees in the form of in-kind capacity building, UX research, and Monitoring and Evaluation to boost the development and refinement of business models and products/services. Fast-forward to May 2022, the grantees have implemented their proposed business models to varying levels of success and most are on the verge of scaling their services both geographically within their markets and in terms of number of clientele reached. However, from the ongoing project management catchups, a majority have been faced with uncertainties on the best approach to achieve sustainable scale. As such, this FFW provided an opportunity to discuss the individual grantee's progress while highlighting the barriers faced.
Barriers to sustainable scaling of innovative solutions
The following barriers to sustainable scaling the innovative solutions beyond the life of the fund were identified.
Farmer profiling and registrations
Barrier – The prohibitive cost of scaling agent-led farmer profiling and registration initiatives
While most grantees acknowledge the role of agency-based models in mobilising smallholders, scaling such agency-based models as the business scales is proving very costly for most businesses. Some of the grantees have decided to implement digital self-registration models alongside the agent-led model in a bid to test its efficacy. While no definitive decisions have been made on which model is most suitable, there are unanswered questions about self-registration including: How accurate is the resulting data? How quickly can they be facilitated? And, how can people be incentivised to participate?
Information and advisory services
Barrier – Identifying and forming useful partnerships with relevant actors including Government
Scaling an effective advisory service is dependent on the ability to create a positive perception among your intended beneficiaries that the service is reliable and relevant. Achieving reliability among the community is tied to your choice of partners in facilitating or delivering the service. As such, most grantees indicated that partnerships with key actors in Government i.e. Research institutions, Government agronomists, and Government weather prediction institutions brought credibility and made their services more acceptable to most farming communities. The partnerships with Government institutions also lessened the burden of responsibility in case of failure. However, key questions that require answers are how to identify complementing partners and streamlining partnerships to optimise the resulting benefits.
Digital procurement
Barrier – Becoming competitive in the market
Organisations with business models incorporating aggregation of farmer produce are facing difficulties in positioning themselves in the market as the preferred buyers. Some grantees indicated that despite facilitating farmer input financing, their network of smallholders perceived them as not very competitive in the market and would still go ahead and side-sell despite earlier promises to only sell to these input financiers. Others pointed out the difficulties in setting up reliable logistic services required for efficient and commercially viable aggregation. The difficulties in establishing supplier agreements with producer organisations can also hinder the ease of aggregation. Key questions posed include how the produce buyers can improve the User Experience (UX) journey in procurement, in addition to the age-long question of structuring a win-win contract farming agreement.
Digital finance
Barrier – Improving digital literacy among the farmer community and addressing agent liquidity among providers.
Despite concerted efforts by development actors to promote cash-lite transactions, digital literacy among most of their farmer networks remains an impediment. The GSMA grantees note that bridging the usage gap in mobile and digital solutions is dependent on the ability to continuously improve the farmer and farmer's household digital literacy levels, as highlighted in the GSMA Mobile Internet Skills Training Toolkit. They point out the need to socialise with the farming communities to understand that the only difference between e-money and cash is in the form and not the value. They opine that this would go a long way to making it easy for them to adopt and accept the use of mobile money services and other digital transactions. However, it is similarly crucial that mobile money providers continue to strengthen the ecosystem, including monitoring their agents' liquidity while going the extra mile to support them in accessing e-value or cash to facilitate digital transactions, otherwise potentially negating all the gains made in building household digital literacy levels.
Barrier – Low adoption of insurance services due to low-value propositions
Grantees reported a need to build stronger value propositions for insurance services. A majority indicated a low motivation to push insurance services due to the limited value proposition for them (as potential providers or agents) and their smallholders. They cited the additional sign-up fees (premiums) and, in some cases previous bad experiences as deterrents to them vouching for and pushing for the inclusion of insurance services despite their full knowledge of its potential benefits in mitigating losses. The key question is about communicating the value proposition of insurance to both insurance agents and the farming communities.
Despite the above-mentioned barriers, the majority of Grantees had made good progress against key project milestones and this Field Focus Week served to inspire them with new ideas on how they could expand their digitisation platforms. The required inspiration was achieved by inviting Kenya-based agritechs including Mediae Company (Widely referred to by their popular service, iShamba), Apollo Agriculture, Hello Tractor, eProd solutions, and SunCulture to highlight some of their use-cases. A key feature in most presentations was the ability of the agritechs to scale their services to serve many clients even beyond individual countries. The presentations were followed by field visits to eProd client, Brown's Food Company to better understand the drivers and impact of using eProd's supply chain management system and the group also visited farmers who had deployed SunCulture's RainMaker solar-powered irrigation solution. Lastly, the GSMA Insights Team shared a presentation focused on creating a common understanding of smart farming, and on assessing opportunities for smart farming. The presentation elaborated on the smart farming use cases that include crop management, livestock management, and availing mechanisation services.
As the curtains were drawn to mark the end of a busy but successful week, the grantees had to a greater extent clarified their ideas on scaling their business models through partnerships with like-minded ecosystem partners in the journey of transforming the agriculture sector and all agreed that it was great to meet everyone face to face!
THIS INITIATIVE IS CURRENTLY FUNDED BY THE UK FOREIGN, COMMONWEALTH & DEVELOPMENT OFFICE (FCDO), AND SUPPORTED BY THE GSMA AND ITS MEMBERS.