5th June 2022, marks 50 years since the 1972 United Nations Conference on the Human Environment, the first international environmental meeting where the slogan 'We have only one Earth' was hailed for the first time. Five decades later, as a stark reminder of humanity's climate inaction, that slogan is being revived as the theme for the World Environment Day.
---
Triple planetary crisis and the role of digital technologies in overcoming it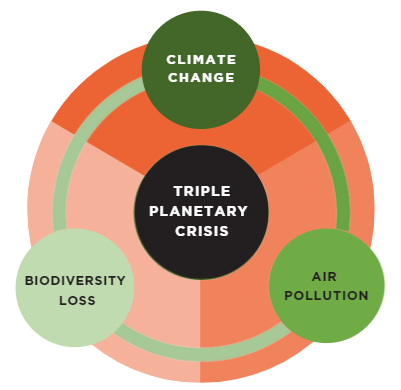 As per the latest IPCC report, global warming of 1.5°C poses the threat of unavoidable multiple climate hazards over the next 20 years. Even temporarily exceeding this warming level will result in additional severe impacts, some of which will be irreversible. Our planet faces a triple crisis driven by climate change, air pollution and biodiversity loss. The Intergovernmental Science-Policy Platform on Biodiversity and Ecosystem Services predicts that the loss of biodiversity and ecosystem integrity will undermine our efforts on 80 per cent of assessed Sustainable Development Goals (SDG) targets, making it even more difficult to report progress on poverty, hunger, health, water, cities and climate. The interlinkages between the three prongs of climate crisis have been recognised more strongly than before in the latest IPCC assessment.
Digital technologies offer great potential to address development and climate challenges in the low and middle income countries (LMICs). These are typically delivered on the back of four types of mobile and digital assets including;
(i) mobile services including voice, SMS, USSD, interactive voice response (IVR), mobile apps,
(ii) mobile payment services such as mobile money, mobile money-enabled savings, mobile-enabled credit, mobile-enabled insurance,
(iii) frontier technologies like the Internet of Things (IoT), artificial intelligence (AI), blockchain, space technologies, virtual and augmented realities, Drones and Robotics and Big Data and
(iv) data assets such as customer data, mobile big data (commercial microwave links, call data records, location data/location-based services, data through IoT services, etc).
Snapshot of innovations for climate, nature and pollution
Closing the emissions gap
Mobile-enabled solutions can be part of a transformational scaling up of access to clean energy in LMICs, particularly in areas not currently served by transmission grids. Pay-as-you-go (PAYG) approaches are unlocking a range of business models that enable customers to pay for solar panels, battery storage or clean cookstoves, reduce their reliance on fossil fuels and use more accessible and reliable sources of clean energy. These models have been replicated in other sectors as well, from water and clean cooking to battery storage.
Through funding from UK Aid, the programme Digital Utilities programmehas been a catalyst for some of the most promising innovations in PAYG solar home system models since 2013, including M-KOPA, Fenix, Mobisol and PEG.
A GSMA Digital Utilities Innovation Fund grantee, KopaGas, is using PAYG smart metering technology to replace solid cooking fuel, such as charcoal and wood, with cleaner and more efficient liquid petroleum gas (LPG).
Transport emissions, which primarily include road, rail, air and marine transportation, accounted for over 24 per cent of global CO2 emissions in 2016. Digital interventions can be instrumental in driving the uptake of active transport solutions, shared micro-mobility as well as shared public mobility solutions in LMICs. If planned carefully with clear climate impact assessments, these solutions (e.g. minibus and ride sharing) have the potential to facilitate a shift away from private vehicles and related GHG emissions. Start-ups, such as SWVL in Egypt and Kenya, Airlift in Pakistan and Grab in Southeast Asia, are pioneering on demand shared rides in minibuses or other vehicles with a smartphone app.
2. Protecting and restoring nature
Though nascent, satellites, IoT and AI, can bring benefits to organisations that promote sustainable use and management of the planet's natural resources including forest management, wildlife conservation (counter-poaching and species preservation) and sustainable fishing practices. Digital technologies are also being used to influence positive behaviours or provide communities with the tools they need to actively participate in natural resource management projects, to access information or support and to receive payments for ecosystem services.
In partnership with the non-profit Rainforest Connection, Huawei's TECH4ALL programme has deployed connected devices and AI to monitor the sounds of the rainforest in real time, allowing authorities to reduce illegal logging and protect wildlife.
The Vulcan Skylight project has developed a monitoring system that combines satellite technology with data analysis software to help law enforcement agencies in Palau and Gabon to identify and capture illegal fishing boats.
The Connected Conservation project, a joint initiative of Cisco and Dimension Data, uses multiple sensor types and networked devices to reduce poaching activities in African game reserves.
3. Cleaning up our air and water
9 out of 10 people globally live in places where air quality exceeds WHO guideline limits. Our land and water are being polluted with almost 80 per cent of this discarded plastic had been buried in landfills or leaked into the environment where it is unlikely to completely biodegrade for hundreds, if not thousands, of years. Digital technologies can help provide a data-driven approach to manage air, land and water pollution by improving citizen engagement, providing tools for driving operational efficiencies and for increasing transparency.
Accelerating climate action
Digital technologies can play an impactful and often transformational role in addressing the climate challenge. Innovative solutions are already out there and are becoming affordable and implementable every day. But we need to move faster and that cannot happen in silos. In LMICs, it is important to create digital solutions that are context-specific, tailored to the needs and realities of the users and can be used both online and offline and accessed with a range of devices, including low-tech devices like feature phones. In addition to the physical and digital infrastructure, literacy and content-related challenges, there is a lack of patient capital – much needed to test these solutions in LMICs. There is an urgent need for strong partnerships between the mobile industry, governments, investors and innovators to drive climate action at the scale required to meet the Paris Agreement objectives.
The GSMA ClimateTech programme is funded by the UK Foreign, Commonwealth & Development Office (FCDO), and supported by the GSMA and its members.