After having the chance to participate in several local and regional Seedstars events in Africa and Southeast Asia over the past year, our team attended the Seedstars fifth annual summit in Lausanne on 11 and 12 April, 2018. As this was the fifth edition of the emerging markets start-ups competition, in which over 1,600 entrepreneurs from over 75 countries took part, we thought we would share our five main takeaways with you.
1. Start-ups with female founders grow faster
Several research reports have been published over the past years to back up this statement (Tinypulse, 2017 / PIIE, 2016 / MSCI, 2015 ). It was refreshing to hear it again from an all-women panel on day 1 of the Seedstars summit with the CEO and co-founder of Seedstars World, interviewing IFC Venture Capital, Invivo Partners Limited and Omidyar Network. Reinforcing this point, Shruti Chandrasekhar from IFC mentioned that her highest performing investment so far was in a venture led by a woman.
When deep-diving on why there are still so few women-led start-ups in emerging markets, panellists and audience members suggested that women entrepreneurs are 'realistic', which sometimes is not aligned with jury's or investors' expectations for big numbers and visions.
Whether we agree or not with some of the points raised during this discussion (you can find out more in Shruti Chandrasekhar's LinkedIn post), it was definitely important and necessary to bring the topic of women entrepreneurship to the forefront of the rest of the summit.
Rebecca Enonchong, AppsTech Founder and Afrilabs board chair, as well as Gwendolyn Regina, Asia-focused angel investor, made sure to keep the topic top of mind of when talking on stage during day 2.

2. 20 per cent of emerging markets start-ups are now using… chatbots!
Whilst listening to more than 60 pitches from all the start-ups selected by Seedstars through their competitions across all continents, something struck us – many are using chatbots. Chatbots – defined as 'computer program or an artificial intelligence, which conducts a conversation via auditory or textual methods' – are increasingly used by start-ups as an alternative to mobile applications to engage with their users (often using messaging platforms like Facebook Messenger or Line to do so). Out of the 65 start-ups that pitched at Seedstars, 12 are actually using chatbots in one way or another.
Examples of start-ups using chatbots include Gifted Mom's 'healthcare bot' (Cameroon), Langbot's gamified language teaching chatbot (Ethiopia) and 3oun using a chatbot to assist its users to find handymen in Jordan.
3. Want to work with mobile operators? Get your 'haves' and 'needs' right
About 10 per cent of the start-ups we heard pitching over the two-day summit claimed that they are partnering with at least one mobile operator. This validates the opportunity for start-ups in emerging markets to collaborate with mobile operators. In emerging markets, mobile operators have reached the scale that start-ups lack, while start-ups are developing the local innovation that mobile operators need.
This was the core message that we gave during our workshop at the summit with an audience of about 30 entrepreneurs and a handful of mobile operator executives (including Ahmad Hanandeh, Zain Jordan CEO and a delegation from Orange group and Bizao).
The objective of our workshop was to support Seedstars-selected entrepreneurs in better engaging and collaborating with mobile operators, by leveraging some of our tools like our 'Synergies Framework' (you can find out more about it here). This framework serves as a set of guidelines for start-ups to identify what they 'need' from mobile operators but also what they 'have' for them, in order to pitch a win-win collaboration.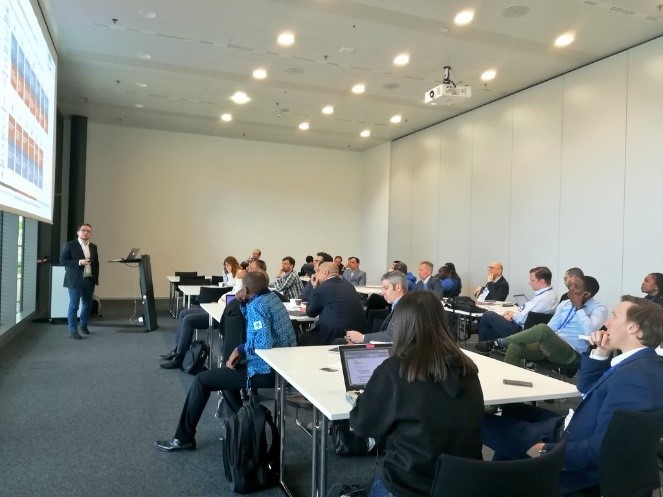 4. 'The harder the struggle, the more glorious the triumph'
It is with this quote from Indian philosopher Swami Sivananda that Indonesia-based eFishery founder and CEO Gibran Huzaifah, started his keynote on the Seedstars stage, describing his inspiring journey from growing up in a very poor neighbourhood before becoming who he is today.
eFishery is one of the 24 start-ups of our GSMA Ecosystem Accelerator Innovation Fund portfolio and it was a real privilege to listen again to their story and re-connect during the Seedstars summit.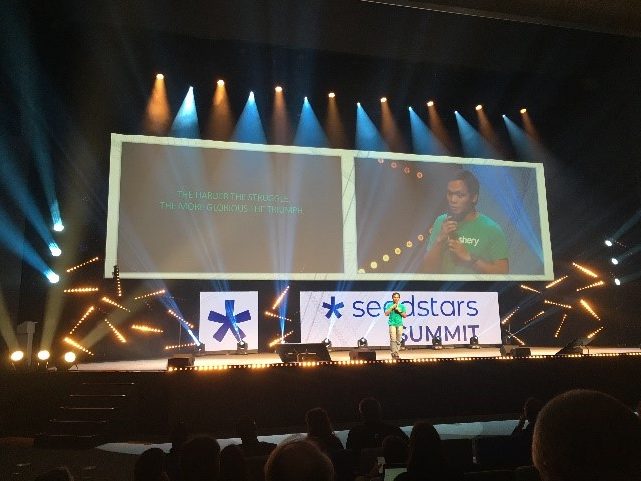 Three of our portfolio start-ups were also competing in the start-ups competition:
Kargo (Myanmar): Online marketplace that connects truck owners with businesses and individuals for logistics and delivery solutions;
Tootle (Nepal): Motorbike-based ride-hailing service; and
MaTontine (Senegal): Mobile-based automated platform for informal rotating saving circles.
Frederico P. Silva, founder of, Biscate (Mozambique), another of our portfolio start-ups, also participated in the summit in his capacity as Seedstars ambassador in Mozambique.
5. Breakthrough: An agritech start-up wins Seedstars global competition
After short-listing twelve start-ups to pitch on the main stage for day 2 of the summit, the Seedstars jury selected the Ghana-based agritech start-up, Agrocenta, as the winner and recipient of a $500,000 equity investment from Seedstars.
Agrocenta is 'an online platform that connects the smallholder farmer in the staple food (rice, maize, millet and soybean) value chain to a wider online market to trade, access truck delivery services at the click of a button and also get real-time market information delivered to their mobile phones via SMS and voice services' (as explained by Forbes).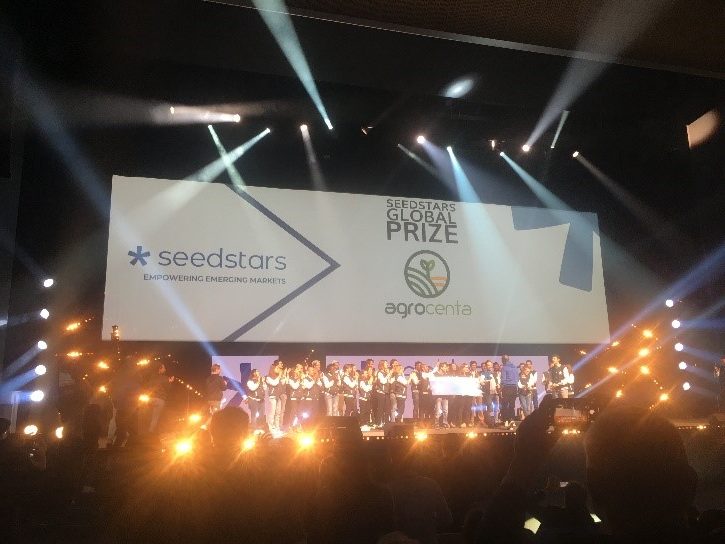 Even though it is the first time an agritech start-up won the Seedstars global competition, emerging market start-ups in this vertical have been gaining significant traction over the past few years. As highlighted in our last publication, Start-ups and Mobile in Emerging Markets, Issue 2, they are increasingly are using mobile technology to help farmers and agribusinesses become more efficient whilst contributing to social, economic and environmental change locally.
We would like to end this blog post by congratulating and thanking the extended Seedstars team for another impressive edition of the Seedstars Summit and more specifically Michael Weber, Claudia Makadristo and Fanny Dauchez for allowing us to participate.
The Ecosystem Accelerator programme is supported by the UK Department for International Development (DFID), the Australian Government, the GSMA and its members.