Wednesday, 8 June 2022 marks World Oceans Day, with the theme "Revitalization: collective action for the ocean". The Day provides an opportunity to celebrate the importance of the ocean, mobilize and unite the world's population, and strengthen the sustainable management of this important resource.
---
Marine plastic waste: an urgent global crisis
Plastic has become so integral to the ease, comfort and efficiency of our lives, that it is hard to imagine a world without it. It is synonymous with both the freedom and aspirations central to modern convenience culture and consumerism.
However, plastics are the largest, most harmful and persistent portion of marine litter, accounting for at least 85 per cent of total marine waste. Marine plastics have far-reaching negative consequences, compromising complex ecosystems, depleting fish populations, destroying coral reefs and expediting climate change.
The most immediate impacts of marine plastic pollution are felt disproportionately in Low- and Middle-Income Countries (LMICs) – particularly among communities that depend on the ocean. Underdeveloped recycling systems are compounded by low consumer awareness of waste, high reliance on cheaper but harder-to-recycle plastics, and large quantities of plastic waste from developed economies.
The mismanagement of plastic waste is a global challenge that must be immediately addressed if we are to achieve the Sustainable Development Goals (SDGs) or meet the targets set out in the 2015 Paris Agreement. Without urgent action, the estimated 11 million metric tons of plastic currently entering the ocean annually will triple in the next twenty years. This would mean up to 37 million metric tons of plastic flowing into the ocean every year by 2040.
From pollution to solution: a need for collective action
"Breaking the Plastic Wave", a global analysis of how to respond to the plastic waste crisis, highlighted that the amount of plastic entering the ocean could be reduced by around 80 per cent in the next two decades if existing technologies and solutions are utilised. Working collaboratively, technology organisations can help the global community to address and reverse the plastics crisis.
Digital technologies, such as mobile apps, mobile payments, artificial intelligence (AI) and connected devices, have a critical role to play in improving citizen engagement in recycling, driving operational efficiencies and increasing transparency in the plastics supply chain.
The GSMA "Digital Dividends in Plastics Recycling" report explored synergies between plastics and technology organisations, outlining ways in which they could work together to deliver environmental, social and commercial impact. The report showcased specific benefits that plastics organisations in LMICs could reap from using digital tools and services, or partnering with technology organisations.
This included:
Driving operational efficiencies through a circular economy. Circular economy solutions could reduce the volume of plastics entering oceans by over 80 per cent by 2040 and reduce virgin plastic production by 55 per cent. In many LMICs, circular economy solutions are nascent, but innovative plastics organisations are helping to demonstrate the opportunities and value that can be generated through more effective management of plastic waste across the circular economy. Mobile network operators are natural business partners to this sector offering digital innovations to formalise and drive efficiencies in informal waste collection. 
Improving citizen engagement: Mobile-enabled solutions can raise public awareness of why and how to recycle plastic waste, drive positive behavioural change, enable citizens to identify waste "hotspots" and increase plastics organisations' access to raw materials. Frontier technologies, such as AI and the Internet of Things (IoT) can improve public collection and recycling activities, for instance, through bin monitoring and weighing or by automating plastic segregation.
Increasing transparency: Online portals and mobile-based tools are being developed to connect all actors in the plastics supply chain, allowing plastics organisations to trace the flow of waste materials in real time, and to create digital marketplaces that ensure waste collectors receive fair prices for the plastic they sell. The high levels of transparency these solutions bring to the supply chain is an important requirement for global brands that want to increase their use of ethically sourced recycled plastics in their manufacturing processes. The ability of plastics organisations to trace the provenance, quality and flow of plastic – and to demonstrate the positive social and environmental impacts of their operations – will be critical to the development of the emerging socially responsible plastics sector and avoid ongoing marine plastic waste.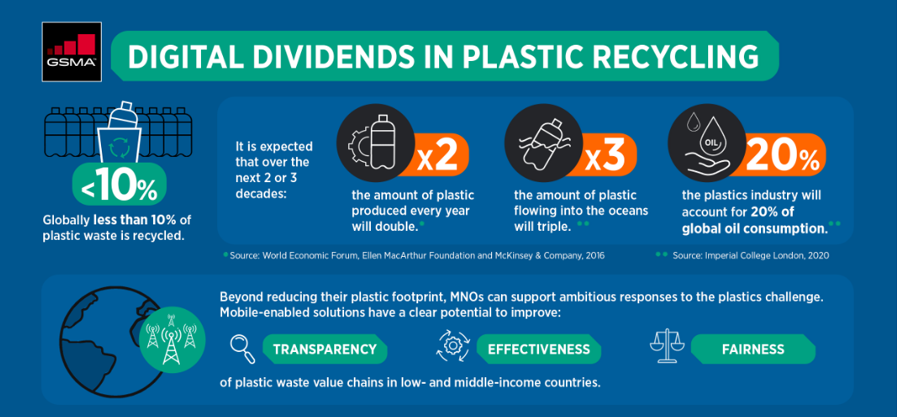 Looking forward
The GSMA and its members are well-positioned to support ambitious responses to the plastics challenge. As part of their sustainability efforts, many mobile network operators are already exploring how to reduce their plastic footprint, for instance by eliminating plastic packaging from their products or services, or by reducing the amount of plastic used in their day-to-day operations.
Even greater impact can be achieved when technology organisations leverage their resources and technical expertise to make digital technologies more accessible to, and impactful for, a wide range of stakeholders. In doing so, these organisations will find new opportunities to engage positively with their customers, grow their core revenue, develop new digital business models (e.g. in AI and IoT services), increase customer satisfaction and brand loyalty and source recycled plastic for new products.
This focus on partnerships and collective action underpins this year's World Oceans Day. It provides an opportunity for the global community to come together to explore and celebrate solutions, igniting collective action to revitalise the ocean and all it sustains.
---
The GSMA ClimateTech programme is funded by the UK Foreign, Commonwealth & Development Office (FCDO), and supported by the GSMA and its members.