Basic and feature phone technologies have revolutionised how people in emerging markets interact, as stated in our 2018 report on Mobile Technology for the SDGs: Reaching Further with Low Tech. Despite growing smartphone penetration on the continent and the growing popularity of mobile apps, low tech continues to play a significant role in many emerging markets. Notably, nine in 10 mobile money transactions in Sub-Saharan Africa still flow through USSD (Unstructured Supplementary Service Data). Specifically, USSD has proved to be a useful tool in dealing with the fallout of the COVID-19 pandemic.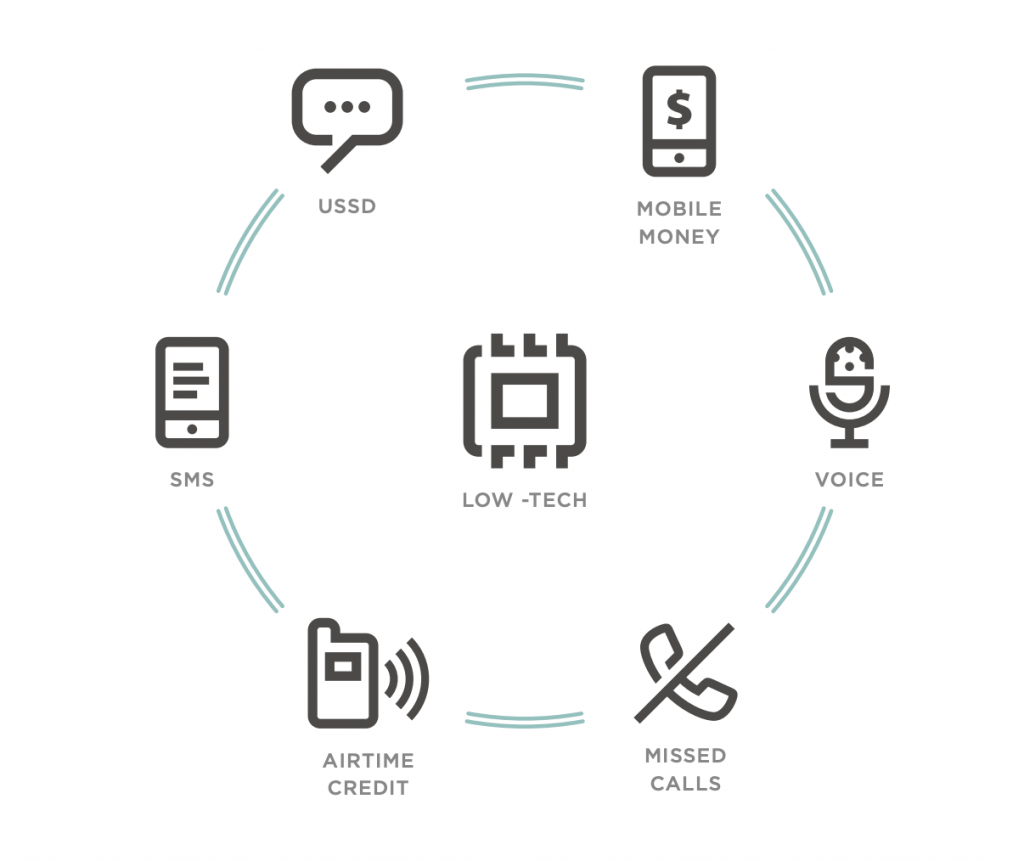 The recent GSMA State of the Industry Report states that at the end of 2019, smartphone adoption reached 60 per cent in South Asia and 46 per cent in Sub-Saharan Africa. While smartphones do outnumber basic and feature phones in over half of all countries in Sub-Saharan Africa, USSD remains the most common interface offered by providers globally. According to the IFC, the inability to use cash during the COVID-19 pandemic is increasing the use of USSD by the financially excluded.
USSD-run applications are easily accessible by people with both smartphones as well as basic and feature phones, therefore reaching a wider audience than smartphone apps. There are several other benefits that make USSD a valuable tool for emergency situations, including the COVID-19 pandemic: it does not require internet connection or data to work, and it can work across all mobile networks, needing only a GSM connection. USSD is also interactive – users can quickly see responses and make further requests, enabling faster interaction. Finally, USSD content can be personalised and accessed anytime and anywhere. These benefits position USSD as an innovative tool in responding to the COVID-19 crisis.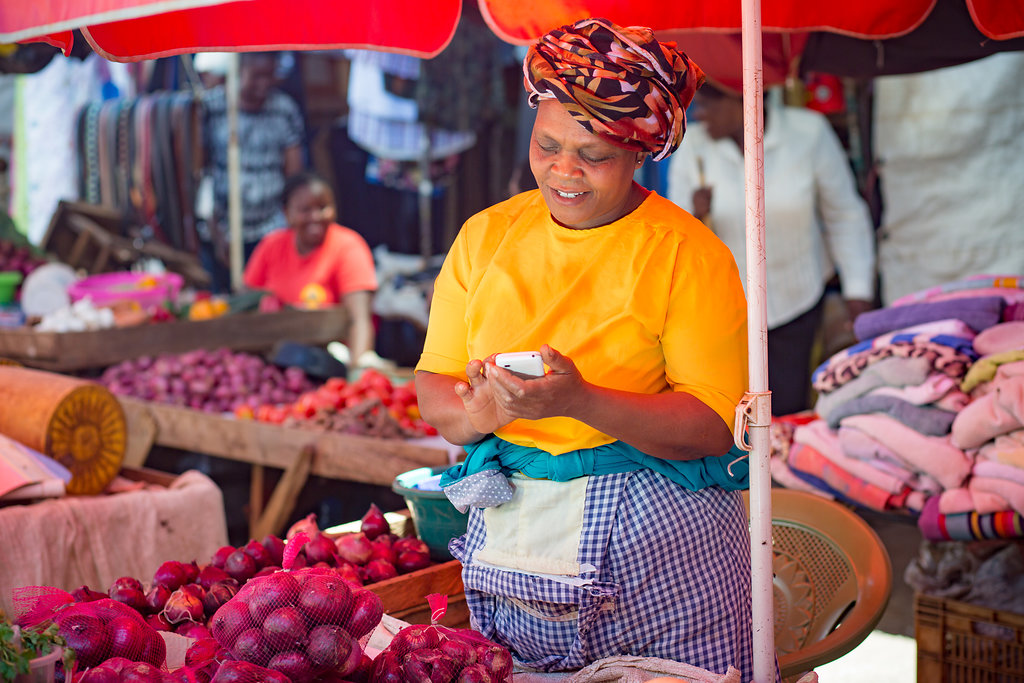 USSD for COVID-19
We have covered how USSD can be used for education, health and financial services. With regards to specific COVID-19 use-cases, our research revealed that applications for USSD in emerging markets are five-fold: self-assessing potential symptoms, contact tracing, disseminating information, transferring cash from G2P (government-to-person) and consulting over-the-phone with doctors.
| | | |
| --- | --- | --- |
| Name | Country | Solution |
| Government initiative | Bangladesh | USSD is used to provide information about citizens' health through self-assessment, which helps the government develop a risk-analysis database to curb the spread of COVID-19. Users answer five questions: their age, whether they have breathing problems, a fever or cough, if they came into contact with any recent returnee from abroad and if they come close to any coronavirus infected people. |
| Aiisma | India | Aiisma uses USSD for COVID-19 contact tracing in rural India, where people may not have access to smartphones or phones with 3G networks. To ensure data privacy and identity protection, the tracking feature keeps the person's details anonymous. The symptom-mapping feature is regularly updated by 34 per cent of the app users. |
| ThinkMD | Indonesia and other countries | THINKMD released a COVID-19 triage and educational tool that guides people through a self-risk assessment. Each personal assessment determines if an individual has COVID-19 symptoms, and also provides WHO and CDC educational information on how and when to seek medical care, with recommended protective and preventive measures. The tool is available in an expanding list of languages – currently, it is available in: English, French, Spanish, Arabic, Portuguese, Hindi, and Bengali. |
| Safiri Smart | Kenya | Safaricom subscribers can access the service for free through USSD to get relevant information, in either English or Swahili, to alert them of any disease outbreaks as soon as they arrive in an affected area. There was an increase in subscriptions after the COVID-19 outbreak as people wanted information on the virus. |
| Chekkit | Nigeria | A USSD code, accessible on all networks, provides the public with quick access to help and verified information. Users can sign up for daily COVID-19 alerts sent as SMS and USSD push notification. Users can request a COVID-19 test, take part in tailored surveys to win free airtime, and play a COVID-19 game to prove they know the facts about the virus. |
| Novissi | Togo | Novissi is an unconditional monthly cash transfer scheme designed to support informal workers whose incomes are disrupted by COVID-19. Payments are made directly to the mobile money account of beneficiaries. It is quick, reduces the risk of fraud and eliminates contact with cash. There have been 567,002 beneficiaries, with money given to retailers, tailors and seamstresses and housewives. Out of the beneficiaries, 65 per cent were women. |
| Fix Solution | Sierra Leone | The pre-existing government USSD platform was expanded to allow citizens to self-check their symptoms, learn about prevention and get updates on Sierra Leone's COVID-19 situation, including the number of cases and deaths. |
| HealthCheck | South Africa | Launched by the National Department of Health, this digital health assessment tool allows for early detection, mapping and management of COVID-19 cases using USSD and the official COVID-19 WhatsApp service. Users follow the USSD menu and answer a series of short questions, including location, age category, symptoms, exposure to infected people, acceptance of terms and conditions and confirmation that the user can be contacted. Together with a WhatsApp helpline, this service has had over 6.2 million users since its launch on 18 March 2020. |
| oDoc | Sri Lanka | This telemedicine start-up offers real-time virtual consultations that minimise the need to go to hospitals/clinics for medical advice, reducing the risk of catching COVID-19. Through a partnership with mobile operator Hutch, subscribers that prefer over-the-phone consultations may request a call back using a USSD code. Once requested, a doctor will call the user within minutes. |
---
Conclusion
While some critics question if USSD has future relevance and claim it will never replace mobile applications, the discussion shouldn't focus on mobile technologies being mutually exclusive. USSD can complement other digital solutions, such as Mukuru, a money transfer provider utilising a mobile app, USSD and WhatsApp, whose popularity increased as users wanted safer and more convenient ways of transacting during COVID-19 lockdowns.
USSD has proven to be a crucial instrument in responding to the global pandemic. As many users in countries across Africa and Southeast Asia are accustomed to using USSD, it has been adapted as a solution in response to this year's pandemic, demonstrating that it continues to be a vital tool for supporting emerging economies.
The Ecosystem Accelerator programme is supported by the Australian Government, the GSMA and its members.