5G in Latin America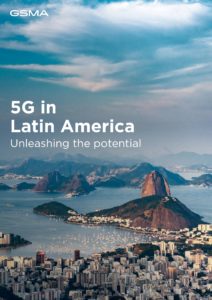 As of March 2023, eight countries in Latin America had launched commercial 5G services. The number of 5G connections is forecast to grow steadily over the next couple of years, before accelerating in the second half of the decade as new 5G markets go live and existing networks expand to cover new areas. As such, 5G adoption will overtake 2G in 2024, 3G in 2026 and 4G in 2029. By 2030, 5G will account for nearly 60% of total mobile connections in Latin America.
The speed of adoption reflects the high levels of consumer interest in 5G. According to a GSMA Intelligence survey, nearly two thirds of consumers in Latin America intend to upgrade to 5G. Around 30% of those surveyed in the region are unsure about whether to upgrade, while only 7% of people claim they do not intend to upgrade to 5G (the lowest of any region worldwide).
There is also positive sentiment towards 5G among enterprises in Latin America. GSMA Intelligence research shows that enterprises in the region across all verticals find new technologies such as 5G, private networks, massive IoT, edge and slicing compelling to advance their digital transformation. Moreover, the level of interest in these technologies is in line with advanced 5G markets, such as the US.
Unlocking the potential of 5G requires policy measures to support network investment and improve the affordability of digital services for consumers. Ultimately, the speed of rollout, as well as the adoption, reach and quality of 5G services, will heavily depend on an appropriate policy environment being in place.
This report examines 5G in the context of Latin America's connectivity landscape; operator plans to build the networks of the future; how to drive 5G uptake across the region; and the policies required to accelerate 5G development. It also provides country overviews providing an understanding of each market's specific 5G outlook.