5G Spectrum GSMA Public Policy Position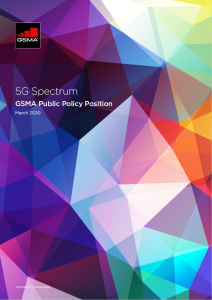 5G is expected to support significantly faster mobile broadband speeds and heavier data usage than previous generations while also enabling the full potential of the Internet of Things. From autonomous cars and smart cities to the industrial internet and fibre-over-the-air, 5G will be at the heart of the future of communications. 5G is also essential for preserving the future of today's most popular mobile applications – like on-demand video – by ensuring that growing uptake and usage can be sustained.
The success of the services will be heavily reliant on national governments and regulators. Most notably, the speed, reach and quality of 5G services will be dependent on governments and regulators supporting timely access to the right amount and type of spectrum, and under the right conditions. 5G spectrum awards have already begun and the variation in the amount of spectrum assigned, and the prices paid, means the potential of 5G services will vary between countries. This will impact the quality and capacity of 5G services and thus the competitiveness of national digital economies.