This is the first in a series of blogs focusing on the insights from the State of the Industry Report on Mobile Money 2021.
A couple of weeks ago, we launched this year's State of the Industry Report on Mobile Money. In a year like no other, the report looks at how the mobile money industry responded to the COVID-19 pandemic. The report also highlights how the industry continued to grow, both in terms of accounts and in value transacted, despite the heavy onset of the crisis.
The number of registered accounts globally grew at a rate of 13 per cent, to reach 1.21 billion. Meaning there is now a registered account for every five adults on the planet. What we also observed during the crisis was that an increasing number of these accounts are now active on a monthly basis – There are now more than 300 million monthly active accounts.
While it took nearly a decade for the mobile industry to reach its first 100 million monthly active accounts, it has taken just over five years to reach another 200 million. By December 2020, 64 mobile money providers – roughly one in five – had over one million monthly active accounts. This is up from 30 providers in 2016.
Transaction values continue to grow
Over the year we saw total transaction values grow by 22 per cent to reach $767 billion. This means that, for the first time, the industry is processing over $2 billion a day and has more than doubled in value since 2017. Looking forward, the GSMA expects this value to exceed $3 billion a day by end of 2022. In 2020, the value digitised via mobile money agent networks grew by 18 per cent, reaching a total of $189 billion or over $500 million a day. In addition to the industry building foundational assets, such as APIs, this impressive growth in overall transaction values was supported by policy measures that included increasing transaction and balance limits.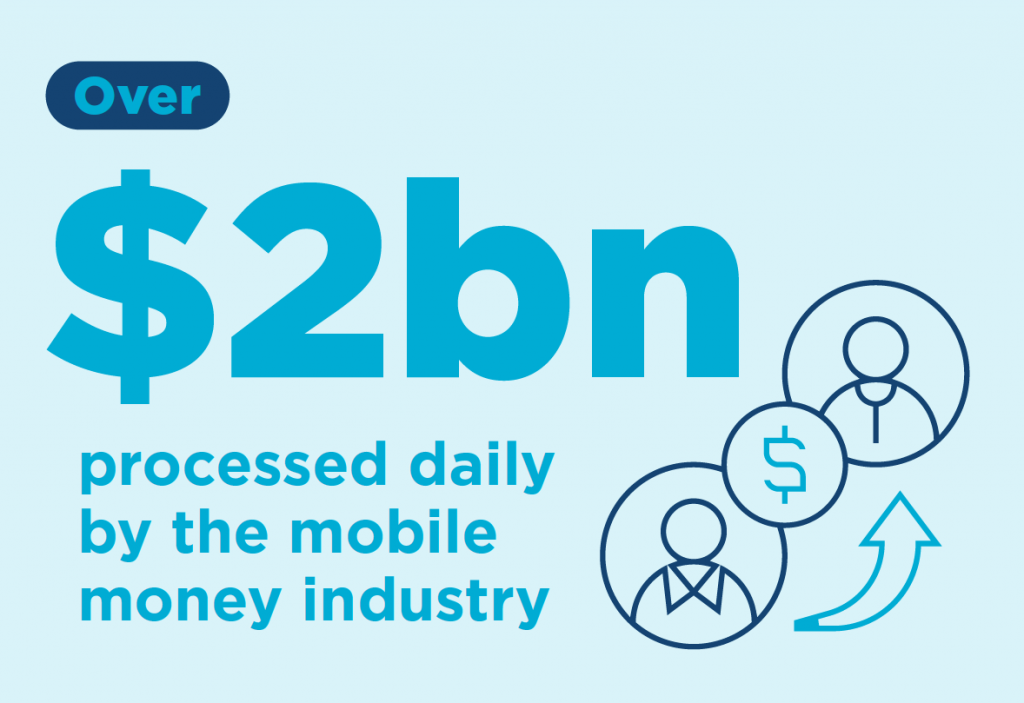 Stronger partnerships are accelerating the shift to digital
To minimise the human and financial toll of the pandemic and keep economies afloat, national governments distributed unprecedented monetary and fiscal support to individuals and businesses. The value of government-to-person (G2P) payments quadrupled during the pandemic as the mobile money industry worked hand in hand with governments and non-governmental organisations (NGOs) to distribute social and humanitarian payments quickly, securely and efficiently to those in need. This way, mobile money provided a lifeline to the most vulnerable in the most difficult of times.
International remittances scaled up significantly
Another way in which mobile money helped to alleviate some of the financial hardships brought on by the pandemic, was by facilitating the flow of remittance payments across borders. International remittances processed via mobile money increased by 65 per cent in 2020. For the first time, over $1 billion is being sent and received every month. Despite initial fears that remittances would decline as people around the world suffered job losses and income cuts, it seems clear that diasporas around the world continued to use mobile money to come to the aid of those back home.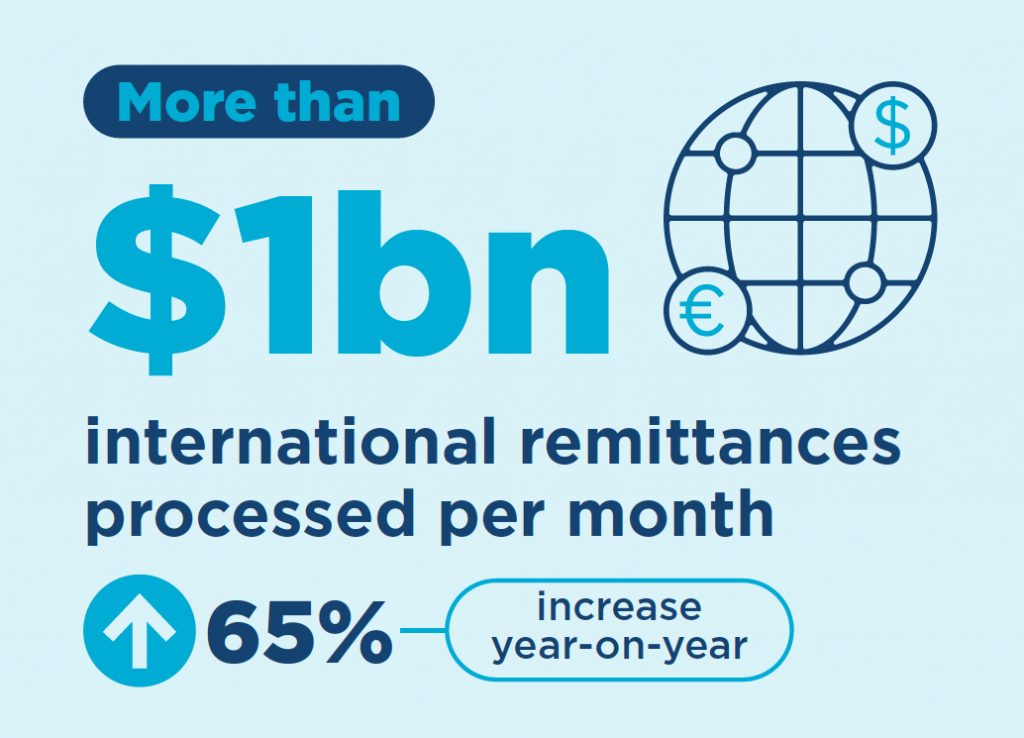 From the very beginning of the pandemic, mobile money providers acted urgently to moderate the damage to citizens, governments and businesses. While some were short-term measures, many laid a foundation for future growth and a faster transition from cash to digital payments.
Having proven itself resilient in the face of sudden and unpredictable change, the industry will emerge from the pandemic more active, integrated and collaborative, with the momentum to deliver life-saving and life-enhancing benefits for all.
Stay posted with the next blogs in this series and more insights by registering for our monthly Mobile Money Insights here.
Visit the website Download full report Download summary Get the data - Mobile Money Metrics