Watch on demand: Beyond one billion: Exploring the state of mobile money in Africa.
This is the sixth in a series of blogs focusing on the findings of the 2019 State of the Industry Report on Mobile Money.
Blog #1 | Blog #2 | Blog #3 | Blog #4 | Blog #5 | Blog #7
In our previous post, we mentioned that 2019 was a momentous year for mobile money in Africa and that for the first time, digital transactions make up the majority of African mobile money flows. In this post, we look at what does reaching $22.6 billion in digital transactions mean to the providers and users across the continent.
While on average digital transactions are dominant, this achievement is not evenly spread among deployments in the region. 69% of services are still heavily reliant on cash-in/cash-out transactions. At least 49 services lie on the cusp of passing the digital threshold and this presents a great opportunity to further digitise use cases across the continent, driving efficiency and transparency, and fostering a more formalised economy.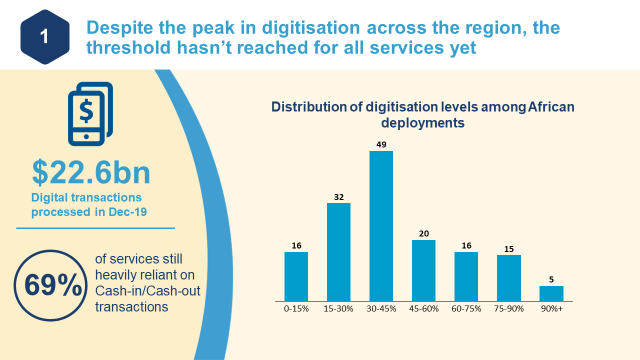 Diversification of use cases are enhancing the relevance of mobile money to the African population
As the industry matures, ecosystem transactions[1] (payments involving third parties), are increasingly driving essential and impactful services across the continent. For the first time in Africa, airtime top-ups make up less than 50% of the total number of mobile money transactions. This coincides with merchant payments, international remittances and bill payments becoming the fastest growing products across the region in 2019 (exceeding 36% Y-o-Y growth).
In Africa, mobile money is increasingly being used to conduct transactions for essential services, and as such, becoming part of everyday life. For example, 1 in 3 monthly accounts now receive their salaries via mobile money while utility payments account for 55% of the total value of bill payments processed via mobile money. Beyond individuals making use of mobile money, businesses and governments are increasingly partnering with mobile money providers. For instance, mobile money providers in the region are on average integrated with 35 government agencies and 73 per cent of providers have partnered with agribusinesses and cooperatives to digitise value chain payments to smallholder farmers.
Additionally, mobile money is increasingly being used beyond transfers and payments and more sophisticated adjacent products such as credit, savings and insurance are gaining traction within the region. During 2019, 10.8 million mobile-enabled insurance policies were issued and $3.5 billion digital loans were disbursed across the continent. Mobile money has also enabled previously financially excluded people in Africa to better safeguard for their future, as providers help to foster a formal savings culture – In 2019, the average unique customer saved $264.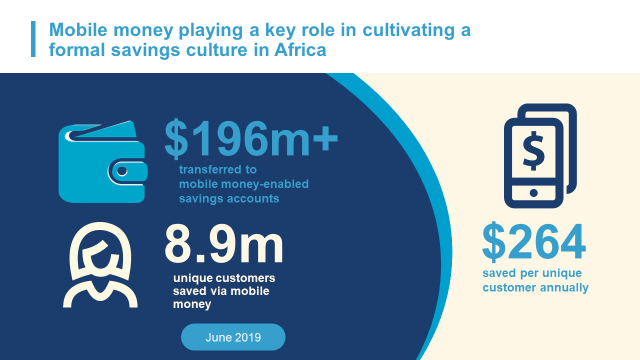 Though the continent has experienced durable growth and is now home to a number of mature services, opportunities still exist. There is still room for more services to expand their digital footprint and further diversify their offerings to create both a more dynamic and sustainable financial ecosystem.
For instance, mobile money providers can leverage their existing partnerships with humanitarian organisations to reach the 25 million forcibly displaced people across the continent. Similarly, as has been well-documented, mobile money may also serve as an invaluable lifeline during crises such as the ongoing COVID-19 pandemic. (See "You've Got Money: Mobile Payments Help People During the Pandemic")
Another area of opportunity is international remittances. For example, in West Africa, there is substantial potential for mobile money providers to gain a more significant foothold in the $3.2bn[2] a month formal remittance industry (World Bank). As a result of current pandemic, the World Bank has predicted that 2020 will see the sharpest decline of remittances in recent history. However, initial evidence from the African mobile money market suggests that mobile money-enabled remittances have seen less of a negative impact and have remained resilient compared to other channels. This evidence is not yet conclusive and will be investigated further in the coming months leading up to our 2020 State of the Industry Report.
Within mobile money, Africa remains at the forefront of innovation and expansion; and continues to foster a range of different partnerships to seemingly lead the industry to new highs and increased levels of financial inclusion.
[1] Bill payments, bulk disbursements, international remittances and merchant payments
[2] The monthly value of formal remittances in and out of West African mobile money markets.
Related events
Beyond one billion: Exploring the state of mobile money in Africa
Register now for the next SOTIR19 webinar on the success of Africa's mobile money industry.
Mobile Money Leadership Forum 2020
Join us this week for the Mobile Money Leadership Forum at GSMA Thrive Africa, taking place online on Thursday 1 October 14:30-15:30 (UTC+2). We'll be joined by leading industry experts from MTN, Orange, the National Bank of Rwanda and more on how we can build a resilient future through mobile money.