As part of the GSMA's Connected Women Commitment Initiative, Tigo Guatemala committed to design strategies aiming to increase the proportion of women in their mobile internet customer base in Guatemala from 46% to 50% by 2020.
To reach this goal, Tigo partnered with SHEVA, a Guatemala-based organisation, to create "Conectadas". Conectadas is a programme aimed to empower girls and women by equipping them with the skills and knowledge to use mobile technology. GSMA research has consistently shown that low levels of basic digital literacy are one of the main barriers to mobile internet adoption. To address this, the GSMA Connected Society programme developed the Mobile Internet Skills Training Toolkit (MISTT). Drawing inspiration from the GSMA's MISTT, SHEVA and Tigo Guatemala delivered mobile internet skills training to 31,000 women using EduMe's Workforce Success platform. This enabled them to learn about tools such as Google, Facebook and WhatsApp through concise, engaging online lessons and communications.
Tigo Guatemala measured the data consumption of the women who were Tigo users and compared this to a control group with similar characteristics. Over a 24 month period, and with a sample size of 14,390 women, Tigo Guatemala found that the trained women's mobile data consumption increased by 19%, compared to an increase of just 7% for the control group.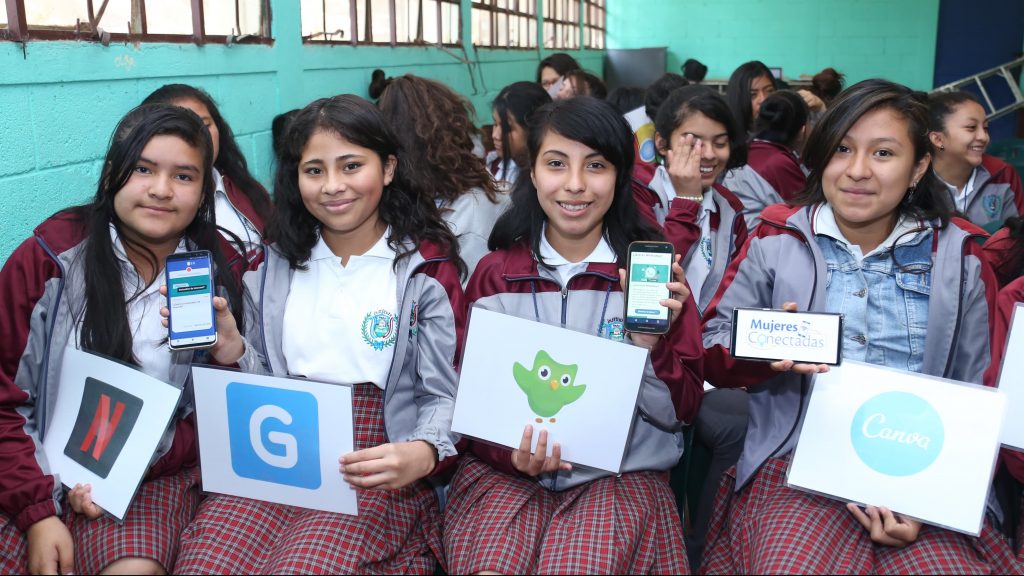 What is the GSMA Mobile Internet Skills Training Toolkit?
Today there is still a "usage gap" of 3.3 billion people who have access to mobile broadband coverage, but are either unable or unwilling to use it.
The MISTT is a visual, easy-to follow curriculum that helps trainers demonstrate the functionality and value of the internet on internet-enabled mobile phones. With modules that can be adapted to local needs and languages, the MISTT uses a "train the trainer" approach to build a rich body of knowledge from the bottom up. The six core MISTT modules are: Wikipedia, Facebook, WhatsApp, YouTube and Google, as well as an introductory module that covers the basics of the internet, including internet safety and costs.
The MISTT was created primarily to help mobile operators increase mobile internet adoption among their customer base, using their agents as trainers. However, the toolkit was also intended to be adapted for use by other organisations interested in improving basic knowledge and understanding of mobile internet, such as NGOs, development agencies and governments.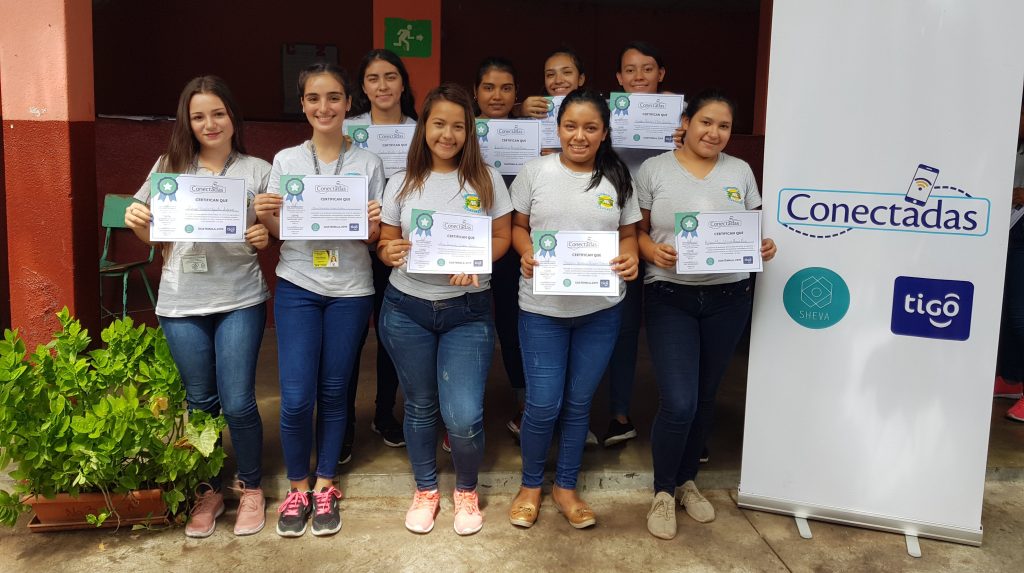 How did Tigo Guatemala and SHEVA deliver the MISTT through EduMe's mobile platform? 
Through Conectadas, Tigo Guatemala and SHEVA are teaching young women how to use and benefit from mobile technology. By providing training on how to access information and use life-enhancing tools, the women are empowered to reach their full potential and achieve independence. For context, 50% of smartphone owners in Guatemala only use their devices for phone calls and text messages, so this training is incredibly valuable.
With this in mind, Tigo Guatemala and SHEVA joined the GSMA's Connected Women Commitment initiative to empower young women in Guatemala by training them on how to access a universe of information through technology. For Tigo Guatemala, this project has the social objective of empowering women through access to technology, as well as the commercial objective of increasing mobile internet awareness and use.
Before using EduMe, Tigo Guatemala and SHEVA were delivering training across the country through a series of face to face workshops. They realised that participants needed to have a convenient, easy way to access the knowledge and information both in between and after the workshops, especially once they're ready to put their new skills into practice. Additionally, they wanted to provide more useful content that simply wouldn't fit into the two-day workshops.
The young women are from backgrounds where there is minimal technology at home, so mobile is very often their only method of accessing the Internet. Tigo Guatemala and SHEVA needed a way to digitise this content, allowing participants to access it online, wherever and whenever they want. EduMe's Workforce Success platform was an ideal choice to create a continuous, self-paced learning journey, as well as a sense of community for the Conectadas participants.
SHEVA's CEO, Marisabel Ruiz, commented, "EduMe gave us an opportunity to teach the young women in a more profound way, and also give them access to additional educational and motivational content even after the workshops".
Luis Rodriguez Soto, Executive Director at SHEVA, added, "The GSMA's MISTT has been an invaluable foundation for the skills and knowledge in our courses, as well as shaping the tone and friendly style of workshops".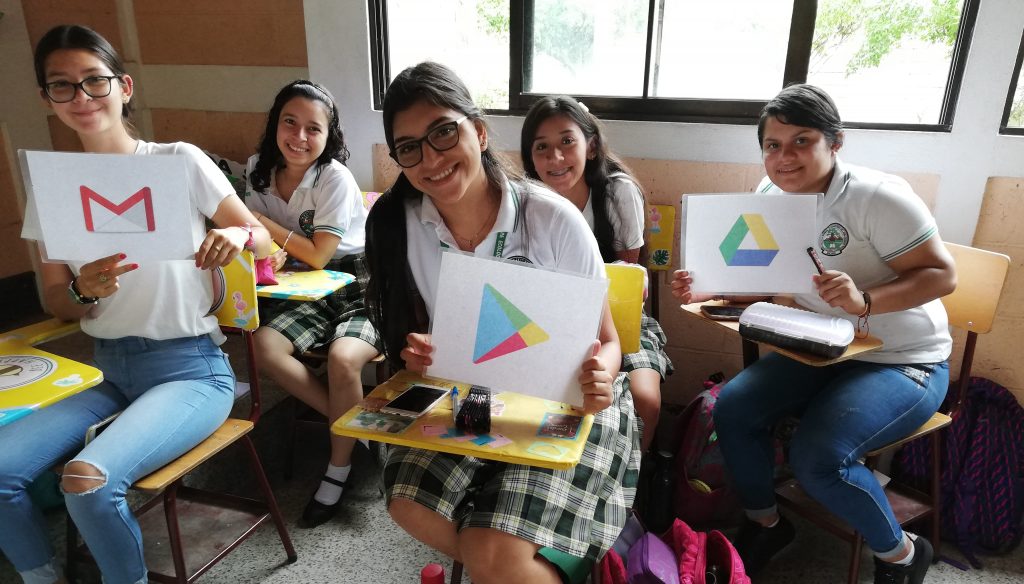 Impact and next steps
According to the GSMA Connected Women programme's Mobile Gender Gap Report 2019, affordability, literacy and digital skills, a perceived lack of relevance, and safety and security concerns are the most important barriers to mobile ownership and mobile internet use for women. Affordability, particularly of handsets, is the top barrier to mobile ownership, while literacy and digital skills are the main factors limiting mobile internet use among those who are aware of it.
SHEVA's CEO highlights similar barriers that prevent women from owning or using phones, including security and harassment fears, a lack of trust in the operator, technical literacy and confidence. Conectadas directly addresses these concerns. The project provided a safe environment where women were taught how to use mobile technology and the Internet securely. Having Tigo as the main sponsor helped to build trust with the users.
"Women are a fundamental pillar for the development of societies. This type of initiative allows us to empower them and put technological tools at their disposal, in order to help them and their families have a better future" added Melanie Reimers, Director of Corporate Responsibility, Tigo Guatemala.
At the start of the project, women tended to underestimate the importance of education and reported low levels of self-esteem. In the short run the intervention seems to have increased the desire to continue schooling and consider a wider variety of job opportunities. 
Of the 31,000 women which have been trained to date, 14,390 are Tigo users. In order to measure commercial impact, Tigo Guatemala compared the mobile data usage of these 14,390 users to a control group of women who are not part of the Conectadas programme, with the same characteristics in terms of age and location.
Over the past 24 months, Tigo Guatemala tracked the mobile data usage of the trained women compared to the control group and they found that trained women's mobile data usage increased by 19%, whereas the control group only showed a 7% increase. 
SHEVA's data shows how this increase was achieved: 
| | | |
| --- | --- | --- |
| | Base Line | End Line |
| % of women who are aware of Canva | 7.0% | 88.0% |
| % of women who have Canva on their phones | 6.0% | 74.0% |
| % of women who know how to use Facebook Security | 20.0% | 61.0% |
| % of women with an educational app on their phones | 25.67% | 64.40% |
| % of women who use Google Drive to store information | 2.50% | 40.00% |
| % of women who use their phones to scan and share documents | 3.80% | 51.50% |
| % of women who accept a social media connection request from an unknown person | 80.0% | 30.0% |
(Sample 7,763)
After such a success story, the goal is to reach all corners of Guatemala. In addition, Tigo is implementing the Conectadas programme across all its LatAm operations, many of which have shown an interest in expanding the program by delivering training via the EduMe app.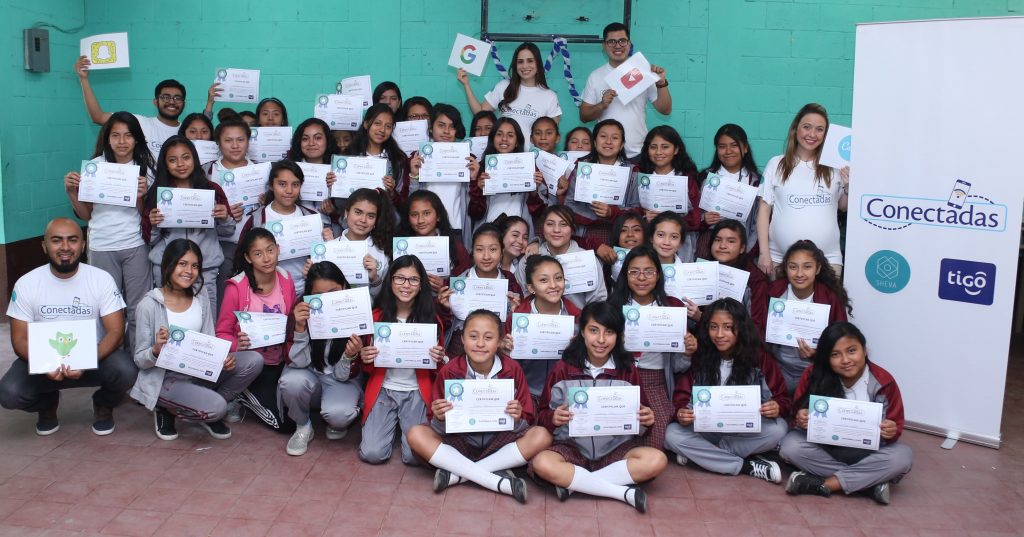 Find out more
This blog was co-authored by Priya Bhandari, Commercial Director of EduMe, and Jonathan Bordage, Market Engagement Manager of the Connected Society programme at the GSMA.