---
This blog was first published in the March 2021 edition of the "Smart" magazine of the Arab Information & Communication Technologies Organization (AICTO)
---
The future demand for food due to increasing incomes and populations will require a significant boost in agricultural production. Globally, arable land is diminishing and water scarcity is becoming an increasing challenge due to the effects of climate change. In this context, technologies such as the Internet of Things (IoT) play a key role in ensuring sustainable production that guarantees the future of the agricultural sector.
IoT is the driving force of smart farming, connecting smart machines and sensors integrated on farms to make agricultural processes data-driven and therefore more efficient. First appearing in the late 2000s, smart farming has the potential to reduce the ecological footprint of farming and to drive time efficiency, cost reduction and increased productivity.
As highlighted by GSMA's latest Mobile Economy Middle East and North Africa (MENA) report, IoT connections in the region will more than double in the period to 2025, with licensed cellular IoT connections expected to reach more than 70 million by 2025. The application of IoT, Artificial Intelligence (AI) and other transformative technologies will play an important role in key verticals such as agriculture.
The MENA region has some of the most penetrated mobile markets in the world, which provides a fertile ground for the application of mobile technology to the agricultural sector. Smartphone connections will exceed 500 million by 2025, driven by take-up of more affordable devices. As smartphones become increasingly available to smallholder farmers, smart farming applications will not be limited to large agricultural enterprises.
Key facts about agriculture in MENA
Agriculture is a key sector for income generation, employment and food security in the region. For example, in Morocco the sector accounts for a 12 per cent share of GDP and for 33 per cent of employment, whereas in Egypt it represents 11 per cent and 21 per cent respectively[1]. For Tunisia and Morocco, agriculture produce such as citrus fruits, strawberries and market vegetables, are key exports to European markets.
Fig. 1: Agriculture in MENA economies (2019)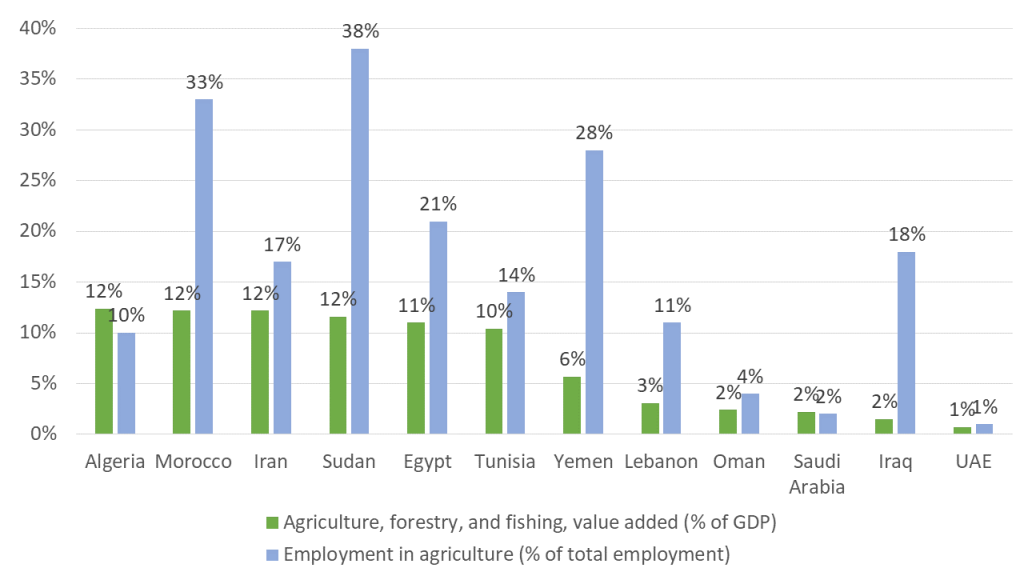 Source: World Bank
In two-thirds of the countries in the region, less than 5 per cent of land is arable. MENA is the most water-stressed region in the world, as the majority of countries continue to use groundwater at rates exceeding renewable internal freshwater resources. Agriculture uses 85 per cent of the region's water. The annual average rainfall of 400-600mm allows for crop cultivation but requires irrigation to sustain stable, high yields.
Smallholder farmers play a major role in the region's food security and produce the bulk of domestic supply of staples. However, they are among the most vulnerable to the impacts of climate change. Improving their resilience to climate-induced agriculture sector challenges is important not only to support their livelihoods, but also to protect food security throughout the region.
The water-food-energy nexus is central to sustainable development and the demand for all three is increasing, driven by a rising population, rapid urbanisation, changing diets and growth. Efficiency measures through technological innovations along the entire agrifood chain can help save water and energy.
Regional agritech innovation for water security
The "Green Revolution" initiated in the 1960s had a dramatic impact on food security and incomes globally. The application of Information Communication Technologies (ICTs) to agriculture is being hailed as the third Green Revolution. Within this, smart farming is the newest digital agriculture use case to take hold in emerging markets.
Optimising irrigation with modern technologies through precise or smartirrigation is a way to reduce the amount of water that agriculture consumes by delivering water more precisely to the crop than the traditional methods of flooding a field. Technology-based, smart irrigation is key to the region. Since MENA has both upper-middle income (UMIC) and low and middle-income countries (LMIC), the requirements differ for markets where the agricultural sector is based on smallholder farming (e.g. North Africa) and for markets where the sector has a higher degree of mechanisation and generally technology adoption.
In Morocco, smart farming is a government priority. In 2020, the government launched its "Green Generation 2020–30" strategy, which includes among its objectives "the introduction of the new technologies and the digitalisation of agricultural services". The strategy aims to install more than 100,000 solar pumps for irrigation. An agritech start-up that is set to benefit from this drive to digitise the sector is AgriEdge. The company has a precision agriculture platform to determine the optimum level of fertiliser and water for each crop using a wide range of data including weather, satellite and drone images.
Egypt, the regions' agricultural powerhouse, has the largest irrigation area among the eleven Nile Basin countries. Agriculture consumes more than 85 per cent of the country's share of the Nile, which provides the bulk of Egypt's water supply. Last December, the Egyptian government started a pilot of a new mobile-based irrigation system as part of a nationwide strategy to use modern irrigation methods. The Ministry of Water Resources and Irrigation in partnership with Cairo's MSA University has created a hand-held device to measure the degree of agricultural soil moisture. The device sends a message to the farmer's mobile phone regarding water levels, helping them make the appropriate decisions regarding their crops.
In Egypt, the private sector is playing a key role in driving smart farming initiatives. IrriWatch, an app developed in the Netherlands, helps farmers optimise irrigation using a 'virtual sensing' technology that uses measurements of different thermal satellites to detect soil water potential and soil moisture data. Egyptian start-up Baramoda aims to solve the water challenge through producing compost, which can reduce the amount of water needed by 30 per cent. Leading mobile operator Vodafone Egypt is leveraging its scale and reach in rural areas to provide to smallholder farmers agricultural advisory via a daily SMS. Vodafone has collaborated with the Ministry of Agriculture for the service dubbed 'Egyptian Farmers'.
Tunisia is home to several smart farming innovators. One notable example is Ezzarya, a company that installs sensors in irrigation pipes and in the soil. A wireless box connected to software enables farmers to regulate soil salinity and inject the mineral salts that may be necessary to improve crop yields. Irrigation and fertilisation processes can be managed centrally thanks to the system, which is also able to identify drip leaks.
More sophisticated use cases, such as vertical farming are emerging in more advanced economies in the region. In Lebanon, a start-up called Ground Vertical Farming saves water usage by up to 90 per cent per day by recirculating water, while Robinson Agri, a leading producer of greenhouses, has implemented smart irrigation solutions.
In the United Arab Emirates, where 80 per cent of food is imported, the governments are investing heavily in agritech. Abu Dhabi announced a $100m investment in four agritech companies, the first in a larger $272 million agritech support program. These include Madar Farms, a local company with a mission to tackle food and water security challenges in the region; Aerofarms, a US based vertical farming company; RDI (Responsive Drip Irrigation), a start-up developing a new irrigation system that makes it possible to grow plants in sandy soil and RNZ, a start-up that develops fertilisers to grow more food more efficiently.
International best practices relevant to MENA
GSMA's landscape report 'Digital Agricultural Maps, 2020 state of the sector in low and middle-income countries' outlines many examples of innovators in smart farming, and specifically in water management. One of the countries that is most prominently featured in the report is Kenya, a major agritech innovation hub in Sub-Saharan Africa.
Kenyan agritech company SunCulture has had for some years in the market RainMaker2, a solar-powered irrigation system targeting smallholder farmers. The system is a pay-as-you-go solution enabling farmers to pay the equipment in installments via mobile money. To improve efficiency, a drip irrigation system can also be installed as an add-on feature.
Illuminum Greenhouses is another Kenyan agritech company. It sells a greenhouse solution installed with solar-powered sensors that monitor environmental parameters and regulate the water supply. Farmers can monitor conditions in the greenhouse via their mobile phones and receive text messages that alert them to any changes they need to make. It also allows them to turn the irrigation system on or off via SMS.
Moving to India, Nano Ganesh has had for several years in the market an irrigation automation system. An electronic device installed in the starter panel of an irrigation pump allows farmers to remotely control and monitor pumps via mobile phones. The system uses a simple interface enabled by a phone call or SMS. In Vietnam, MimosaTek is a more recent smart irrigation solution for crops, which addresses excessive usage of water in farming practice. It consists of an IoT platform for precision agriculture, which monitors and analyses data on farms by sensors (to measure soil moisture, rain, wind, light) and recommends a precise, real-time irrigation schedule. The irrigation system can be activated automatically via the mobile application anytime and from anywhere.
These innovators are all tackling similar challenges and some of them are on a pathway to commercial sustainability and scale. SunCulture, for example, secured in late 2020 $14 million in funding from investors including Energy Access Ventures (EAV), Électricité de France (EDF), Acumen Capital Partners and Dream Project Incubators (DPI) that will allow the company to expand to Ethiopia, Uganda, Zambia, Senegal, Togo and Cote D'Ivoire.
Globally, mobile operators are playing a key role in enabling the scale up of digital agriculture solutions in emerging markets. The integration of mobile operator assets such as IoT connectivity and mobile money for digital payments is crucial to support scalable and commercially viable solutions, as demonstrated by the example of SunCulture. The case of Vodafone Egypt's Egyptian Farmersservice is another example of how mobile operators can enable the distribution at scale of data-driven agricultural advisory services to smallholder farmers.
Mobile operators are key partners for piloting and launching IoT-based smart farming solutions that enable data-driven approaches in the agriculture sector. In Latin America, Telefónica and the FAO piloted an integrated monitoring, control and prediction system that uses sensors installed in fields to measure agronomic variables. Farmers receive alerts via their mobile phones that help them make decisions about optimising irrigation after the data has been analysed. In Sub-Saharan Africa, Orange has formed a partnership with Dacom to develop IoT based solutions that help farmers with monitoring water levels. Orange is currently deploying this solution also in Saudi Arabia and Sudan.
Going Forward
The MENA region has great potential to harness innovations in digital agriculture, if investments are made in an enabling ecosystem. Research, technology development and transfer can provide further improvements to water efficiency and crop productivity in the region. However, to attract investment and scale up, providers of digital agriculture solutions, both agritech companies and mobile operators, must have a clear value proposition and a clear pathway to commercial sustainability. Mobile operators, in particular, will play a key role to facilitate adoption at scale.
Although the agricultural sector in MENA has an opportunity to benefit from technological developments, as demonstrated by the adoption of IoT solutions in the sector, in order to maximise the benefits, policy makers must support regulatory frameworks that ensure innovation can flourish. To exploit the smart farming opportunity and capture the social, commercial and economic benefits available, it is fundamental that policy makers include rural sector development at the hearth of their own digital transformation agendas.


---
THIS INITIATIVE IS CURRENTLY FUNDED BY THE UK FOREIGN, COMMONWEALTH & DEVELOPMENT OFFICE (FCDO), AND SUPPORTED BY THE GSMA AND ITS MEMBERS.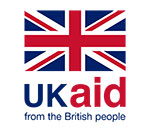 ---
[1] World Bank < https://data.worldbank.org/indicator/NV.AGR.TOTL.ZS>