In January 2020, Circle Gas Limited, acquired KOPAGAS's technology in a transaction worth $25 million. The acquisition, thought to be the largest ever pure private equity investments in the clean cooking technology sector, gives Circle Gas access to KOPAGAS's trademarked Pay-as-you-go (PAYG) Liquefied Petroleum Gas (LPG) technology. The investment will accelerate the scale-up of smart metered LPG, expanding the existing business in Tanzania and Kenya in 2020. The project in Kenya will be supported by Safaricom, Kenya's leading mobile operator. Safaricom is also an investor in Circle Gas, which will run the PAYG LPG business in Nairobi through its Kenyan subsidiary, M-Gas. The M-Gas solution will run on Safaricom's Narrow Band Internet of Things (NB- IoT) network that provides low power mobile connectivity. This is the first time a mobile operator has invested in clean cooking solutions, recognising the commercial opportunity of mobile enabled utility services. The GSMA Mobile for Development (M4D) Utilities programme, through its support from the UK Government Department for International Development (DFID), was one of the first to fund KOPAGAS in their initial 2015 pilot and subsequent expansion.
Michael Joseph, CEO of Safaricom in a press release said, "This is another unique opportunity for Safaricom to participate in a project that really changes peoples' lives for the better and to demonstrate how technology, such as M-Pesa, IoT and the GSM network can be used to improve the environment in a sustainable way and in the longer term, provide new revenue opportunities for the company."
The clean cooking market opportunity in Sub-Saharan Africa
70 per cent (900 million) of the population of Sub-Saharan Africa lacks access to clean cooking fuels and end up using expensive and polluting fuels such as charcoal, biomass and kerosene, which have a serious impact on the health of women and children. Adopting alternatives, such as LPG, incurs high set-up costs. KOPAGAS developed a solution that allows customers to purchase gas in affordable quantities for cooking, thus addressing the LPG entry barriers for low-income households.
Sebastian Rodriguez, co-founder and CEO of KOPAGAS, said, "The investment in clean cooking solutions required to match the scale of the problem are several orders of magnitude of what we have today. We are grateful to find in the Circle Gas team the vision and expertise required to fundamentally change the game and crystallise the KOPAGAS vision to improve access to clean cooking for millions of households."
KOPAGAS and Circle Gas
With the acquisition of KOPAGAS' technology, Circle Gas is now a vertically integrated technology and LPG marketer, focused on Internet of Things (IoT) based consumer appliances for cooking gas. KOPAGAS also developed an integrated software platform called INERGYTM that enables customers to pay and consume small amounts of gas at a time using mobile wallets, whilst providing use and payment information (See Fig. 1 below).
Figure 1 – KOPAGAS Business Model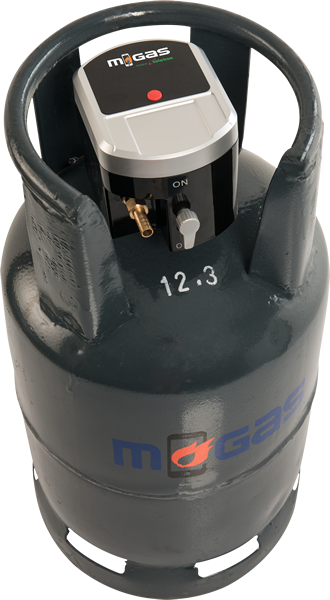 KOPAGAS was founded by Dr. Sebastian Rodriguez and Andron Mendes with an aim to build and test the first of its kind smart meter for LPG cylinders. In 2015, the GSMA M4D Utilities programme awarded KOPAGAS a grant to design a low-cost meter for LPG cylinders and test a PAYG cooking service in Tanzania. After a successful pilot, KOPAGAS received a consequent grant from the M4D Utilities Innovation Fund in 2018 to expand its service to 1300 customers with a new, improved version of their meter and trial a cashback program incentivising gas usage.
As a GSMA grantee, KOPAGAS has placed digital solutions at the core of their business, which has been key to their strong operations. This has led to efficiently targeting the right customers, gaining high customer satisfaction and yielding excellent market traction. These mobile tools within their business model, as well as key customer feedback, are captured below.
INERGYTM Platform: An end-to-end digital LPG service powered by mobile
INERGYTM monitors operations and provides real-time updates across the cooking gas value chain through various mobile applications. By digitising their operations, KOPAGAS was able to effectively manage their team, agents, customers and assets.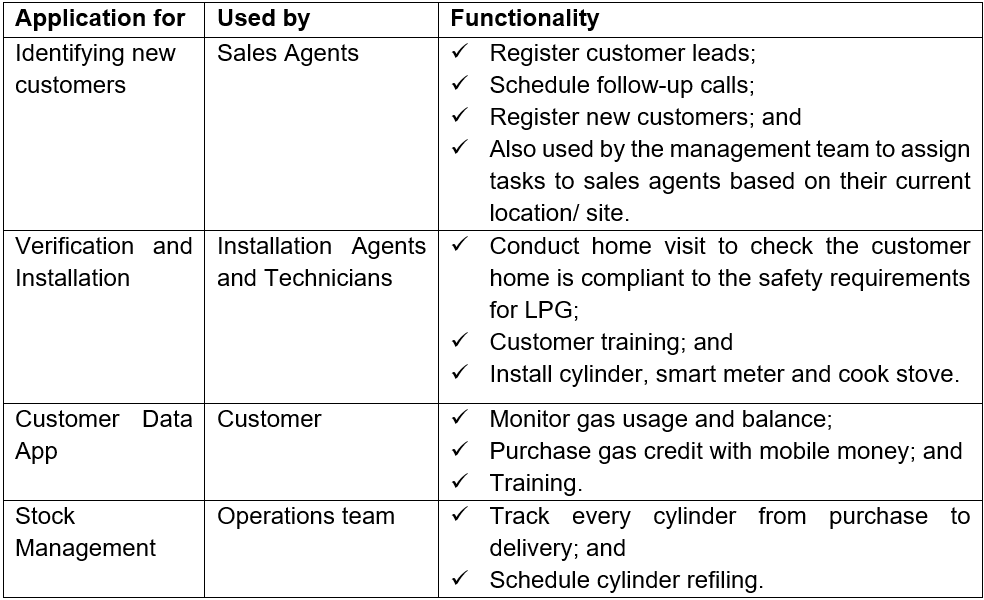 Customer satisfaction driven by an affordable, unique service
From an end line survey of 225 customers and 12 KOPAGAS staff members in October 2019, we received the following results.

Under the scope of the grant project, KOPAGAS launched a cashback program in October 2019 to promote positive customer behaviour and increase stickiness for KOPAGAS services. KOPAGAS issues 'cashback vouchers' giving free gas credit to select high usage customers as a reward. Despite it being early days for the cashback program, customers have responded positively and reported an increase in gas usage by 20 per cent.
88 per cent of customers said KOPAGAS had improved their quality of life largely driven by time and money saved
"Life is good I don't use that much charcoal anymore, with 2,000 shillings I can cook simply. It is like buying a voucher (airtime) for my mobile number."
The GSMA Mobile for Development Utilities programme is proud to have supported KOPAGAS over the past five years. The acquisition of the KOPAGAS technology by Circle Gas and Circle Gas's cooperation with Safaricom will accelerate the growth of smart metered LPG technology, developed by KOPAGAS. We are excited to see how M-GAS will adapt the KOPAGAS solution to the Kenyan market and achieve greater scale.
The GSMA Mobile for Development (M4D) Utilities programme is funded by the UK Department for International Development (DFID), USAID as part of its commitment to Scaling Off-Grid Energy Grand Challenge for Development and supported by the GSMA and its members.