This is the question we posed at a GSMA Mobile for Humanitarian Innovation (M4H) event last week in Nairobi – where we launched two important handbooks that will support mobile operators and humanitarian organisations to effectively operationalise mobile money enabled cash and voucher assistance (CVA).
Download the handbooks:
Essential considerations for humanitarian practitioners
Operational handbook for mobile money providers
At the GSMA we believe that mobile money can be the future of CVA, but only in contexts where it makes sense, when humanitarian organisations and mobile money providers forge long-term partnerships with a shared vision. We've seen successful examples of mobile money enabled CVA programmes over the past few years, with providers such as Econet, MTN, Safaricom and Zaad leading the way. But we've also seen failures and consistent pain points that we must learn from if we are to unlock the potential.
For mobile money providers, humanitarian contexts can be more challenging than their usual operating environment and their potential customers–vulnerable populations–have unique needs that will require innovative and customised solutions.
Here are the key takeaways that we learned from the event that can make mobile money enabled CVA a reality:
1. Understand the local enabling environment
Utilising mobile money for CVA will not be feasible everywhere, and it's essential to assess the enabling environment to understand the amount of time and investment that will be needed at each of the four stages below (broad connectivity, financial infrastructure, aware and registered populations, regular users) in order to leverage this delivery modality for CVA.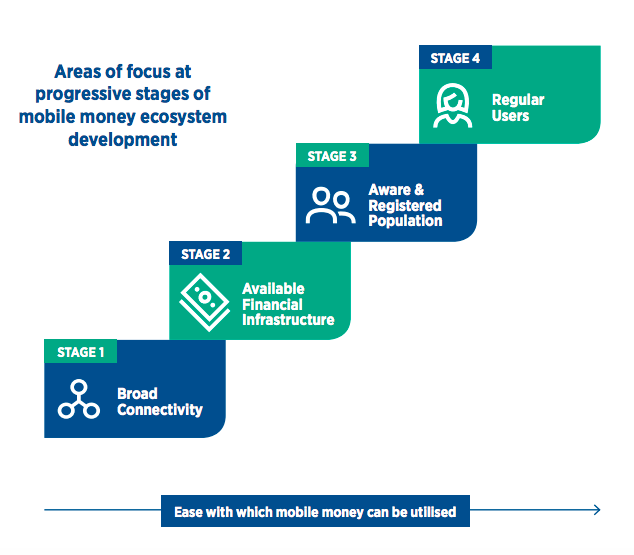 The GSMA has rich data and publicly accessible tools to help make these assessments:
Coverage Maps: Provides high-resolution layers of population settlements (including refugee camps) and existing mobile coverage (2G, 3G, 4G).
Mobile Money deployment tracker: presents the number of live mobile money services across the globe, collated using both primary and secondary sources on a monthly basis.
2. Move beyond one-off procurement relationships to long-term strategic partnerships
In the early days of cash aid delivery, humanitarian organisations often assumed mobile money would be a quick, easy and cheap delivery modality enabled through a simple contract. It was clear during the launch event that stakeholders recognise that this is often not the case. Strategic partnerships are key and additional effort, time and investment, is needed to make mobile money enabled CVA an effective, sustainable and transformational delivery mechanism for people affected by crises. Cash Working Groups are a good place for both sectors to align on respective goals, spark conversations about innovative new products and services that can address challenges in the field, and forge relationships early.
During the panel discussion, Benjamin Makai of Safaricom explained how they are 'forging partnerships in a shared value way,' co-creating products alongside partners to ensure customised, suitable and sustainable products. Karen Peachey of CaLP highlighted the importance of leveraging each other's core competencies, explaining that 'we cannot teach a fish to ride a bicycle.'
'You can not teach a fish to ride a bicycle. Dont try to learn what you can not do when there is an expert why can't we not leverage on our different capacities' @KarenPeachey100 great point there. @GSMA @jencasswell @cashlearning https://t.co/WZuWIhRAzU

— sahara Ibrahim (@sahara_dahir) April 10, 2019
3. Return on investment = financial sustainability
Humanitarian organisations are increasingly recognising that there must be a sustainable business case for a mobile operator to meaningfully invest in tailoring their services to meet the unique needs of people affected by crises.
Thinking holistically about the digital ecosystem, rather than one-off programmes, is essential. Designing a broader range of meaningful use cases for mobile-enabled services not only for CVA recipients, but also for host communities and aid and government workers is also key. A long-term perspective, and linking into social safety nets, as well as wider national digital transformational agendas, can expand revenue opportunities for providers, whilst also building resilience of communities who are susceptible to recurring crises. For example, Barzil Mwakulomba of World Vision explained how they link their CVA beneficiaries to other social protection programmes such as Kenya's National Hospital Insurance Fund.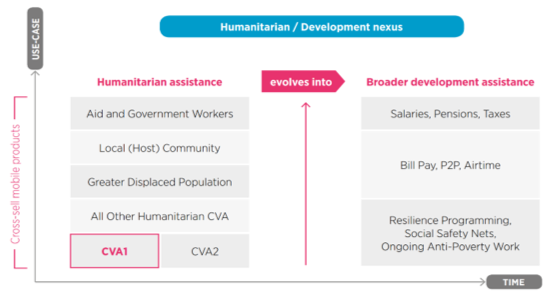 How can humanitarian organisations and providers collaborate to unlock this opportunity?
The M4H programme has been grappling with this question for over a year. Following industry consultation with cash experts from the humanitarian, donor and private sector communities, and on the ground workshops and site visits in Jordan, Uganda and Somaliland, we have consolidated lessons and recommendations into two handbooks (for mobile money providers and humanitarians). This is only the start.
The M4H programme remains committed to supporting partnerships, offering convening opportunities and technical support to stakeholders leveraging mobile money systems for CVA in humanitarian contexts. The work ahead will be challenging yet promising as these two sectors work together to create solutions for those who most need them.
The Role of Mobile Money in Humanitarian Contexts:
Operational Handbooks for Humanitarians and MNOs
Documents
Wednesday 10 Apr 2019 | Mobile for Humanitarian Innovation | Mobile Money |
This report offers guidance for humanitarian practitioners considering mobile money enabled cash and voucher assistance programmes.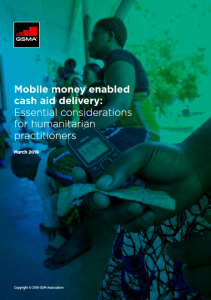 Documents
Wednesday 10 Apr 2019 | Mobile for Humanitarian Innovation | Mobile Money |
This handbook provides essential background on the humanitarian sector, and cash and voucher assistance programmes, plus outlining the operational steps involved in delivering CVA successfully.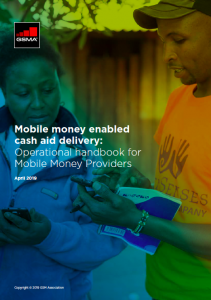 This initiative is currently funded by the UK Department for International Development (DFID), and supported by the GSMA and its members.