State of the Industry Report on Mobile Money 2019
Wednesday 25 Mar 2020 | Accelerating Digital and Financial Inclusion | AgriTech | Asia and Australia | Building the financial ecosystem | Case study | Connected Women | Digital Utilities | East Asia and Pacific | Energy | English | Europe and Central Asia | Financial inclusion for women | French | Gender | Global | Global and regional studies | Infographic | Interoperability | Latin America & the Caribbean | Middle East and North Africa | Mobile for Development | Mobile for Humanitarian Innovation | Mobile Money | Mobile Money Programme - filter | Policy and regulation | Regulation | Report | Research | Resource | South Asia | Spanish | State of the industry and trends | Sub-Saharan Africa | Video |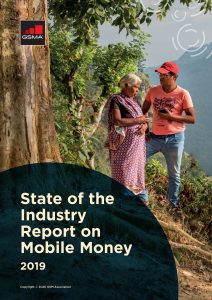 2019 marked a major milestone for the mobile money industry: the number of registered mobile money accounts surpassed one billion. This is a significant achievement for an industry that is just over a decade old. The mobile money industry of today has a host of seasoned providers with a broad set of operational capabilities, a full suite of products and a global reach.
This year's report examines what one billion registered accounts signify for the mobile money industry, mobile money users and the future of the mobile money ecosystem; moving us a step closer to a digital future for all.
Visit Webpage
Download Infographics
Watch the video
Download the report
Like what you read? Share.