Sustainability is business for mobile industry: CEOs and regulatory authorities discuss responsible business in Panama
Public-private collaboration, responsible business, and how to maximise the socioeconomic benefits of mobile internet were the key topics at GSMA Latin America Plenary Meeting #46, held on 10 and 11 May in Panama City. The CEOs of mobile operators in Panama and leading government authorities in public services, innovation and development played a key role at the meeting of the regional digital ecosystem, which brought together some 300 participants from 26 countries.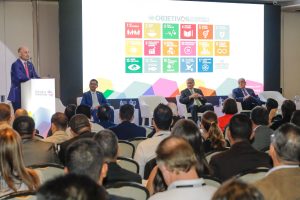 The event was opened by Roberto Meana Melendez, Administrator General of the National Authority of Public Services (ASEP), Cosme Moreno González, Vice Minister of the Ministry of Social Development (Mides), and Irvin Halman, Administrator General of the National Authority for Government Innovation (AIG), Panama. Halman said that the AIG was working towards good use of the Universal Service Fund: "In Panama we have secured the collaboration of telecoms operators to provide more internet and mobile broadband connectivity to benefit our citizens and roll out the infrastructure needed in the new digital economy, government and society".
GSMA Latin America Plenary Meeting #46 began with a high-level panel on "Public-private collaboration and responsible business", moderated by Sebastián Cabello, Head of Latin America, GSMA, with the participation of Julio Spiegel, CEO Cable & Wireless Panama; Oscar Borda Mayorga, CEO Claro Panamá; Marcelo Mouzo, Panama Country Director, Telefónica; Santiago Gradin, Sales Director, Digicel Panama; Teresa Moll de Alba Alfaro, Executive Director, Sumarse; and Kyungsun Kim, UNICEF Representative in Panama. The discussion focused on the best way to integrate a vision of sustainability into company business models and corporate agendas, and how connectivity is improving people's lives by giving them more opportunities and access in health, education and public services.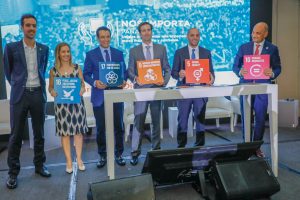 After the panel, mobile operators Claro, Digicel and Telefónica Movistar signed a pledge to the "We Care Panama" campaign, committing to working together on natural disaster response and gender equality.
The regional meeting continued with a presentation by Marco Antonio Galván, Strategic Engagement Senior Director, GSMA Latin America, about future megatrends for the mobile sector, such as 5G, IoT and artificial intelligence. Serafino Abate, Director of Competition Economics, GSMA, launched the study "Assessing the impact of market structure on innovation and quality: Driving mobile broadband in Central America", saying that Central American countries are lagging behind in mobile broadband deployment and adoption, and the delay is putting the region's future economic development at risk.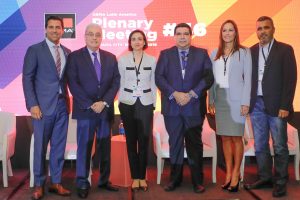 The plenary session ended with a panel discussion on "Maximising the socioeconomic benefits of mobile internet", moderated by Lucas Gallitto, Public Policy Director, GSMA Latin America. The panel identified regulatory challenges and discussed how to innovate in connectivity in the future, with the participation of Roberto Meana Melendez, Administrator General, ASEP; Ana Valero, Latin America Regulatory Director, Telefónica; Annelise Valdes, Regional Legal and Regulatory Director, Digicel; César Diaz, Head of Strategic Relations and Telecommunications, LACNIC; and Oscar García Cardoze, Administrator of Panama's Consumer Protection and Competition Defence Authority (Acodeco). Cardoze said "The mobile market is massive and consumers can see the benefits of competition in the diversification of choices".
Telefónica's Regulatory Director for Latin America, Ana Valero, said we need "spectrum renewal models that help operators to have a long-term investment outlook". Annelise Valdes, Regional Legal and Regulatory Director, Digicel, added: "In a world of convergence, having licences for services is outdated; we need modern regulation based on principles".
Dialogue on inclusion and gender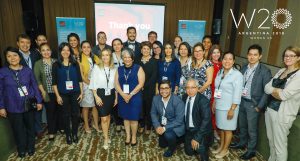 GSMA Latin America Plenary Meeting #46 also included a round table on inclusion and gender to discuss and extend the proposals that Women 20 (W20) will make to G20 leaders to devise a sustainable gender agenda. Paula Ferrari, Marketing Director Latin America, GSMA, said "We need more digital inclusion to promote women's economic empowerment". Representatives from the digital ecosystem discussed how gender equality is essential to the sustainability of the mobile industry, and is the very business of firms. The participants agreed that "Diversity is productivity".
As Topic Chair of the digital inclusion theme for W20, the GSMA is leading discussion ahead of the 2018 G20 Argentina Summit. This was the second round table in a cycle of discussions that began in Buenos Aires and will continue in Paris on 30 May at the OECD Forum. Achieving gender equality through digital inclusion is one of the four strategic objectives of W20, alongside labour inclusion, financial inclusion and rural development.
GSMA Latin America Working Groups
During GSMA Latin America Plenary Meeting #46, meetings were held of the four working groups of experts from the mobile operators in Latin America: Regulatory (REGU), Security and Fraud (SEGF), Technical and Terminals (TECT) and Wholesale Agreements and Solutions LatAm. In addition, the new Latam Strategy & Innovation Forum (LSIF) convened for the first time, with presentations on the future of the mobile industry, including topics such as 5G, embedded SIM and artificial intelligence.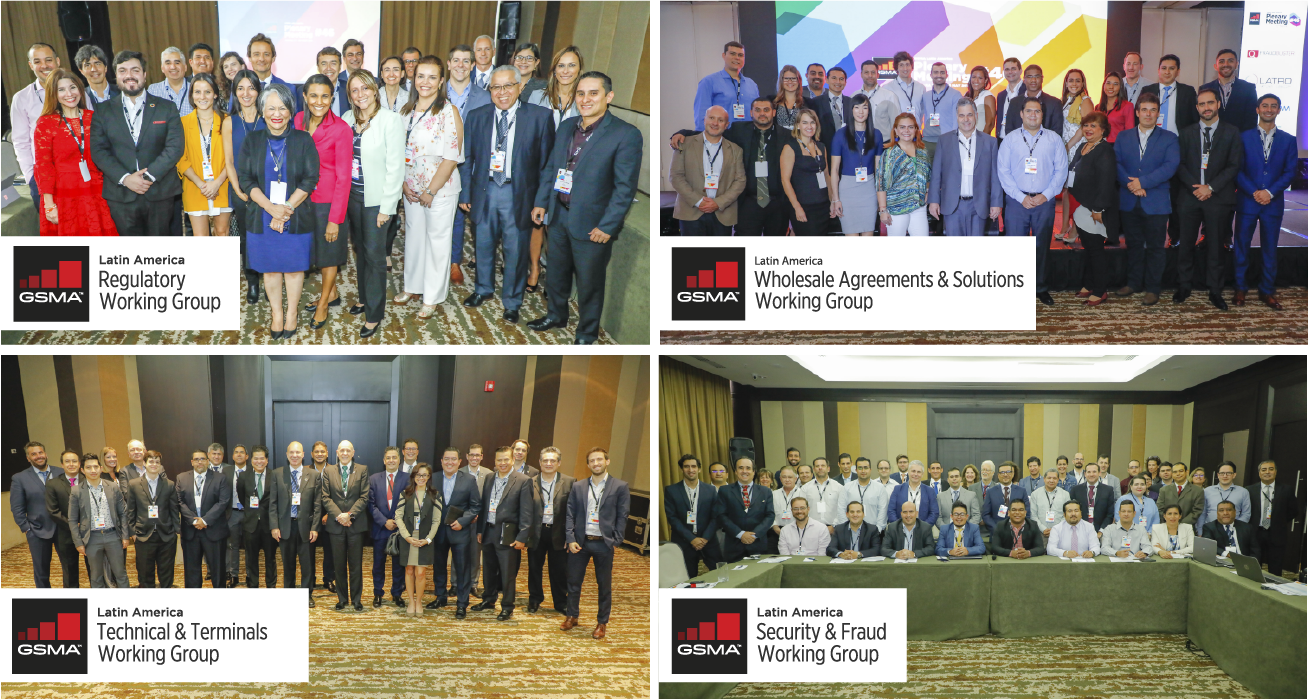 Resources