Resetting competition policy frameworks for the digital ecosystem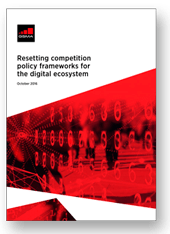 "Resetting Competition Policy Frameworks for the Digital Ecosystem" is a global study on the effectiveness of competition policy. It provides a detailed analysis of the principles and processes that govern today's digital markets, and argues that authorities should update their competition frameworks to ensure long-term sustainable competition and encourage innovation.
In a free and open market, competition drives business to offer the best possible range of goods and services at the best possible prices. This is good for society, as effective competition is a driver for enterprise and efficiency, creating a wider choice for consumers and helping to reduce prices and improve quality.
Competition policy, adopted and applied by governments and regulatory authorities across the world, is concerned with the application of rules to make sure businesses and companies compete fairly. It creates a framework of rules and practices that, if applied consistently, should make markets work better.
The digital economy is, however, having a disruptive effect on existing market structures.  The rapid take-up of technologies, including mobile communications, digital platforms, big data, cloud computing and social media are changing the nature of products and services and the way people interact. While offering enormous potential to enrich peoples' lives and drive economic development, this change is having a huge impact on existing business models.
We believe the time is right to question whether existing competition policy frameworks reflect the new market dynamics.
Working with CEG, the GSMA has published a detailed report that assesses how governments and regulatory authorities can update competition and regulatory frameworks to realise the full potential of the digital economy. The report makes a number of policy recommendations that, adapted to a country's specific legal and regulatory context, would provide a solid foundation for ongoing competition, investment and innovation.
Over the coming months, we aim to work with competition authorities and governments globally to explore how the recommendations contained in the report can best be applied in their national market — for the good of society, business and the evolving digital economy.
PDF Downloads