Between 11 and 13 July 2017, our team attended the GSMA Mobile 360 Series – Africa event in Dar es Salaam, Tanzania. The event brought together mobile operators, government officials, start-ups, NGOs, donors and investors from across Sub-Saharan Africa to discuss the state of the mobile industry, mobile for development and mobile innovation. Here are our three takeaways from the event.
1. The mobile industry has played a vital role in Africa's growth story
The mobile industry has been part and parcel of Africa's growth story. According to GSMA Intelligence's Mobile Economy Sub-Saharan Africa report, the industry contributed $110 billion to Africa's GDP in 2016, accounting for 7.7% of the continent's total GDP. The industry's impact has earmarked it as top priority for key decision makers. Her Excellency, Samia Suluhu Hassan, Vice President of the United Republic of Tanzania, highlighted in her opening speech that "it is only through the mobile industry that we can unlock the economic potential of Sub-Saharan Africa".

The potential of mobile to achieve positive economic and social change was one of the key themes at the conference. Mats Granryd, Director General of the GSMA, noted the need for the mobile ecosystem to come together to build sustainable partnerships that will help achieve the Sustainable Development Goals (SDGs). Bob Collymore, CEO of Safaricom, highlighted how his company is working on SDG #4 by providing quality education to households that cannot afford formal education. Through its partnership with edtech start-up Eneza Education, the Kenyan mobile operator launched Shupavu 291, an SMS-based service that allows students to ask teachers questions in real time. The service has benefitted about 2 million students in Kenya. Safaricom and Eneza Education's partnership was one of the case studies featured in our report Building Synergies: How Mobile Operators and Start-ups Can Partner for Impact in Emerging Markets.
2. Accelerating innovation and impact through partnerships between mobile operators and start-ups
A key highlight from one of the panel sessions was the need for persistence and hard work when building relationships with mobile operators. Lilian Makoi, the founder of Jamii Africa – an insurtech operating in Tanzania – revealed it took almost 2 years to successfully partner with one of the leading mobile operators on the continent. Her biggest lessons were twofold:
Approach an operator when you have a minimum viable product with some traction, including paying customers and well-known partners
Learn how to clearly communicate your value proposition to an operator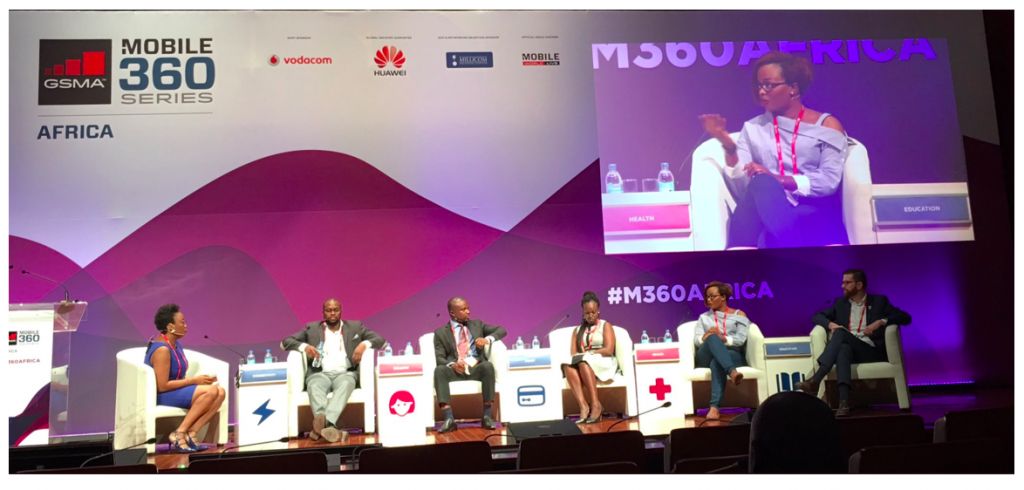 Nana Yaa Oti-Boateng, Innovation Manager at Vodafone Ghana, called start-ups to speak to mobile operators' hearts by highlighting strong value propositions that are relatable to mobile operators. Vodafone Ghana has a partnership with Safe Water Network, a water-tech start-up that was awarded a grant by GSMA Mobile for Development Utilities Innovation Fund in 2015. Wale Ayeni, Senior Investment Officer at IFC Venture Capital, stated that in a mobile-first continent like Africa, venture capital firms do value start-ups with operator partnership. Also on the panel was Dan Woods, Program Officer at InnovationXchange. Dan admonished start-ups to pay close attention to their social impact. He noted that just like business impact, social impact should be measured.
3. Start-ups are leveraging mobile technology to grow scalable businesses while achieving positive socio-economic impact
Mobile technology continues to play a key role in driving innovation across multiple sectors in Africa including education, agriculture, health, and energy. A handful of our innovation fund portfolio start-ups pitched their businesses on the main stage of the conference.
Twiga Foods (Kenya) provides improved market access to farmers by buying fresh produce from them and also ensures a constant hassle-free supply chain to roadside vendors. Mobile technology enables them to pay farmers in a timely way through mobile money and monitor produce throughout the supply chain.  In one of the panel sessions Strive Masiyiwa, the Founder and Chairman of Econet Wireless, described Twiga Foods as the "the Alibaba of bananas in Africa".

Samira Negm shared how her start-up Raye7 (Egypt) works with car owners to reduce traffic by enabling commuters to occupy one of the 20 million empty car seats in Cairo. Raye7 connects car owners with empty car seats to same route commuters via a smartphone. Ultimately drivers and passengers save cost and significantly reduce car pollution with fewer cars on the road. In Rwanda, SafeMotos is also tackling a transportation issue: safety. Using telematics and mobile phones, they connect passengers with safe moto-taxi drivers in Kigali. Beyond transportation and agriculture, start-ups in the education space such as Kytabu (Kenya) continue to leverage mobile to provide basic services to underserved communities.
The Ecosystem Accelerator programme is supported by the UK Department for International Development (DFID), the Australian Government, and the GSMA and its members.