Huawei and China Tower Redefine Intelligent power usage management with iTelecomPower
In early 2021, Huawei Site Power carried out a pilot project of innovative intelligent power usage management in Zhejiang Province with China Tower. In the project, iTelecomPower replaced the legacy power supply to visualize and manage device-level energy consumption, enable effective power backup with low battery investment, and implement remote energy consumption management which minimizes the need of site visits. With iTelecomPower, China Tower improves energy efficiency while reducing carbon emissions and costs, and has found their way to accelerate network construction.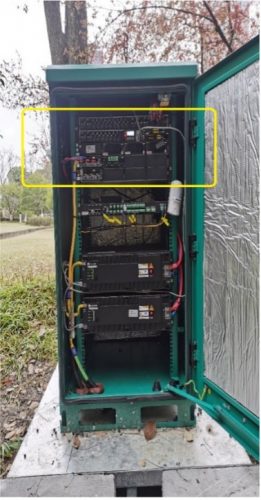 One site of China Tower with iTelecom Power deployed
As a telecom tower infrastructure service provider, China Tower faces the following challenges in supporting operators to rapidly deploy 5G: 1. Site power consumption increases, but energy consumption is invisible. As China is striving for carbon emission peak and carbon neutrality goals, carbon emission reduction and energy conservation become more pressing. 2. Services are diversified, causing site power surge and high investment for new backup power. 3. Traditional power distribution components are dumb. Service personnel need to replace them onsite for evolution and capacity expansion, resulting in high labor costs. 4. In shared sites, unauthorized or incorrect devices may be connected, affecting site reliability and security and increasing complexity in electricity fee management.
iTelecomPower provides all-scenario intelligent power usage management to help China Tower improve energy efficiency while reducing carbon emissions and costs.
Huawei Site Power, together with China Tower, integrates power electronics and digital technologies into iTelecomPower to enable refined and intelligent power usage management. It improves management efficiency, accelerates the achievement of carbon emissions reduction, and reduces maintenance costs through the following functions:
Precise metering: visualizes device-level energy consumption and accurately locates low-efficiency sites and devices to facilitate energy-saving reconstruction.
The energy consumption of each load is visualized, and the weekly, monthly, and yearly average energy consumption of different loads and sites is compared to accurately locate low-efficiency sites and devices, making energy-saving reconstruction easier.
Power backup slicing: provides on-demand power backup based on service attributes, halving the battery investment
On-demand power backup specific for each load by tenant, frequency band, network mode, and sector. The system preferentially guarantees power availability for important services, and reduces the power backup duration for other services to reduce battery investment.
Software-defined: On-demand power distribution capacity minimizes the need of onsite replacement. Remote power-on/off management reduces site power loss.
The software defines the power distribution capacity of each load (3 A to 125 A). During device capacity expansion, circuit breakers do not need to be replaced onsite. Remote and intelligent shutdown is supported, reducing device power consumption and carbon emissions by 20%.
Power consumption audit: Automatically analyzes load changes and effectively monitors abnormal energy consumption.
The system intelligently analyzes the energy consumption of each load and promptly identifies abnormal consumption, ensuring reliable site power supply while guaranteeing the tower company's rental revenue.
iTelecomPower can be deployed in new sites to support intelligent power usage management. To achieve this goal for existing sites, Huawei iDMU can be used to implement digital and intelligent upgrade.
According to the statistics of the pilot sites, iTelecomPower reduces OPEX by CNY2700 and cuts carbon emissions by about 2.1 tons per site each year. In the future, Huawei Site Power will continue to innovate and cooperate openly. Through leading energy technologies, Huawei will work with global partners to accelerate the large-scale deployment of 5G networks and jointly build green energy networks.
Disclaimer
The GSM Association ("Association") makes no representation, warranty or undertaking (express or implied) with respect to and does not accept any responsibility for, and hereby disclaims liability for the accuracy or completeness or timeliness of the information contained in this document.