PowerStar is an AI-based, multi-RAT and multi-Band network-level energy-saving solution requiring no hardware upgrades or replacements. This solution allows networks to customise power saving strategies, realising significant savings. 
Who: John Qui, Huawei
When: MWC19, Barcelona
The GSM Association ("Association") makes no representation, warranty or undertaking (express or implied) with respect to and does not accept any responsibility for, and hereby disclaims liability for the accuracy or completeness or timeliness of the information contained in this document.
Executive Summary
This case study focuses on MTN South Africa's implementation of the PowerStar solution from Huawei; an Artificial Intelligence (AI)-enabled network-level energy optimisation solution, which analyses site traffic demand to improve overall energy efficiency.
PowerStar is an AI-based, multi-RAT and multi-Band network-level energy-saving solution which does not require any hardware upgrades or replacements, and is easily deployed for legacy wireless networks. This solution allows networks to customise power-saving strategies, by putting configuration and traffic needs on different bands and modes at the base station level. With these strategies, mobile users can be switched to lower bands when total traffic remains low, enabling high bands to be switched off, realising significant power saving.
AI technology reviews and analyses historical traffic and KPI data, letting PowerStar link mobile network performance with energy saving effects, in order to implement a dynamic parameter adjustment, allowing power savings without sacrificing network performance. PowerStar provides a visual display of energy saving effects on base stations and mobile networks, allowing operators to access dynamic energy usage statistics to enable accurate power consumption management. In addition, PowerStar is software based and can be rapidly rolled out on existing networks.
The PowerStar initiative[1] was initially conceived in 2018, during the beginning stages of the energy crisis in South Africa where the security of supply was perceived as the biggest need.
At AfricaCom 2018 in Cape Town, Huawei PowerStar solution won the "Most Innovative use of AI Technology" award for its contribution to energy saving and emission reduction in wireless networks with AI technology for South Africa.
Huawei's PowerStar energy-saving solution has been verified and recently implemented in China, South Africa, and Morocco. According to commercial network trials, it was estimated that a typical network with 1000 sites can save 1.46 million kWh power per year. This is equivalent to a reduction of 1.37 kilotonnes of carbon emission per year.
[1] https://www.huawei.com/en/press-events/news/2018/4/Huawei-PowerStar-Solution
1. Introduction
MTN is Africa's premium telecommunications network provider at the forefront of technological and digital changes, offering leading device and internet data bundles. From the headquarters in Johannesburg, MTN is delivering a bold new digital world to their customers across Africa and the Middle East – one of the world's fastest-growing regions for mobile telecommunications.  MTN offers voice, data and digital services to retail customers in 22 countries and enterprise solutions to corporate and public-sector customers in 24 countries. MTN South Africa won the 'Brand of the Year' Award in the Mobile Telecommunication category at the 2016 World Brand Awards ceremony. MTN SA jointly won the 'Delivering Excellence in Customer Experience' award with Huawei at AfricaCom 2017, in recognition of the two companies' work to help customers feel the brighter side of life.
In recent years, the wireless network traffic volume of MTN South Africa has increased significantly. In addition, as the network scale and traffic volumes increase, OpEx savings has become an ever-important priority. In the traditional single-RAT (Radio Access Technology) independent energy saving solution, gains and KPI's are difficult to balance, the energy saving gain is often small (3%~5%) and the commercial value is not obvious.
1. Business Imperative
Network energy saving and emissions reduction have become hot topics around the world. Power consumption accounts for an estimated 20% of the operating expenses of carrier networks. By 2025, the ICT industry is expected to account for 20% of the world's power consumption[1]. The power consumption of telecom equipment (Including BBU, RF Radio) accounts for most of the wireless network power consumption.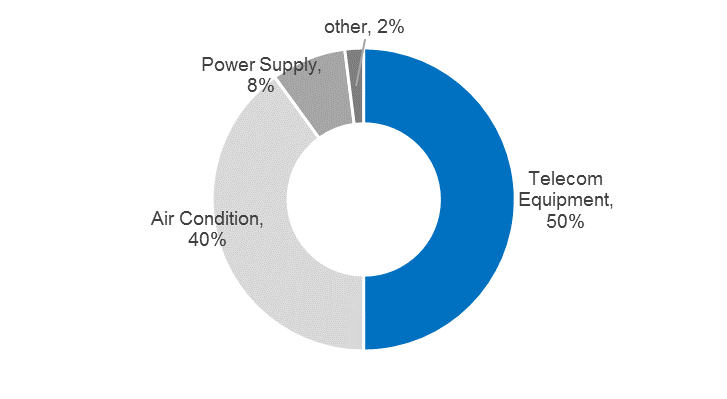 Figure 1. Power consumption ratio of the typical wireless network
As the mobile network becomes increasingly more complex, the heterogeneous network of macro, micro, pole, or rural sites requires millions of site configurations and traffic distribution combinations. One single set of energy saving policies cannot meet the diversified requirements for each site. The traditional energy-saving solutions struggle to meet energy saving requirements in these scenarios.
With the 5G era approaching, the average number of frequency bands will increase from 3~4 to 8~10 with site power consumption expected to increase by over 50%, however, during off-peak hours', traffic load could be served by just 1-3 bands. Consequently, some bands can be temporarily disabled, however, it's often difficult to identify which bands could be disabled where and when Carriers need an intelligent, end-to-end network level solution to maximise energy savings.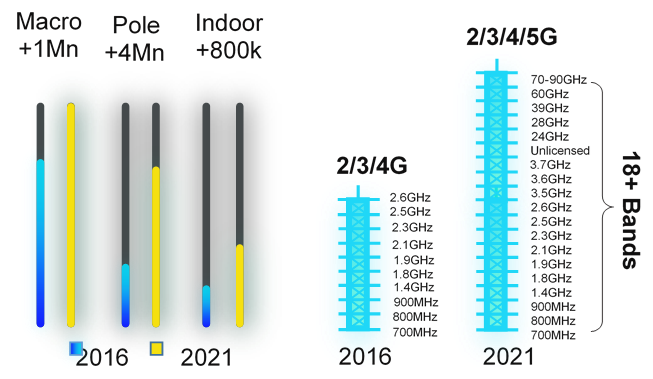 Figure 2. More RAT/Bands/Sites in 2021
[1] https://www.theguardian.com/environment/2017/dec/11/tsunami-of-data-could-consume-fifth-global-electricity-by-2025
3. Huawei and MTN South Africa implement the PowerStar Solution
3.1  Technology Innovation
In 2017, MTN announced the BRIGHT strategy (B- Best customer experience, R- Returns and efficiency focus, I- Ignite commercial performance, G- Growth through data and digital, H – Hearts and minds, T- Technology) with Huawei and identified MTN South Africa as the nominated benchmark network. Together, they established an innovation centre to collaborate on multiple topics such as user experience improvement and OpEx savings, with a view to build the best network and improve the value of the brand. As part of this initiative, Huawei and MTN developed a new solution for the multi-band and multi-RAT network coordinated energy saving solution; the PowerStar solution.
During the trial phase, over one day of operation, the PowerStar increased the energy saving gain from 3.6% to 11.6%, saving 6.43kWh per day for a single site while maintaining stable network performance, validated by MTN South Africa. The PowerStar and commercial value are acknowledged by MTN South Africa. The future implementations will incorporate more dynamic capabilities powered by AI; which will deliver more power saving gains.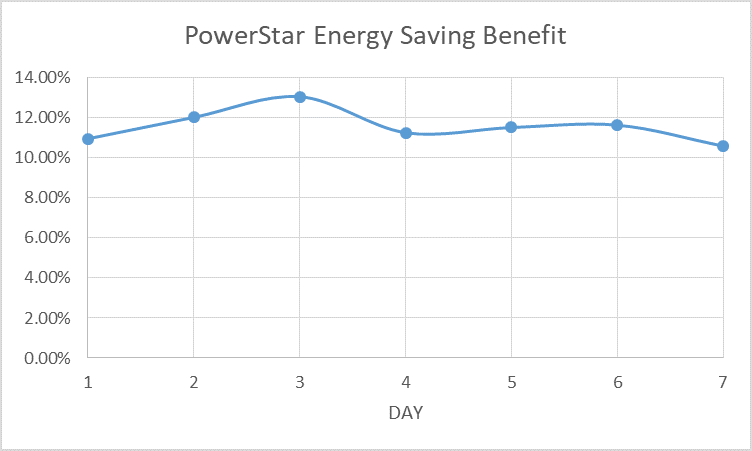 Figure 3 PowerStar energy saving benefit for one week
3.2 Looking Ahead
With the vision of "Zero-Bit, Zero-Watt", Huawei will continue to help operators to meet these goals as they adopt the PowerStar solution in their existing and future networks. Huawei expects that PowerStar's next version will reduce power consumption by over 20% for carrier's networks. Together with operators, Huawei is deeply committed to contributing to industry standards for energy saving, continuing to make technological innovation, fulfilling the social responsibility of energy saving and emission reduction, and helping operators reduce OpEx to achieve win-win business.
4. Economic Benefits
PowerStar is an AI-based, multi-RAT and multi-Band network-level energy-saving solution that requires no hardware replacement or upgrades and is easily deployable for legacy wireless networks. Huawei's PowerStar energy-saving solution has been verified and delivered in China, South Africa, and Morocco. According to commercial network trials, it was estimated that a typical network with 1000 sites could save 1.46 million kWh power per year, this is equivalent to a reduction of 1.37 kilotons carbon emission per year.
Further trials in South Africa indicated 6.43kWh/site could be saved each day equating to $1.6M each year based on 5000 sites after the power saving solution was implemented.
5. Implementing the Solution
5.1 Market context
The PowerStar solution is well suited to both developed and developing regions as well as in an urban or rural market. The test result shows that PowerStar is most effective in environments where traffic load is high and variable across time.
5.1.1 PowerStar, Network-level AI-based Energy Saving
Huawei PowerStar energy-saving solution uses innovative technologies such as artificial intelligence and precise traffic forecasting based on spatial-temporal data to implement coordination and energy saving on the multi-band multi-RAT network, realising the in-depth energy saving for mobile networks, and the key technologies of the solution are as follows:-
The network-level strategy enables intra-site and inter-site cell coordination energy saving. Using network configuration and User equipment data, PowerStar analyses the co-coverage relationship among heterogeneous network elements automatically, predicting which cell could be powered off due to low traffic demand, and generating energy-saving recommendations for each site.
By analysing network configurations and parameters, based on expert experience and utilising AI, PowerStar automatically matches the optimal energy saving policy for each site to maximise the energy saving effect of the entire network. It makes "one energy saving policy for one site" ensures lossless KPIs in a heterogeneous Using AI, PowerStar can select the best parameter combination with no impact on KPIs to achieve the optimal energy saving effects on the entire network, saving 90% in manual labour required for energy saving management and maximising the energy saving effects of the entire site by allowing energy supply and equipment to work together. In addition, the PowerStar solution visualises energy-saving effects by enabling operators to view the dynamic information about base station power consumption, network energy efficiency, and energy saving gains.
GSM, UMTS, and LTE sites have various site-level energy saving solutions, such as symbol-level energy saving, channel-level energy saving, and carrier-level energy saving.


Figure 4. Carrier-level energy saving

Figure 5. Channel-level energy saving


Figure 6. Symbol-level energy saving
6. Economic Model
The GSMA Network Economics team reviews new or disruptive technologies or network management strategies that can deliver efficiencies. It evaluates their potential impact, showcases the "best of the best", and identifies collaborative actions to support operators in implementing these solutions.
The Network Economics Model creates a baseline by recreating a hypothetical tier 1 operator's cost structures. It then models innovation scenarios and identifies the delta in OpEx and CapEx terms that these innovations can deliver. The model is validated by an operator to verify that the outputs are reflective of performance in their own networks. In the case of Huawei's Powerstar solution, the outputs have been verified by MTN South Africa, which has deployed the solution in 113+ sites across the country.
Login above to see the OpeX and revenue savings verified by MTN South Africa. 
7. Conclusion
Huawei has worked with MTN South Africa to provide an efficient solution with zero hardware CapEx investment to save network energy and help operators to maximise energy saving and emission reduction for the mobile network.
With PowerStar, Huawei, along with operators, is fully committed to supporting the SDG Goal 13 on Climate Action with energy savings and emission reduction. PowerStar works across deployed and future radio access technologies (from 2G to 5G) and in any deployment scenario, using multiple tools (from RAN coordination to AI).
By PowerStar, Huawei is fully committed to reducing the per-bit energy costs with flexible adaptation from the entire network to clusters, sites, and RF, and continues to work to further expand energy savings in new 5G scenarios.