SKT developed an innovative fronthaul network solution that reduces the size of the remote unit at the very last mile and supports flexible installation/configuration of the fronthaul network. The solution saves electricity, reducing transport network costs for the mobile operator.

Innovative Fronthaul
Network Economics: SKT case study
The GSM Association ("Association") makes no representation, warranty or undertaking (express or implied) with respect to and does not accept any responsibility for, and hereby disclaims liability for the accuracy or completeness or timeliness of the information contained in this document.
Executive Summary
SKT tackled the challenges and optimisation of transport with innovative transport architecture: RAN with an innovative fronthaul (transport) network solution called 5G-PON (Passive Optical Network). 5G-PON reduces the size of the remote unit at the very last mile and supports flexible installation/configuration of the front haul networks.
As electricity is also not required by the remote unit, the constraint on the location of installation is less stringent and therefore reduces operational complexity. SKT expects TCO reduction by 5G-PON to be 50% of that of pure fibre deployment scenario and 26% of that of its active transport network system.
This is enabled by the elimination of electricity consumption, ventilation and air-conditioning by remote units, reduction of necessary fibre links, along with less space and manpower for installation and maintenance required by the remote units.
As networks evolve through 4.5G to 5G with more complexity, network densification and intelligence at the edge, the need will be even greater to optimise transport network architecture within mobile RAN to resolve the challenges of backhaul/fronthaul demand and the corresponding increase in cost (CapEx and OpEx).
1 Introduction
Mobile operators around the world are challenged by the continued increase in demand for mobile data. As well as more subscribers using mobile broadband, each consumer is increasing the amount of bandwidth they use. An increase in streaming high definition TV, movies and video content, the use of video conferencing and personal chat, and embedded video in web pages all contribute to increasing demand for mobile bandwidth.
The situation is likely to be exacerbated in the 5G era as networks will have to be densified to meet even more stringent low latency and high throughput requirements. Not only will the deployment and operations be more expensive, but also the strain on backhaul networks will be significant as 5G would need to serve up to 20 times the bandwidth served by 4G LTE. Therefore, traditional approaches to expanding the backhaul/fronthaul capacity must be reconsidered and operators must adopt innovative approaches to relieve backhaul demand. In this context, it is very natural to look into innovative transport network architecture that can optimise the cost required to maintain capacity.
2 Business Imperative
To address the growth in data traffic demand, networks need to be densified. Further complicating the issue is the possible utilisation of high frequencies in 5G. This brings with it a number of issues and therefore, cost implications. For example, the size of the cell will be smaller than conventional cells and will likely suffer from poor spectral efficiency due to signal loss through various materials. Given that site-related costs – for example, rent, site acquisition and civil engineering – comprise of approximately 15%-40% of OPEX and 40%-50% of CAPEX of infrastructure cost, the cost challenges must be addressed in order for operators to fully reap the benefits of 4.5G and 5G.
In the era of network densification, it is important for operators to reduce and optimise the cost of the RAN (radio access network) especially in deploying very last-mile base stations being deployed. SKT was no exception and seek to exploit the full potential of its fibre infrastructure in order to address network densification. SKT's goal was to enable as much transport capacity as possible within the RAN given the fibre infrastructure it possesses.
3 5G-PON & the Solution
SKT is a market leader of Korean mobile communications market, with a market share of 41.9% as of Jul 2018. SKT has been pioneering transport network solutions for mobile RAN and since its adoption of Cloud RAN architecture in 2011, SKT has developed an active system solution that can optimize the cost of RAN by reducing the cost of the very last mile and exploiting the existing fibre capacity to the fullest. The solution was further developed to a T-PON solution which became the 5G-PON solution to prepare for the 5G era. SKT is preparing for commercialization of 5G targeted for Mar 2019.
3.1 5G-PON
3.1.1 Why was 5G-PON developed?
5G-PON is an answer to SKT's long quest for cost-effective transport to be applied to mobile networks since the 4G era. In legacy LTE network architecture, the base station was co-located with a tower, having large site footprint, large backup battery and often required temperature control. To tackle the cost associated with an expensive base station, the processing DU (Digital Unit) was centralized in a centre while RU (Radio Unit) were deployed at remote locations. This reduced base station rental and other operational costs by consuming less power and facilitating the addition/removal of cells to the network.
The DU concentration, however, also brought another issue. As traffic was concentrated in DU, more fibre/cable was required to accommodate the capacity and consequently led to increased investment. The Cloud Belt system, an active system consisting of COT (Central Office Terminal) and RT (Remote Terminal), was developed to tackle this issue. Compared to pure fibre deployment scenario, the Cloud Belt system enables overall TCO savings of 26%.
The 5G era, requires more stringent performance requirements, such as 20 times the throughput of LTE's and 10 times shorter delay than LTE, resulting in an even larger number of remote sites (SKT forecasts 2 times the remote site it has in Cloud Belt system). It was in this context that 5G-PON architecture was developed.
3.1.2 What is 5G-PON?
5G-PON is a flexible, reliable and efficient fronthaul transport solution that provides a single distribution network for both cellular (LTE and 5G) and high-speed fixed broadband. This clearly provides an advantage over the conventional distribution networks, where different types are required for different technologies (see Figure 1).
5G-PON also enables easier delivery of broader coverage for the LTE and 5G cellular network rollouts by being able to simply install base stations and antennas without having to install additional distribution or transport networks.
With the adoption of passive optical networking in the transport network, 5G-PON does not require an additional power supply for installation and can reduce the size of device/equipment when compared to the traditional transport network. Whereas traditional transport network's remote nodes would require inside the premises for stable power supply, 5G-PON remote nodes can be installed outdoor setting as the power supply is not required.
5G-PON can also be deployed in protected ring architectures for resilience, for example, if a line is disconnected, the connectivity is still delivered via an alternative line. As the central office has the knowledge of the order and location of the remote site nodes, 5G-PON ensures a seamless service by performing equalisation of delay arising from optical path differences while executing ring protection switching within 50ms when a fibre is cut.
To deliver 5G-PON, SKT worked with local vendors including Solid, HFR, SunwaveTec and Coweaver. Overall, the 5G-PON solution reduces networking costs by reusing existing fibre and optical filters while expanding capacity to support different and growing traffic streams.
Figure 1: 5G-PON Concept
3.2 Applying 5G-PON to the mobile network
The 5G-PON solution is applied to the RAN of the mobile network between DU and RU. The 5G-PON network comprises three main elements: a central office terminal, the remote node and a tuneable SFP (Small Form-factor Pluggable) module.
The central office terminal is located at the cellular baseband unit (the largest grey unit in Figure 2) and converts wavelength for WDM (Wavelength-Division Multiplexing) transmission, monitors the optical link, operates and manages the location and order of the remote nodes. This terminal also collects and analyses Digital Diagnostic Monitoring Information (DDMI) of the tuneable SFP at the RU, sent over an Auxiliary Management and Control Channel (AMCC).
The second element, the remote node is a passive optical wavelength router (indicated as all grey units other than the largest in Figure 2) and can be placed indoors or outdoors at the remote site. The remote node comprises a filter for Coarse WDM (CWDM) and a filter for Dense WDM (DWDM). It supports an optical ring topology between the first stage nodes (the main remote node) and also multi-stage node configurations such as main and sub remote nodes.
The tuneable SFP is installed at the RU, employs a low-cost design as it does not use a wavelength locker and the SFP's tunable laser is not dependent on a specific wavelength grid. The SFP is operated at the RU using a software wavelength locking function that tracks the centre of the WDM filter. The tracking uses received optical power information from the central office terminal which is sent via an auxiliary management and control channel.
The rainbow colours of the transport networks in Figure 2 stems from the fact that 5G-PON architecture is based on Wavelength Division Multiplexing-Passive Optical Network (WDM-PON) technology. The architecture uses CWDM with sub-channels and can use existing installed fibre and filters while expanding capacity to a total of 256 wavelengths (16 sub-channels with 16 CWDM 20nm-wide bands each). This allows 5G-PON to work alongside existing CWDM, DWDM and time-division multiplexing PON (TDM-PON) deployments.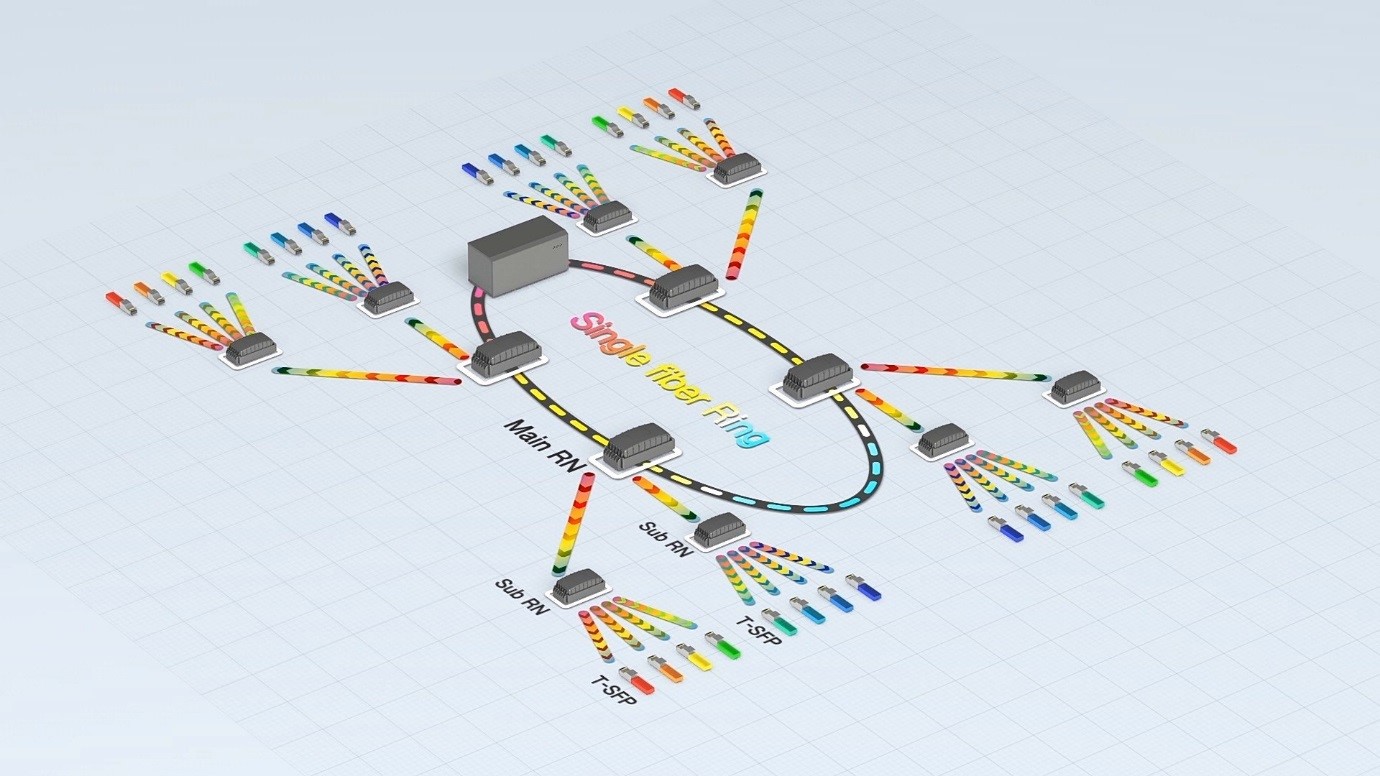 Figure 2: 5G-PON Architecture (in the Radio Access Network)
3.3 Key differentiation points of 5G-PON
Flexible and scalable installation: Can be mounted on pole and wall, and can also be installed under sewer/underground to save CAPEX and OPEX
Easy and flexible configuration: Network can be configured regardless of the location of its deployment
Plug & play: Auto tuning and wavelength locking features enable P&P (Plug and Play) of new network nodes
Pay as you grow: The use of passive nodes and tuneable SFPs enable PAYG (Pay As You Grow) of network
Intelligent operation management & analysis: Auxiliary management and control channel enables the transfer of information for intelligent operation & maintenance
Interoperability: Fully MSA (Multi-Source Agreement) compliant SFP enables interoperability with other types of systems already deployed in the network.
4 Economic benefits
5G-PON realizes economic benefits of investment rationalisation and enablement of potential revenue creation opportunities. This section will provide an overview of the economic benefits that 5G-PON brings to the operator.
4.1 Investment rationalisation
SKT's experience suggests that deploying 5G-PON has halved the cost of installation while operations and maintenance costs have been reduced by 30 per cent. This is due to the intelligent operation and management of the passive nodes and the use of tuneable SFPs at the remote sites.
More specifically, the TCO was reduced by 50% compared to pure fibre deployment scenario and by 26% when compared to SKT's active system (Cloud Belt). These are enabled by 5G-PON's ability to reduce the space of base stations by 70%, air conditioning by 100%, necessary manpower by 30% and electricity consumption by 100%. Note that the reduction in these factors is in comparison with Cloud Belt and not pure fibre deployment scenario.
Furthermore, having 5G-PON means fewer backhaul links (e.g., fibre) are required to maintain equivalent capacity. This also leads to CAPEX avoidance of 87.5% and OPEX savings of 67% for transmission networks.
4.2 Potential revenue creation opportunities
The ability to plug and play remote nodes enables the mobile network to effectively address potential increase in IoT (Internet of Things) connectivity. Whilst there is no concrete quantitative figure for the potential revenue creation with additional IoT connectivity, 5G-PON allows operators to easily expand into the IoT connectivity market.
5 Lessons Learned
5G-PON enables cost reduction in transport networks within mobile RAN by developing remote units that have a small size, does not require electricity, can be installed/configured easily and is interoperable. The most noteworthy feature of 5G-PON is that the remote units can be installed in both indoors and outdoors without occupying a large space and consuming electricity.
Such a feature allows 5G-PON to reduce the TCO of the transport network by 50% compared to pure fibre deployment scenario and by 26% when compared to SKT's Cloud Belt system. Of course, 5G-PON also enables potential revenue opportunities by facilitating the connection of remote units to accommodate IoT connectivity demand.
The experience of SKT suggests that using ring architecture in 5G-PON in ensures resilience ensuring service continuity in the event of a fibre cut. While the topology would depend on the operator's market/technology context, the ring seems to provide the necessary resilience whilst optimising the cost.
The 5G-PON solution provides operators with the following differentiated value propositions:
The remote unit is easily installed in outdoors/indoors and is scalable
The network can be easily and flexibly configured based on customer demand
New network nodes support plug & play and remove a significant amount of complexity in activating new network nodes.
5G-PON supports intelligent operation management and analysis
5G-PON ensures interoperability with other types of transport network solutions already deployed in the network
In the future, SKT plans to roll out 5G-PON in 85 areas nationwide, with further deployments to accommodate its commercialization of 5G in March 2019.
6 Summary
5G-PON is a flexible, reliable and efficient fronthaul transport solution that provides a single distribution network for both cellular (LTE and 5G) and high-speed fixed broadband. 5G-PON enables easy expansion of transport networks by being able to simply install base stations and antennas without additional distribution/transport networks infrastructure. As 5G-PON optimises cost while enables flexible configuration and installation, 5G-PON will be able to address the backhaul/fronthaul transport demand challenges cost-effectively in the 5G era.