Digital inclusion and mobile sector taxation in El Salvador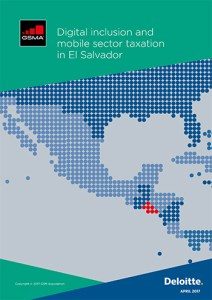 Around five million Salvadorans subscribe to mobile services, but use of mobile broadband remains limited
The Republic of El Salvador has the fourth largest economy in Central America. Its economy has
grown slowly compared to other Central American countries, constrained by a range of economic and social challenges, as highlighted by the International Monetary Fund (IMF): "El Salvador continues to suffer from low growth due to a host of complex issues, including low investment, high crime and emigration, and weak competitiveness".
Total mobile sector revenues represented 2.7% of GDP in 2015 and the country's five mobile operators have successfully delivered mobile coverage across the country's largely mountainous terrain. This is despite mobile sector revenues having declined by more than a third between 2008 and 2015, while minutes of use have increased by 60% over the same period.
In 2016, around 80% of the population subscribed
to mobile services, which is high compared to most other countries in the region. However, growth in mobile penetration has slowed recently, leaving
one in five Salvadorans still unconnected. Over two thirds of subscribers are yet to bene t from mobile broadband services, with a tender to release spectrum suitable for 4G having been delayed since 2013. The tender is now planned to take place in the first half
of 2017. Uncertainty about sector policy, such as the license renewal process, is reported to have stalled infrastructure investment decisions.