At this year's Mobile World Congress Shanghai 2015, following the resounding success of Mobile World Congress Barcelona, the Network 2020 Programme continued to demonstrate the breadth and depth of All-IP solutions to many visitors of the GSMA's Innovation City at Mobile World Congress Shanghai 2015.
One of the key focus areas in this year's exhibition in the Innovation City was a series of demonstrations from operators and leading ecosystem players in the All-IP ecosystem.
The Network 2020 stand at MWCS 2015 
China Mobile
China Mobile showed their Converged Communication solution which is an upgrade to the existing basic services proposed by them for 4G. With global interoperability to retain world-wide accessibility and carrier-class service quality, the Converged Communication not only provides a full range of services that improves the user experience, but also takes into account the benefits of the mobile internet.
The Converged Communication consists of 'New Call', 'New Message', and 'New Contacts'. The 'New Call' service enables a higher quality user experience by employing the VoLTE technology and VoWiFi as a supplement. 'New Message' is based on Rich Communication Services that enable seamless integration of multiple message types including SMS, MMS and Instant Messaging. Finally, 'New Contacts' facilitates the simple entering of personal information and provides a platform for fully integrated social networks and other services based on a user's phone number.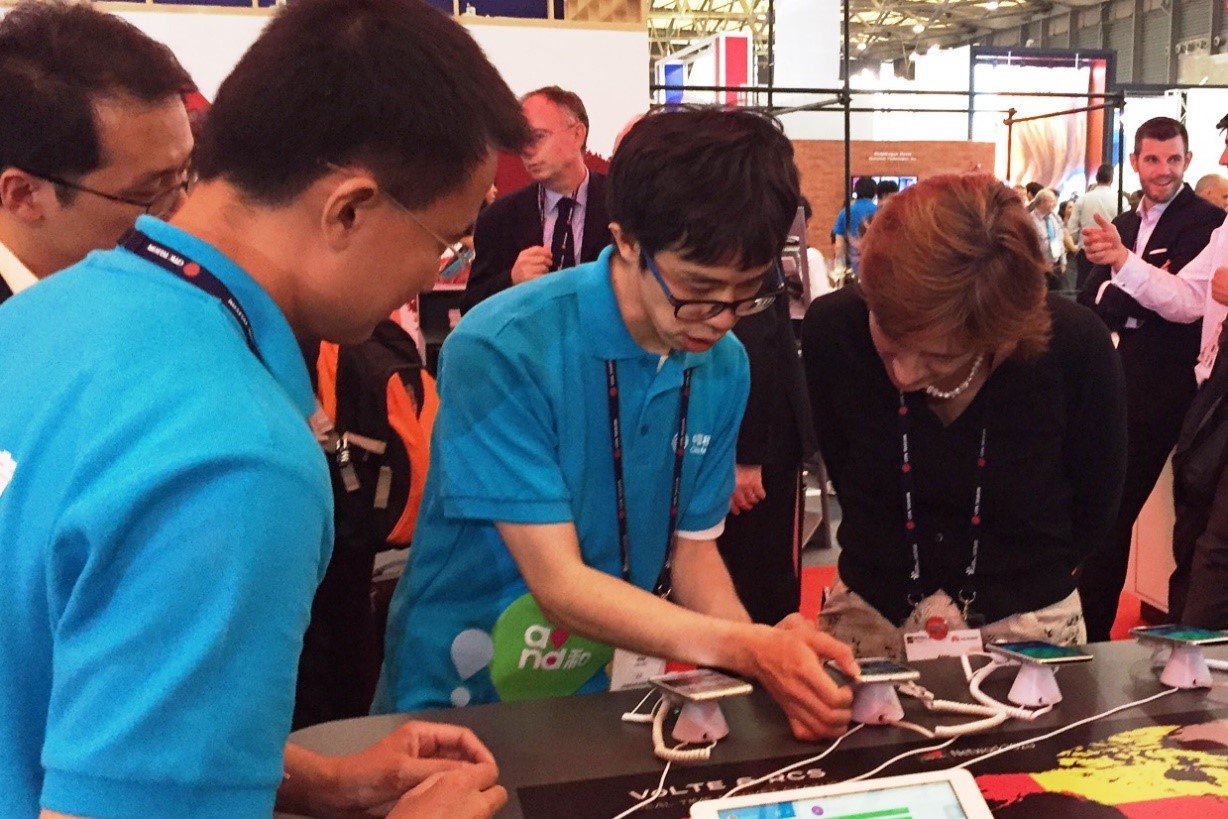 Anne Bouverot, Director General of the GSMA is shown the latest RCS based service from China Mobile on the Network 2020 stand at MWCS 2015
Comverse
Designed to leverage RCS and VoLTE services and create new revenue opportunities,
Comverse showed ComverseSOHO which has two main components: SOHO4 Business
aimed at enabling businesses managing all their interactions with their customers and
SOHO4Consumers that enables users to search, message and share media as well as more
advanced capabilities such as gifting, making reservations and mobile payments.
Huawei
Huawei demonstrated its remote car diagnosis and maintenance solution using the capabilities of VoLTE and RCS over an LTE network. The car maintenance centre can easily connect to the car and obtain an on-board diagnosis that can then trigger a call between the centre and a customer to provide immediate roadside assistance. The overall experience is not only very convenient and but also provides a high level of quality assurance to the end user.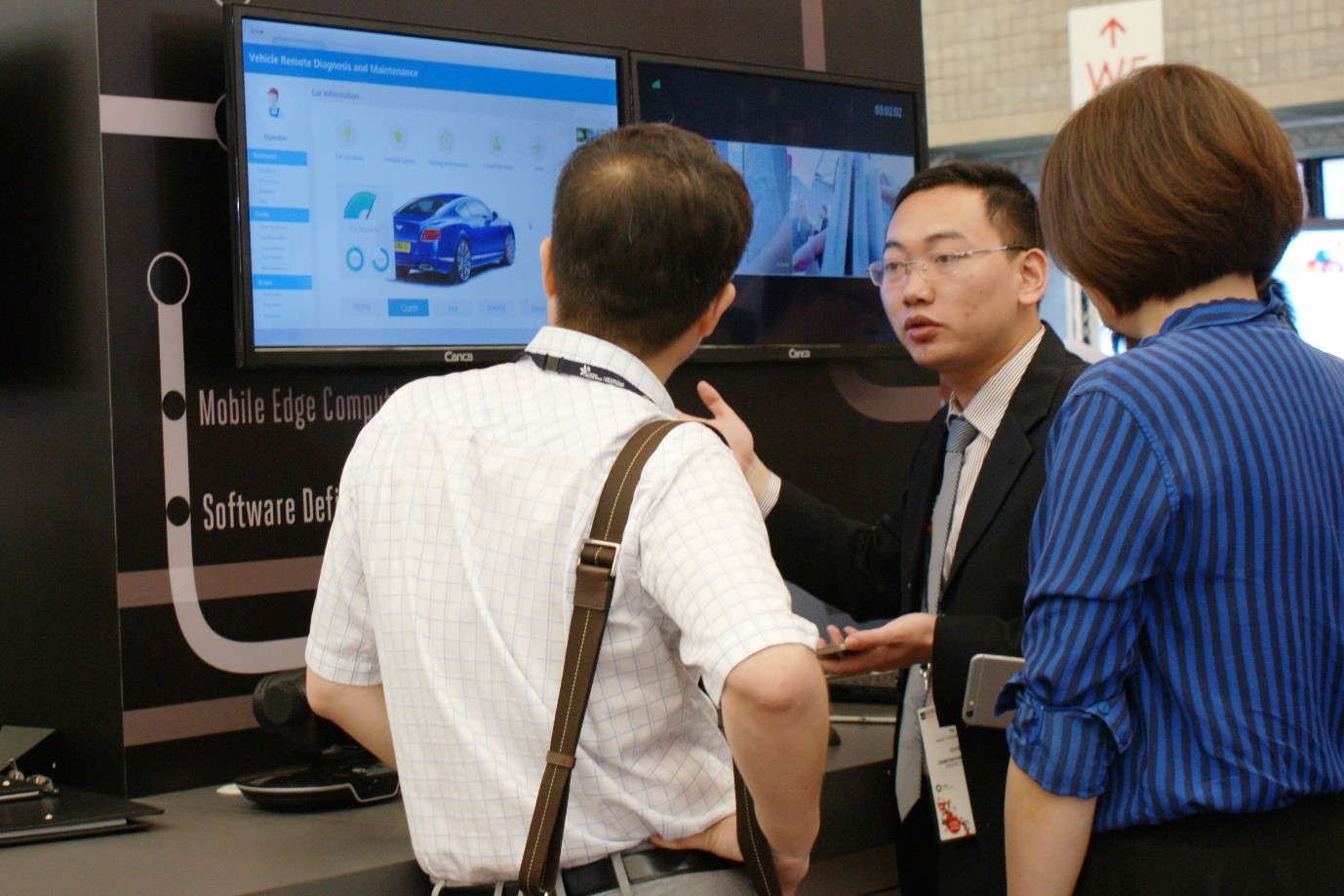 Considerable interest was shown in Huawei's innovative car maintenance demonstration.
NewNet
NewNet demonstrated its new WebRTC/RCS Network API Gateway which allows operators to extend the reach of their IP communications network from the mobile handset out to mobile browsers. With the WebRTC, operators can rapidly deploy Voice Calling, Video Calling and IP messaging capabilities across native VoLTE/RCS devices, secondary devices through downloadable clients as well as browser enabled devices such as PC's, using a standards based API. This is the latest addition to the NewNet Krypton platform which now encompasses all of the RCS 5.3 components required for deploying VoWiFi, ViLTE, IP Messaging, Common Message Store, Presence and an IP-SM gateway. Unique in the industry, NewNet's solution can be deployed in 2G, 3G and 4G networks with or without IMS, and is fully integrated from one vendor.
On June 23, 2015, NewNet announced that their KryptonConnect product was selected by Microsoft Corp. as a development and testing resource for their RCS compatible handsets. (http://www.prweb.com/releases/2015/06/prweb12800775.htm) KryptonConnect now powers development and testing efforts for five of the nine largest handset manufacturers, and for numerous downloadable client vendors. It allows vendors to cost-effectively increase their speed to market by validating RCS features and performance without the need to work in a live network, and it provides operators a platform for testing without impact or risk to their operational networks.
Summit Tech
Summit Tech demonstrated the latest in VoLTE, ViLTE and RCS applications on smartphone, tablets, desktops, as well as connected cars and Internet of Things. Solutions available spanned embedded RCS, VoLTE and Enriched Calling to web-based IMS WebRTC services. Live demos of RCS Virtual Reality Video Calling, IMS enabled Home Automation and Business VoLTE solutions told a story of how Network 2020 services can enhance every aspect of daily life. Summit Tech is also presented RCS-based M2M solutions including a connected parking meter which leverages the IP network for notifications and payments.