To download the full Messaging as a Platform seminar recording from MWC18, plus the speakers' presentations, please click here.
Momentum of RCS services was very much in evidence at Mobile World Congress 2018 with a number of announcements at the show. Over 50 networks have now launched, with a number of network interconnections in the Americas and Europe and a wave of brands launching trials of RCS Business Messaging services. The GSMA has of course played an integral role in this with the delivery of the Univeral Profile which has helped to deliver a consistent, global experience. RCS is incorporated natively into a phone's default messaging service and enables users to enjoy group chat, video, gifs, file and location sharing, amongst many other services, without needing to download an app. It is an upgrade to traditional SMS and easy to understand why operators and consumers can see its appeal.
RCS Business Messaging takes this further by allowing subscribers to engage directly with multiple brands from one messaging platform to make restaurant reservations, book train tickets or make purchases without having to juggle numerous apps. It has huge potential with GSMA Intelligence estimating that the RCS Business Messaging market will be worth over $74 billion by 2021. This was the focus of the seminar, titled 'Messaging as a Platform: The Future of Brand Communications' at MWC 2018, with an emphasis on live demonstrations from a number of different brands, operators and mobile marketing companies. David O'Byrne, RCS Project Director at the GSMA opened the session by promising to focus on 'showing you live demos and not just talk' and launched immediately into a demo by John Duffy, CEO of 3Cinteractive. Duffy showed how the GSMA and 3C are working with FCB to use RCS messaging to resell unused match tickets and help fans book tickets for future matches and showed the ease of use of the process which was performed entirely by messaging.
Dr. Petja Heimbach, Vice President of Next Generation Communication Products at Deutsche Telekom and Chair of the GSMA's IP Communications Leadership reminded delegates that the move from SMS to RCS was akin to moving from a black and white TV to 4K colour and stressed that RCS was no longer a hypothetical service and that the 'the train has left the station'. Heimbach also highlighted the potential of RCS with upwards of 3 billion customers worldwide who could be upgraded to it. He also highlighted the progress made with interconnect hubs that are making it easy for subscribers to use RCS across networks. América Móvil, Rogers Communications and Sprint recently announced that they had interconnected their networks across the Americas, while Deutsche Telekom, Telenor Group, Telia Company and Vodafone Group have interconnected in Europe, enabling subscribers in these regions to access advanced RCS across 22 networks in 17 countries. Oscar Gallego, Global Head of Smart Comms and Security at Vodafone picked up this theme discussing the importance of interconnection in scaling RCS as well collaboration with industry partners and that 'the Vodafone RCS A2P messaging platform is ready for business and you can go and do live campaigns now.'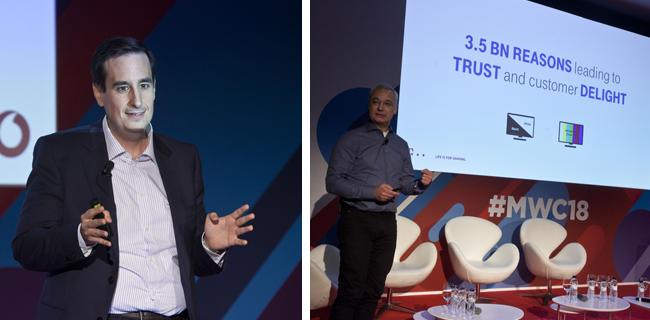 Google's Head of RCS, Amir Sarhangi covered Google's role in 'helping to accelerate the industry's shift to RCS and in making RCS Business Messaging a reality.' He highlighted the importance of 'scaling and interoperability' at every layer and that 2018 was about delivery and reach. Sprint's Doug Garland, Vice President of Innovation and Partnerships covered the history of messaging and the many successes and changes along the way. He highlighted that 'we need to think about engaging customers in a way we haven't before'. Sean Yoo, Director of Products and Services, Samsung discussed how they are providing a complete end-to-end Messaging as a Platform solution that is entirely GSMA compliant that was compatible across all devices. Yoo highlighted that 'native is key to adoption.'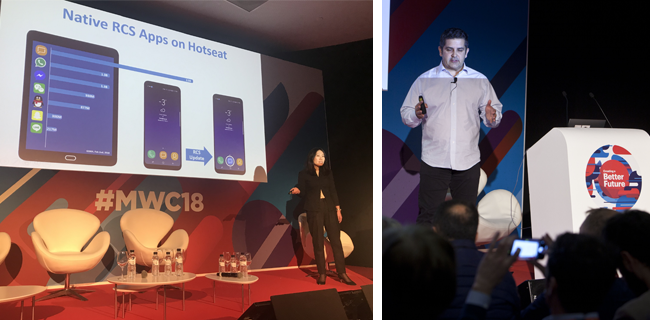 The main focus of the event covered live demos that showcased the interactive, intuitive and richer experience that RCS offers subscribers and brands. ITV's Interactive Digital Director, Peter Mossman showed how ITV is using RCS for its TV based competitions and viewer voting which have been running for over 25 years. SMS has been critical to their operations and generates 85% of competition revenue for the company and the upgrade to RCS will ensure that viewers have a better and more interactive experience. Travel brand, Snaptravel, whose business is built entirely on messaging showed how RCS gave them the opportunity to provide customers with a much richer experience compared to SMS including live chat with agents. Subway discussed how RCS is 'the natural next step' helping to promote 'weekly meal deals and drive traffic to our restaurants'. Amit Shah, CEO of 1-800-Flowers.com talked about how RCS has a 'richness with reach' and Skyscanner demonstrated how RCS is helping consumers to search for the best travel deals available. Syte also showed how their app is helping consumers to discover similar fashion items based on uploading images using messaging.
Next Steps:
To download the full Messaging as a Platform seminar recording and the speakers' presentations from MWC18, please click here.
To watch demos of live RCS Business Messaging campaigns from Innovation City at MWC18, click here
For further information on the GSMA's work on RCS Business Messaging, please click here