The latest news on Mobile Connect, identity and the digital economy.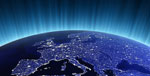 Monday 12 August, 2013
On the 10th of July 2013 in Rome, at the beating heart of digital Europe, the GSMA participated at the second international identity conference organised by Scoping the Single European Digital Identity Community (SSEDIC). The objective of the event was to provide key ...