GSMA RCS Business Messaging Lab #27 Los Angeles – Speakers' Presentations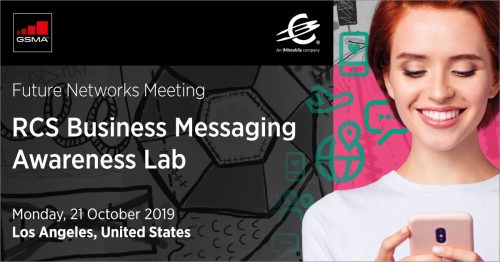 Download the speakers' presentations from the RCS Business Messaging Awareness Lab in Los Angeles.
On Monday, 21 October, the Future Networks Programme hosted the twenty-seventh GSMA RCS Business Messaging Lab in Los Angeles. High profile speakers from leading operators, aggregators, brands and technology partners provided key insights into the current global position of RCS, managing the life cycle of RCS, the use of chatbots, brand campaigns and much more.
Presentations from Airfind, CWTA, Infobip, KDDI, LivePerson, Mavenir, Mobilesqaured, SummitTech, Synchronoss and WIT Software are now available to download by completing the short form below or click here.
To learn more about RCS, watch live use cases from GSMA Mobile World Congress or register your interest in an upcoming event GSMA RCS Business Messaging Lab series.
Please note the presentations from 3Cinteractive, Google, IMImobile and Zipwhip are not available.
Presentations
Company

Speaker

Presentation

3Cinteractive
Jeff Michaud, VP Client Strategy
The Art of the Possible
Airfind
Alykhan Govani, CEO
Creating Global Content and New AD models with RCS
CWTA
Caitlin O'Neill, Manager, Messaging Product Development
The Current State of RCS in Canada
Google
Bart Jenniches, Director, Business Communication Partnerships
Conversational Marketing; A look to the future
IMImobile
Bruce Bales, CEO

John Duffy, Head of Global RCS

The Future of RCS Business Models
Infobip
David Aguilera, Sales Manager
Infobip rolling out RCS in Mexico- success stories
KDDI
Hideyuki Koto, Senior Manager
KDDI's RBM updates: Use cases & findings
LivePerson
Robert LoCascio, CEO and Founder
Maven RCS: Connecting Carriers to the Global Conversational Grid
Mavenir
Carlos Aragón, Senior Director, Solutions Marketing
Next steps to advance RCS penetration
Mobilesquared
Nick Lane, Chief Insight Analyst
Why the opportunity for RCS is now
Summit Tech
Doug Makishima, CSMO
VR Shopping Boutique + RBM mCommerce
Synchronoss
Mary Clark, Chief Product Officer and CMO
Brands in the RCS market
WIT Software
Pedro Andrade, Head of New Product Development
How to leverage RCS Business Messaging
Zipwhip
Alison Billings, VP Industry Development U.S.

John Lauer, CEO

Kirsten Spoljaric, SVP of People

Faye Ricci, Senior Vice President and General Counsel

Gender Equality in the Messaging Industry Messaging
To download the presentations, please fill in your details in the form below: