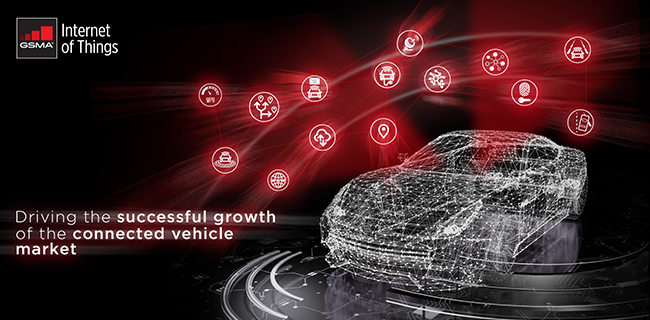 Automotive & Smart Transport
The connected vehicle market is one of the highest growth areas of the Internet of Things, with a potential application revenue of $USD 253bn by 2025 (Machina Research, 2017).  The GSMA is working with mobile operators, automotive OEMs and suppliers, relevant industry associations, and regulatory bodies to help unlock the full potential of the connected vehicle market with a standardised and collaborative approach of the industry.
Through the Connected Vehicle Forum, the GSMA brings together mobile operators with industry players to discuss important topics that will define the future of the connected vehicle market, including:
Future connectivity, including Cellular Vehicle-to-Everything (Cellular V2X)
Autonomous vehicles
Security and regulation
The GSMA also participates in and consults with global regulatory bodies to align the industry around a common approach to security and spectrum harmonisation.
If you or your organisation is part of the automotive or ITS (Intelligent Transport Systems) industries, please contact us to see how you can take part in the Connected Vehicle Forum: automotive@gsma.com

Cellular Vehicle-to-Everything (Cellular V2X) – 3GPP Rel. 14
Cellular Vehicle-to-Everything (Cellular V2X) describes a set of technologies that allow vehicles to communicate with each other and other smart transport solutions via existing cellular networks in licensed spectrum.
Cellular V2X technologies provide heightened predictability for enhanced safety and autonomous driving by
Leveraging the most comprehensive coverage of secure and already established LTE networks
Enabling highly reliable, real-time communication at high speeds and in high density traffic
Offering a higher transmission range for safer and more efficient journeys
This set of technologies meets the industry's need for scalable, secure and proven solutions, offering new market opportunities to automotive companies and mobile operators alike.
The standards for Cellular V2X have been agreed for 3GPP Release 14, labelled 'LTE support for V2X'. Commercial roll-out is expected to commence in 2018/19.
Relevant Resources