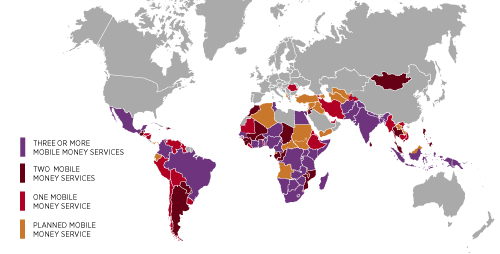 Industry update: 33 markets now have 3 or more mobile money services for unbanked customers

Since the 2013 State of the Industry Report was published this past February, there have been significant developments in the mobile money industry.
View a larger version of the map
Mobile money is spreading geographically
88 markets globally now have at least one live mobile money service targeting unbanked communities. In March of this year, Romania became the first country in Europe to join the mobile money landscape with Vodafone's M-Pesa service. Hoping to tap into the tough market of Sudan, a country with just 0.27 bank branches per 1000km²,[i] the Bank of Khartoum launched Sudan's first mobile money service 'Hassa' in partnership with Zain earlier this month. In May, Cable & Wireless launched Panama's first mobile money service 'Móvil Cash'. In addition, at least 8 new services are planned to launch in Central Asia, where adult account penetration rates at financial institutions as low as 5%[ii].   Currently, there are two live mobile money services in the Central Asia region.
The industry landscape is becoming more competitive
33 markets globally now have three or more live mobile money services, up from 27 markets last December. Three new mobile money services recently launched in Zimbabwe, joining EcoCash in the race to acquire subscribers. Egypt's four services – MobiCash, Phone Cash, Flous, Vodafone Cash – were all launched in the last 14 months.
As competition in the industry heats up, mobile money service providers are looking at ways – one of them being interoperable solutions – to achieve greater transaction volumes, grow the level of electronic funds on the mobile wallet and increase the value proposition of mobile money for subscribers.
The impact of mobile money on financial inclusion
As the mobile money industry grows and the number of subscribers increases, mobile money is having a greater impact on financial inclusion. As of June 2013 at least nine countries (Cameroon, the Democratic Republic of Congo, Gabon, Kenya, Madagascar, Tanzania, Uganda, Zambia, and Zimbabwe) had more mobile money accounts than bank accounts, compared to just four countries in 2012. Data currently being collected by the MMU team for this year's annual survey will help us to identify the new countries in which this is the case for 2014.
This year's survey data will also provide insight into customer activity rates and uptake of new products like mobile insurance, credit and savings – important information if we are to comprehend mobile money's broader impact on financial inclusion.
Global Adoption Survey underway
The annual Global Adoption Survey is MMU's primary source of global industry insights and enables the team to produce the annual State of the Industry Report. MMU recently kicked off its 2014 survey, collecting data from many of the 245 live mobile money services across the globe. Initial findings from the survey will be published in November.
Please contact us (mmu@gsma.com) if you haven't already participated in this year's survey. All participants receive a personalised 50-page benchmark report (example) comparing their service's performance to regional and global averages. Please note: all information remains strictly confidential under Non-Disclosure Agreements.
[i] International Monetary Fund. Financial Access Survey 2013. http://fas.imf.org/
[ii] http://blogs.worldbank.org/developmenttalk/financial-inclusion-europe-and-central-asia
Back
This case study explores how the market context in each country influenced the rationale for A2A ...

Read more

This paper focuses on how regulators can effectively safeguard customer funds when a nonbank issues mobile ...

Read more

This publication traces the different stages of the mobile money regulation in Paraguay, from its inception ...

Read more

Although mobile money services have extended further into rural areas than more traditional financial ...

Read more

This case study highlights the success of the school registration fees payment initiative in Côte ...

Read more
Account-to-account (A2A) interoperability between mobile money services is now real, with at least five ...

Read more

Allowing both banks and nonbanks to issue mobile money is fostering financial inclusion. Like all financial ...

Read more

This blog post was co-written by Arunjay Katakam and Ben Lyon, a board member of Kopo Kopo. The opportunity ...

Read more

Smartphones will play an increasingly important role in the next generation of digital financial inclusion. ...

Read more

It has been a busy year for the GSMA Mobile Money programme, and we're pleased to share some of our key ...

Read more