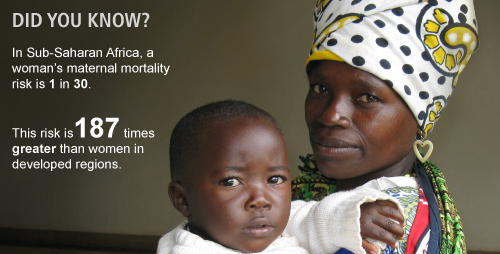 The progress of Millennium Development Goals 4, 5 and 6 across Africa will need to be fast tracked if countries hope to achieve the stated goals. Unfortunately Governments and health implementers are being forced to do more with less and are unlikely to achieve the MDG goals with current intervention. The promise of mobile to extend the reach of health services has resulted in a proliferation of services being deployed.
A recent study by the GSMA looking at global mHealth services reviewed almost 700 initiatives, ranging from wellness and prevention to those targeting various elements of health systems. Fifty per cent of the mHealth services reviewed have been launched across Africa. The study found that despite the proliferation of mHealth services in emerging markets, most remain limited in scale. Additionally, less than 1% currently demonstrate a significant impact on health outcomes.
The GSMA believes that close engagement and partnership between the mobile and health industries is one of the critical drivers to unlock this latent potential.
The Pan-African mHealth initiative was launched to create opportunities for the GSMA's mobile industry members to collaborate and partner with governments, civil society, private healthcare providers and other related service providers to significantly impact health outcomes across Africa.
Aims of the Pan-African mHealth Initiative
The Pan-African mHealth Initiative has the following aims:
Reduce fragmentation of mHealth services by creating a collaborative, integrated business framework to launch services in a country.
Support implementation of scaled services.
Develop the business framework for scaled and sustainable solutions to be replicated across multiple countries.
Align health and mobile industries around common goals (value propositions) and reduce barriers preventing the sustainable and scaled integration of mobile into health.
Initiative Deliverables
The following diagram represents the services that the Pan-African mHealth Initiative aims to implement over a phased period. The actual mHealth services developed and implemented will depend on the health needs of a country.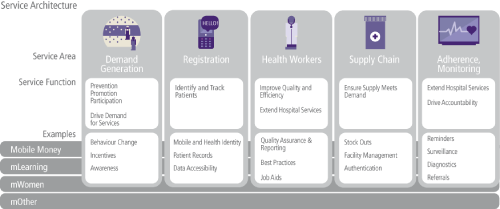 Available Resources
We bring the key stakeholders together through various forums such as working groups and workshops, as well as provide resources and support to identify and diagnose opportunities and bring solutions to scale.
Available resources include:
Mobile and Health Industry Data – The GSMA's Mobile and Development Intelligence (MDI) portal provides metrics on the mobile and health industries to help prioritise mHealth opportunities. Data such as expenditure and availability of health services can be tabulated, graphed, mapped and exported. MDI also includes mobile coverage maps and an online community.
mHealth Tracker – The GSMA mHealth Tracker is a customised tool that captures information about mHealth products and services around the world, including those in the planning phase and those commercially deployed.  Results can be filtered by country, organisation, organisation type and category.
Impact Pathways – Hosted on the GSMA's MDI portal, the mHealth impact pathways are a tool created to help evaluate documented outcomes resulting from key mobile services, as well as gaps in the body of research. They illustrate a 'theory of change' demonstrating how access to mobile services can bring about short, medium and long term goals. A full list of literature reviewed can be seen by downloading the pathway.
Research and Analysis – The Mobile for Development mHealth programme conducts research and analysis on various topics within the mHealth industry and publishes various reports, white papers and case studies.  View our recent report on 'Using mHealth to support universal health access', as well as our other publications in our resources section.
mHealth Blog – Read our weekly blog posts to keep up-to-date with the latest findings, best practices and programme activities.
Statistic Source: http://www.un.org/millenniumgoals/pdf/MDG_FS_5_EN_new.pdf
Image Source: © 2009 Virginia Lamprecht, Courtesy of Photoshare