IADB launches Spanish language blog on mobile financial services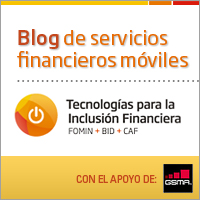 The (IDB) Inter-American Development Bank TEC-IN programme in partnership with MMU is launching today a Spanish language blog.
This new blog aims to inform and educate audiences in the Latin-American region about the potential of new technologies for financial inclusion.  The overall objective of the Technologies for Financial Inclusion Program is to help increase and improve access of micro entrepreneurs and low-income people to financial services in Latin America and the Caribbean. Their aim is to help financial service providers in the region to improve efficiency, reduce operating costs and extend the reach of its financial products through testing and implementation of innovative technology services and solutions.
The TEC-IN Programme was created as an initiative of the Multilateral Investment Fund (MIF), based on the successful experience of its line of activity for the strengthening of financial institutions, and the Capital Market and Finance Division of the IDB, as part of its interest on fostering the use of technology in financial services.
We hope this new regional tool will help interested parties in the field of mobile financial services keep up to date with developments in this fast- growing region.
Back
The (IDB) Inter-American Development Bank TEC-IN programme in partnership with MMU is launching today a ...

Read more

The (IDB) Inter-American Development Bank TEC-IN programme in partnership with MMU is launching today a ...

Read more

The (IDB) Inter-American Development Bank TEC-IN programme in partnership with MMU is launching today a ...

Read more

The (IDB) Inter-American Development Bank TEC-IN programme in partnership with MMU is launching today a ...

Read more

The (IDB) Inter-American Development Bank TEC-IN programme in partnership with MMU is launching today a ...

Read more
The (IDB) Inter-American Development Bank TEC-IN programme in partnership with MMU is launching today a ...

Read more

The (IDB) Inter-American Development Bank TEC-IN programme in partnership with MMU is launching today a ...

Read more

The (IDB) Inter-American Development Bank TEC-IN programme in partnership with MMU is launching today a ...

Read more

The (IDB) Inter-American Development Bank TEC-IN programme in partnership with MMU is launching today a ...

Read more

The (IDB) Inter-American Development Bank TEC-IN programme in partnership with MMU is launching today a ...

Read more