MWC23 Las Vegas – GSMA SEC CON 2023
Securing Telecoms in Times of Conflict
The GSMA was created on the common understanding to build and operate a world-wide mobile telecommunication network without borders.
Today, international changes in communication security and supply chain resilience are at the forefront of the evolution of telecommunication.
The diverging international challenges require a closer dialogue on security and supply chain between industry and a wide range of ecosystem players.
Join us at GSMA SEC CON to hear from leading security experts, in both the public and private sector, on how to keep telecoms secure in times of conflict. Please submit the online form at the bottom of the page.
Agenda:
Session 1 – The Mobile Network Battlefield – Recognizing the role of telecoms during conflict
Telecoms represent a significant battlefield for cyber warfare. As a vital component of a nation's infrastructure, defending mobile networks is a high priority. This session will discuss the challenges that conflict poses to the mobile industry and strategies for building resilience in this rapidly evolving arena.
Time
Session
Speaker
09.30 – 09.33
Welcome and Intro
Samantha Kight, Head of Industry Security, GSMA
09.33 – 09.40
Keynote: Recognizing the role of telecoms during conflict

Throughout history we have seen how new technology changes the experiences of people caught up in conflict. This key note explores how the GSMA has built a network to bring the industry together to support the efforts in maintaining and standing up connectivity.

Mats Granryd, Director General, GSMA
09.40 – 10.05
Case Study: The Mobile Network Battlefield

Mobile Networks and mobile phones are now ubiquitous throughout the world, and that includes on the Battlefield. We profile the history of mobile networks in conflicts, with a focus on their use in Ukraine. We will initially cover the expected outcome and the actual uses of mobile networks, as well as how both sides prepared and adapted over time. Then we shall present some of the results of new research on how mobile networks can be used on the battlefield. Finally, we will give recommendations on how network and countries around the world can learn from this conflict to help build in resilience and security into their own societies

Cathal McDaid, Chief Technology Officer, ENEA AdaptiveMobile Security
10.05 – 10.25
Keynote: Keeping Civilians Connected in Conflict – Kyvstar's experience

Connectivity is a humanitarian need during the war.

Ukraine is facing a growing humanitarian catastrophe and connectivity plays a vital role during evacuation, providing help and medical services, having access to information and being connected with loved ones. Kyivstar, the biggest mobile operator in Ukraine, will share lifehacks on how to be prepared for crisis scenarios during war times, focusing on four strategics pillars:

• Securing people
• Securing the network
• How to work during blackouts
• Humanitarian help

Kyivstar is working day and night to provide sustainable and secure mobile communication services ensuring that all Ukrainians can access information, use critical digital services and contact loved ones.

 

Volodymyr Lutchenko, Chief Technology Officer, Kyivstar
10.25 – 10.45
Fireside Chat: Building resilience in mobile networks
Samantha Kight , Head of Industry Security, GSMA

Cathal McDaid, Chief Technology Officer, ENEA AdaptiveMobile Security

Volodymyr Lutchenko, Chief Technology Officer, Kyivstar

10.45
Closing
Samantha Kight, Head of Industry Security, GSMA
10.45 – 11:30
Networking Break
Session 2 – Disinformation: Securing telecoms to stop fake news from spreading
In times of conflict, an honest exchange of information is hard to come by. Disinformation can be spread extensively through telecoms, presenting security challenges for operators and the wider ecosystem. This session will discuss the implications of disinformation, propaganda and active measures for telecoms during conflicts.
Time
Session
Speaker
11.30 – 11.35
Welcome 
Samantha Kight, Head of Industry Security, GSMA
11.35 – 11.45
Intro: Massive digital transformation is shaping our world, and not always for the better.

While disinformation and misinformation are hardly new, these and other digital harms are being turbo-changed by digital connectivity.

Our growing dependence on satellites, data centers, underwater cables, cell phones, digital platforms and the algorithms that power them are bringing both opportunities and risks.

From Afghanistan and Yemen to Haiti and Mexico, the spread of digital harms has real world consequences. They can determine whether someone lives or dies by shaping everything from access to security and protection, to water, food, healthcare, and vaccines.

During this intro, SecDev Group will talk about how digital dependencies offer both lifelines and liabilities.

Robert Muggah, Co-Founder, SecDev
11.45 – 12.05
Case Study: Cognitive Influence Operations during Gray Zone Conflict – A Case for Industry Risk Reduction

David Simpson, Professor, Virginia Tech

 

12.05 – 12.25
Fireside Chat: Securing telecoms to stop fake news from spreading
Samantha Kight, Head of Industry Security, GSMA

David Simpson, Professor, Virginia Tech 

Charles Clancy, Ph.D. Chief Futurist, MITRE

12.25 – 12.30
Closing
Samantha Kight, Head of Industry Security, GSMA
Our Speakers:
Opening Remarks: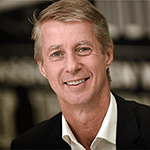 Mats Granryd
Director General, GSMA
Mats Granryd is Director General of the GSMA and a Member of its Board. In this role, he leads the GSMA in supporting its global membership through a range of industry programmes, advocacy initiatives and industry-convening events.
Mats is a strong proponent of sustainability and led the mobile industry in becoming the first sector to broadly commit to the United Nations Sustainable Development Goals (SDGs) in 2016. He is now spearheading initiatives to amplify and accelerate the mobile industry's impact on all 17 of the SDGs, across both developed and developing markets.
Mats serves on the Broadband Commission for Sustainable Development, which is focused on leveraging ICT and broadband-based technologies for sustainable development. Within the Commission, he chairs the Working Group on Digital Gender Divide to address the digital gender divide and foster the equal inclusion of women and girls in broadband access and use. Mats is a leader with The B Team, a not-for-profit initiative formed by a global group of business leaders to catalyse a better way of doing business, for the wellbeing of people and the planet. From 2016 to 2018, Mats was also a Commissioner on the Business & Sustainable Development Commission, working with CEOs across many industries to make a powerful business case for achieving a sustainable, inclusive economy.
Mats brings to the GSMA a wealth of experience and a proven track record of success in the highly dynamic mobile industry. Prior to joining the GSMA in 2016, Mats was President and CEO of Tele2, one of Europe's fastest-growing telecom operators with more than 16 million customers across nine countries.
Previously, he spent 15 years in a variety of roles at Ericsson, most recently as Head of Northern Europe and Central Asia. While at Ericsson, he also led the North West Europe, India, CDMA and North Africa units, as well as the global customer accounts for Vodafone and Bharti.
Mats holds a M.Sc. from the Royal Institute of Technology in Stockholm.
Session 1: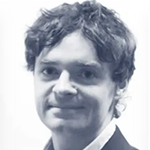 Cathal McDaid
Chief Technology Officer, Enea AdaptiveMobile Security
Cathal Mc Daid is the CTO at Enea AdaptiveMobile Security. He is one of the world's foremost experts in mobile network security, and is the author of the GSMA's signalling security guidelines (FS.11). His research work focuses on security of mobile core network and messaging technologies – including the discovery of the Simjacker vulnerability – as well as the area of nation-state exploitation of mobile core networks.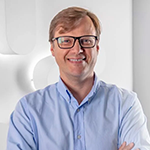 Volodymyr Lutchenko
Chief Technology Officer, Kyivstar
Volodymyr Lutchenko, Kyivstar´s Chief Technology Officer has 25-year experience, worked for the biggest mobile and fixed broadband companies in Ukraine (Kyivstar, Lifecell, Datagroup, Volia, Farlep), took leading roles in M&As and transformation projects in Ukraine telecommunication area.
As CTO of Ukraine's largest mobile operator, Volodymyr faced huge technical challenges starting from beginning of Russia-Ukraine war: massive migration inside and outside of Ukraine, destroyed infrastructure, blackouts, cyberthreats, etc.
Thanks to the initiatives developed by Volodymyr and his team before the war and during the active military operations, 90% of the Kyivstar telecom network continues to work and provide people with communication services.
Volodymyr is winner of Y2022 international awards from:
– NetworkX in category "Telco Executive of the Year"
– Mobile Europe in category "Above and Beyond"
Session 2:
Robert Muggah
Co-Founder, SecDev Group
Robert Muggah specializes in security, cities and new technologies. He co-founded the Igarapé Institute – ranked the top social policy think tank in the world in 2019 – and the SecDev Group – devoted to disrupting digital risk and strengthening cyber security. Robert is also a senior adviser to McKinseys and is faculty at Singularity University. For two decades he has advised national and municipal governments, tech companies and international organizations on issues ranging from crime prevention to urban planning. Robert received his DPhil from the University of Oxford and his MPhil from the University of Sussex.
Robert is (or has been) a fellow or faculty at the University of Oxford, the University of San Diego, the University of British Columbia, the Catholic University of Rio de Janeiro, and the Graduate Institute in Switzerland. He advises the World Economic Forum's Council on Cities and the annual Global Risk Report and the Global Parliament of Mayors. Robert has authored eight books and over one hundred peer-review journal articles. He is a regular contributor to the Atlantic, BBC, CNN, Financial Times, Foreign Affairs, Guardian, Economist, New York Times, Newsweek, USA Today, and Wired and gave TED talks in 2015, 2017 and 2019.
Charles Clancy, Ph.D.
Chief Futurist, MITRE
Charles Clancy is a senior vice president at MITRE and heads MITRE Labs. Over 4,000 MITRE Labs scientists, technologists, and engineers deliver deeply technical capabilities and solutions to the six federally funded R&D centers MITRE operates on behalf of the U.S. government. They also serve the MITRE's other federal, non-profit, and private sector customers. In addition, Clancy serves as MITRE's Chief Futurist, working to realize a future where emerging technology is democratic, sustainable, and equitable.
Before joining MITRE in 2019 as vice president for intelligence programs, Clancy served as the Bradley Distinguished Professor of Cybersecurity in the Department of Electrical and Computer Engineering at Virginia Tech and executive director of the Hume Center for National Security and Technology. There, he led Virginia Tech's research and experiential learning programs in defense and intelligence. He started his career at the National Security Agency, filling a variety of research and engineering roles, with a focus on wireless communications.
He was named a Fellow of the Institute for Electrical and Electronics Engineers (IEEE) for his work in information security and digital communications and elected a member of the Virginia Academy of Science, Engineering, and Medicine. He has co-authored more than 250 academic publications and patents, as well as six books. He co-founded five venture-backed startup companies that apply commercial innovation to the intersection of telecommunications and national security.
Clancy sits on the AFCEA International Board of Directors' Executive Committee, the AFCEA Intelligence Committee, the Systems Engineering Research Center Advisory Board, the Alliance for Telecommunications Industry Solutions Next G Alliance, and the Center for New American Security Task Force on Artificial Intelligence and National Security. He also serves on academic advisory boards at Howard University, Norfolk State University, North Carolina A&T State University, and Virginia Tech.
Clancy holds a bachelor's degree in computer engineering from the Rose-Hulman Institute of Technology, a master's degree in electrical engineering from the University of Illinois at Urbana-Champaign, and a doctorate in computer science from the University of Maryland, College Park.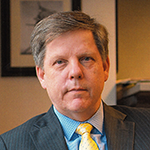 David Simpson
Professor, Virginia Tech
Rear Admiral Retired David Simpson has influenced National Defense and Homeland Security policy and provided cutting edge Information, Communications Technology and Cybersecurity solutions for more than 30 years. He previously served as Chief of the Federal Communications Commission's Public Safety and Homeland Security Bureau from 2013 to 2017.
As Bureau Chief, he oversaw public safety, homeland security, and cybersecurity activities for more than 30,000 commercial companies in the telecommunications sector. Simpson served as the vice director of the Defense Information Systems Agency (DISA) from 2011 to 2013. In that capacity, he helped lead an organization responsible for planning, developing and providing interoperable global communications for the Defense community. He also served as a senior delegate to the 2012 ITU World Radio Telecommunications Conference and to the World Conference on International Telecom (WCIT). Simpson's extensive career includes assignments with responsibility for networks, IT, and crisis communications for afloat and other deployed forces in the United States, Europe, Africa, Asia, and South America.
Admiral Simpson is responsible for cybersecurity course and program development in the Master of Information Technology and the Master of Business Administration programs and leads research initiatives for telecommunications and cybersecurity. He has published numerous papers and articles to include a recent research report for The Brookings Institute: "5G is Smart; Now Let's Make it Secure".
Master of Ceremonies: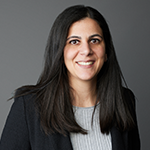 Samantha Kight
Head of Industry Security, GSMA
Samantha Kight is the Head of Industry at the GSMA. She is responsible for driving the Security and Fraud direction of the GSMA and working with the industry to execute key initiatives within this space.
Since being at the GSMA she has successfully set up Telecommunication Information Sharing and Analysis Centre (T-ISAC) and Coordinated Vulnerability Disclosure (CVD) Programmes.
Prior to joining the GSMA she worked within a Mobile Network Operator Group function.
She also has a diverse background having worked across the non profit, corporate and association sectors.
This summit is open to all MWC Las Vegas passes.
Click the button below and fill out the form to register your interest for the GSMA SEC CON. Please note that registering your interest for the conference, does not guarantee you access to MWC Las Vegas. To register and buy a pass for MWC Las Vegas, please click here.