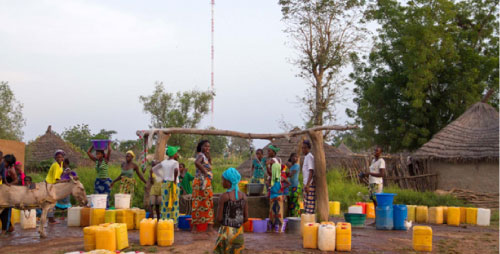 Established with the support of the UK Government the MECS Innovation Fund will provide up to £2.4M in grants. The specific objectives of the Innovation fund are to:
Accelerate efforts using mobile technology to enable improved or increased access to water or energy services for underserved communities
Identify innovative business models that can support mobile innovations for energy and water services
Generate knowledge about the application of mobile enabled services which can be shared with the development community and mobile industry
Stimulate productive partnerships between mobile operators/tower companies and energy provides, water providers, NGOs, entrepreneurs and academics to achieve these objectives at scale
Grants
Seed Grants:
to support the research and development of early stage innovations using mobile to support access to sustainable energy and water provision
up £200k in funding, 25% matched by grantee
Market Validation Grants:
to support partnerships between mobile network operators and/or tower companies with community service providers to trial: promising mobile technologies; and business models that have the potential to increase or improve access to water or energy services to underserved communities at scale
up to £350k in funding, 50% matched by grantee
Application Process
Two stage process starting with the submission of a concept note. Successful candidates will then be asked to submit a full application
Funding decisions are made on a competitive, deadline-driven basis by an independent assessment panel. Only the best applications will receive funding
Technical assistance (TA) provided at the discretion of the MECS Initiative to support the development of applications, and implementation of projects. The type and extent of TA will be agreed between the applicant and the MECS Team at the application stage
Due Dates:
First Round: Concept notes due June 30th 2013
2nd Round: Concept notes due September 8th 2013
3rd Round: pending available funds
Documents
MECS Seed Grant Term Sheet – 20130903
MECS Market Validation Term Sheet – 20130903
MECS Seed Grant Concept Note – 20130605
MECS Market Validation Concept Note – 20130605
Frequently Asked Questions about the Innovation Fund Grants – 20130621
Revision Control: Version 20130903 of the Seed and Market Validation Term Sheets include the addition of the following under Section 9. Projects Eligible for Funding:  "The project will include the use of mobile communications channels as a significant element of its delivery model; or will leverage mobile infrastructure or distribution networks (and their operation) to enable energy or water services. " 
Concept Note Clinics
The GSMA Mobile Enabled Community Services team can provide you feedback on your concept note prior to the due date. To schedule a 30 minute "Concept Note Clinic" please follow this link: http://www.doodle.com/mecs
Some applicants will want us to review their draft concept notes others will want to discuss the pros and cons of the ideas they are considering to put forward. We will do our best to provide feedback on:
The eligibility of the idea
Where an idea can be strengthened
Below is a list of actions you should take prior to our meeting to get the most out of the feedback:
Review the Term Sheets of the Grants and FAQ we have posted on this page
Ensure that you clearly articulate the following:

The use of mobile (ie mobile channel)
The use and added value of the grant funds : what can you do because of this funding that you couldn't do before
What is innovative about this concept note
Why you can't get commercial funding for this concept
Due to demand and resource constraints we cannot commit to having more than 1 Feedback session with each potential applicant prior to the Concept Note due date.
Learn More
If you were not able to attend one of our webinars about the MECS Innovation Grants, please see the recording below. This explains the objectives of the innovation grants and the two types of grants, as well as the eligibility, evaluation criteria and the application process. Please see also the presentation slides which was used during the webinar.
View the presentation slides

For further information please contact mecsgrants@gsma.com