To download the full 5G seminar recording and the speakers' presentations from MWC18, please click here.
This time last year, 5G was a subject shrouded in relative obscurity. The prospect of high speeds, low latency and vastly improved Network Slicing capabilities were understood but had not yet been analysed with rigour or depth by the many industries served by mobile networks. The exception was the auto industry, who seized upon the emerging network technology as the single greatest means to facilitate safer, smarter travel. Representatives stated that 5G could, and should, usher in wholesale V2V and V2X communication and was the surest way to reliably deliver the diverse range of in-car features expected of the connected car.
A year later, the industry is right to ask 'where are we on the 5G journey?' This was the focus of the GSMA Future Networks seminar '5G for Industry-Specific Services', held on Monday 26th February, where experts from Alibaba, Bosch, Deutsche Telekom, EE, Telstra, Toyota, and research house Analysys Mason set out their respective visions of a 5G roadmap in an attempt to form a common approach to deployment.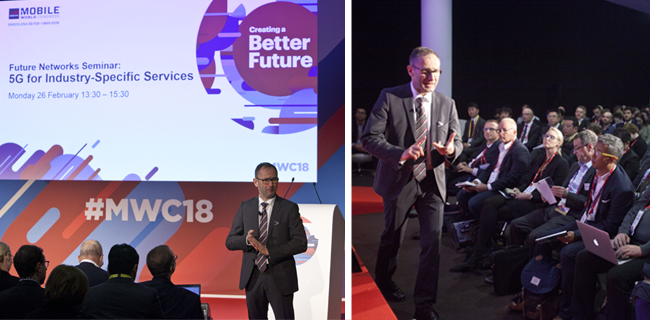 DT's CTO Bruno Jacobfeuerborn opened and was the first to emphasise the importance of Network Slicing; 5G, he claimed, is uniquely built on the principle of "different layers for different services." Developing this point, Analysis Mason's Principal Analyst Anil Rao argued that we should consider Network Slicing as something far greater than simply allocating specific bandwidths to each type of service or application. According to Rao, the end result would be the development of "applications that will automatically navigate an optimal path." For Rao, we should think more critically about the potential of network virtualisation, that is to say, the ability to visualise and effortlessly manipulate the network via software. In his view, virtualisation was the defining factor of a 5G network. Mike Wright, the Managing Director of Networks at Telstra, described the feature as having "quite a significant and profound implication on what it means for us an industry" because it would enable operators to readily provide network functions according to the type of industry and business they serve.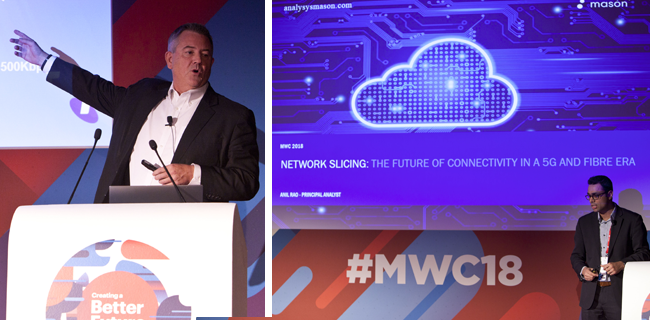 As such, virtualisation has the potential to vastly improve quality of all manner of services. Leading this call for the 5G Era was the multinational engineering and electronic goods supplier Bosch, represented by their Senior Expert and Project Manager, Dr Andreas Müller. Pointing to the early and organic harmony of the broader 5G ecosystem, Dr Müller explained how automotive production could be made considerably more efficient by the adoption of 5G in industrial IoT; "why do we need it? It's all about decreasing the cost of mass production, but more importantly, industrial IoT is in their (the auto industry's) interest. There are so many use cases and applications, all of which will have different requirements. Factory automation is a crucial part of this; connected forklifts, logistics within a plant, then delivering the car to the actual customer. What we now need from the industry are use-case specific slices and a good and flexible SLA."
For their part, the auto industry, unofficially represented in this instance by Toyota, agreed.  Representatives Dr Ryokichi Onishi, Group Leader, Network Group and Project Manager Kiichi Iwasaki, were both emphatic that 5G was a core component of intelligent transport systems, the next generation of in-vehicle entertainment and the generation of big data associated with V2X. Estimating that connected cars may transmit somewhere between 10GB-100GB per month, Dr Onishi considered the step to the next generation in network technology to be nothing short of necessary for the auto industry.

Automated and intelligent transport was also a high priority for Alibaba, who explained how 5G would enable pervasive and experiential commerce. From the adverts we see on transit systems to in-store experiences, "we are entering an age of new retail and 5G will change the way we do business" explained Allan Cai, Senior Production and Design Expert of Ali Telecom. Contextual commerce has the potential to revolutionise shopping in various ways, chatbots that can remotely deliver personalised offers, handsets which can easily and conveniently discover more about a given product and in-store virtual or augmented reality which could become a commonplace means to provide an immersive way to try-before-you-buy. Cai claimed that 5G would serve as the enabler for this commercial reality. Why?  Other than the advantages afforded by 5G's propensity for slicing and virtualisation, 5G, unlike Wi-Fi, was seamless and would not be disrupted by the need to authenticate and log in.
This was echoed by EE's Head of Media and Entertainment Matt Stagg, who pointed to the reliance on public Wi-Fi saying; "(WiFi) is relied upon so much, but 5G has the potential to be so much more reliable and faster." If consumers were given the opportunity to remain continuously connected to a superfast and reliable cellular network, under what circumstances would they need to connect to Wi-Fi, he asked. "5G has the potential to remove the reliance on wire-bound technologies", and as such is befitting for the new digital era. Stagg speculated that 5G's impact on the entertainment industry would be profound. For example, its broadcast capability would make much better use of the network by transmitting media from one source rather than the current practice in which consumers download information individually.
Although the industry's journey towards 5G is in its early stages, Mobile World Congress has revealed the firm commitments from operators and a variety of vertical-specific companies alike. Now, as the technology's potential becomes more apparent and critical to the business plans of so many, the broader 5G community would do well to work closely together to ensure that it delivers the best possible customer experience.
To download the full 5G seminar recording and the speakers' presentations, please click here.
To learn more about 5G, please visit the 5G Resources page.