The GSMA is pleased to announce the launch of a new customer experience module in the  Network Economics Model (NEM) following alignment with the Network Experience Index (NEI) from Huawei. We have taken this to the stage where we are opening the doors to operators within the community to review and provide feedback and have their network economic and customer experience assessed.
The Network Economic Model (NEM) is a GSMA tool, which has been pivotal to validate over $500 million worth of potential savings for mobile operators from our 10 Beta Lab case studies. This model works by baselining existing network topology, which is profiled and overlaid with new disruptive technologies or network management solutions. Once a cost-saving has been identified, it is then validated by an operator to evaluate their potential savings in four geographical areas identified below.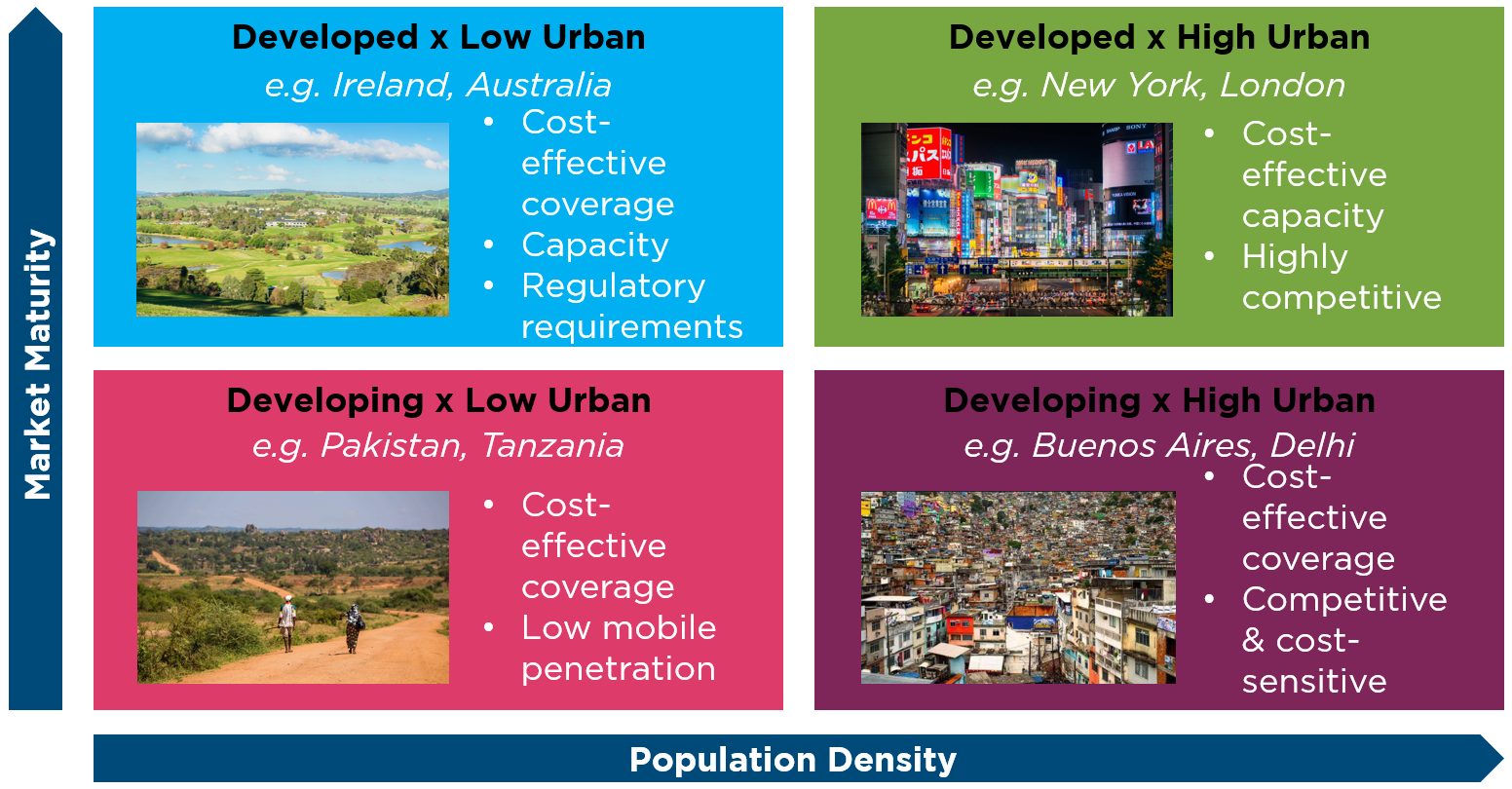 Figure 1: NEM – Country Profile Types
What is the NEI – Network Experience Index?
NEI is a consolidated network experience model, designed by Huawei, which helps mobile operators to understand how new disruptive technologies or network management solutions impact customer experience.
Due to the ever-changing landscape of performance indicators, NEI's focus is on the most significant and impactful categories; Voice, Web and Video Experience as well as Network Capabilities. Each of these categories comprises of measurements and sub-metrics that includes but not limited to Voice Quality, Video Play Success Rate and Coverage.  The main aim of NEI is to capture a comprehensive customer experience in a simplified manner.
Figure 2: NEI –what components are taken into consideration
Solution Being Trialed
In the lead up to MWC 2018, the GSMA and Huawei explored the possibility of integrating NEI to the GSMA's NEM. The main objective was to add the element of customer experience in the Network Economics Model to augment the CapEx and OpEx outputs. The piloting and testing phase reinforced the view that different solutions, including Frequency Re-farming, Carrier Aggregation and VoLTE provide varying impacts on customer experience beyond OpEx and CapEx savings that need to be considered.
Next steps
IHS Markit reported 75% of mobile operators surveyed have customer experience related projects on their top agenda. In addition to this, the GSMA believes the customer experience module within the NEM will play a vital role in helping operators identify how existing and future technologies will impact customer satisfaction as well savings within the network. With 5G finally, here, there is no better time than now to determine how the right technologies can improve operator and third-party services.
If you would like to participate and or learn more about the NEM/NEI model, please get in touch with Mujeeb Lawal – Project Manager, Beta Labs Mujeeb.Lawal@GSMA.com